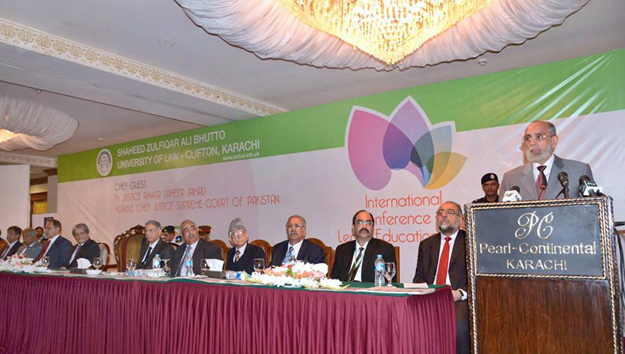 ---
KARACHI: Chief Justice Anwar Zaheer Jamali said on Friday that the country's legal system is characterized by pluralism that is an amalgamation of the English common law and the Islamic law.

"Additionally, it has been marred by several dictatorial regimes. Hence, it simultaneously incorporates disparate and diverse sets of ethos and principles," he said while addressing the participants of the three-day International Conference on Legal Education here at a local hotel here. The chief justice urged that it was the duty of the law schools to help students to comprehend the complex nature of our legal system, as it would better prepare them to confront and respond to the challenges that are posed by the political, historical, social and economic transformations.

Justice Jamali said it was also evidenced by the quality of the country's legal drafting. He said in addition to possessing excellent linguistic skills, legislative drafters need to comprehend the mechanics of our pluralistic legal society and current policy challenges whilst drafting the laws.

"They need to ensure that the preamble and principles of policy are effectively factored while remaining strictly within the confines of the fundamental rights and observing the relevant Islamic "injunctions," the CJP observed. He underscored that the law schools should therefore offer legal drafting as a specialism to equip future legislators with the requisite training.

Jamali said there was a misconception that the legal education was solely for the lawyers and those in law-related professions, but it was relevant and necessary for other fields such as accountancy, management, health and safety and bureaucracy and the like.

The chief justice opined that the country's legal education system is still predominantly confined to a study of obsolete principles and arcane procedures. He said it can be connoted as the 'nadir' of educational experience, which is quite unfortunate considering the all-pervasive role that law plays in our society. "To address and reform this deplorable state of legal education, the role of law schools merits special attention."

Published in The Express Tribune, December 5th,  2015.
COMMENTS
Comments are moderated and generally will be posted if they are on-topic and not abusive.
For more information, please see our Comments FAQ