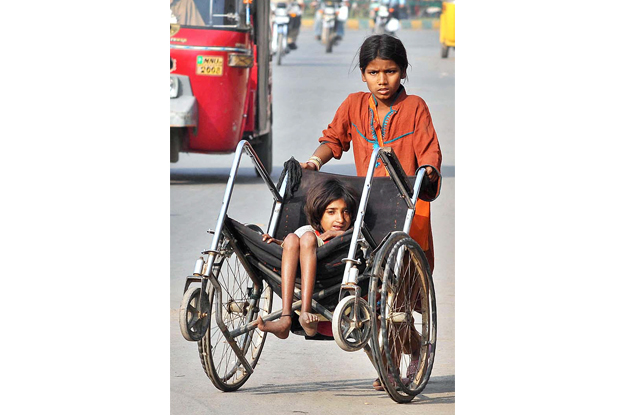 ---
PESHAWAR:



As no census has been conducted since 1998, officials dealing with children who are differently abled have no conclusive data to devise any plans with.




Citing figures from the 1998 census, the focal person at Special Education Centre in Hayatabad, Dr Shiraz Ahmad said, "At least 177,553 differently-abled children under the age of 15 are out of school in K-P."

He expressed these views at an event held in connection with International Day of Persons with Disabilities at the centre. Ahmad said, "Around 39 educational institutions have been offering services for such children across K-P, but 177,553 are still out of school in the province," adding, "The number could be higher as this data was obtained according to the 1998 census."




The focal person said, "Over 30% of the street children across the globe are disabled while 80% are unemployed." He said in K-P, the number of disabled children in each district is around 7,102. However, this data was collected 17 years ago.

A physical life rewritten

At an event at Pakistan Institute of Prosthetic and Orthotic Sciences Fazlur Rehman, who lost his left leg in a blast in Bajaur Agency, narrated his ordeal. "I was 14 years old and was on my way home after grazing goats when a landmine planted on the roadside went off, leaving me disabled for life."

He added, "I was rescued by the armed forces and shifted to an International Committee of the Red Cross (ICRC) unit in the provincial capital where I was treated. I was later shifted to another facility for rehabilitation."

PIPOS Deputy Director Neelum Abdullah told The Express Tribune, "A majority of the patients with blast injuries belong to the tribal areas."

She added, "Over 4,000 patients are treated and many provided medical equipment and prosthetics. Over 2,000 clubfooted children have been treated at the facility since 2012."

ICRC spokesperson for K-P and Fata Yaseen Kamran shared that 14 physical rehabilitation centres were being run across the province with assistance from the ICRC.

A similar event was held at Hayatabad's Paraplegic Centre where its  Chief Executive Syed Muhammad Ilyas said, "This was Pakistan's first paraplegic centre, established in 1984 where people with spinal cord injuries are treated." He added, "It can accommodate 78 patients at a time."

Published in The Express Tribune, December 4th,  2015.