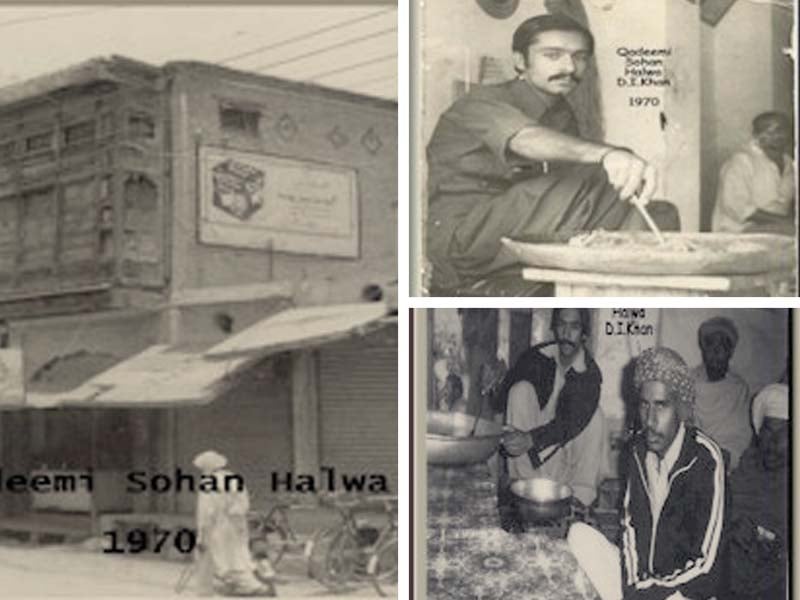 ---
DI KHAN:



Bannu Adda is a place in DI Khan city where passenger buses from the three big cities, namely Peshawar, Quetta and Karachi, pass through. This makes it a hub for tourists to stop and shop for, what is known as, the best sohan halwa in town.




Sohan halwa is a traditional dessert that is made with milk, sugar, water, corn flour, ghee and lots of dry fruits. Unlike most halwas, it is solid and is in a disc-like shape. Tourists get off the coaches in a hurry when they reach Bannu Adda to buy sohan halwa as it is considered a famous souvenir from DI Khan. However, locals are ready to argue that the best sohan halwa is sold in the nearby Topanwala Bazaar, a well-known market in DI Khan city, at a shop named 'Qadeemi Sohan Halwa'.

"In 1936, Abdullah Jan, known as the pioneer of sohan halwa in DI Khan, started a business, selling milk and preparing sohan halwa in Topanwala," Arif Hussain, Jan's grandson, told The Express Tribune.

"But even before that," Hussain continued to say, "Abdullah Jan's father Allah Bakhsh had started the dairy business as well as the business of sohan halwa in Mohalla Ghori Granwala. After his death, his wife Aisha Bibi assumed the responsibilities. And so the halwa became known as bodai khaza halwa which roughly translates to "old woman halwa."

Later on, Abdullah Jan, who used to help his mother (Aisha Bibi), took over the business, which expanded under his name. Even today, this shop's sohan halwa is also known as the Abdullah Jan Halwa.

Identity crisis

"We registered our company in 2015, and have now filed a case against those sohan halwa sellers who are selling and earning a profit in our name," Hussain said. He added more than two dozen sohan halwa shops have opened using the name "Qadeemi" with little variation.

Taste test

"There are hundreds of sohan halwa shops in all of DI Khan city," said Muhammad Kamran, a businessman dealing in sohan halwa in Topanwala Bazaar. There are about 400 shops that sell sohan halwa, he added. "Business is doing well. People come from different cities to buy the sohan halwa I make," Kamran said. He added though it was a lucrative business, there were many issues the sohan halwa sellers face.

"We make sohan halwa on firewood as we do not have a supply of methane gas. Sometime chunks of burnt wood fall in the halwa, affecting the taste," Kamran said. "We need Sui gas to reach us."

Halwa history: A snippet from the past  

A poster in the Qadeemi Sohan Halwa shop describes the following history about the traditional dessert: Sohan halwa was introduced in the early 1500s when Mughal Emperor Humayun came back to India after being exiled in Persia. He called for the makers of this dessert from Persia. The sohan halwa makers were not allowed to share this dessert with the common public and it was set aside for exclusive consumption of the emperors in Delhi.

Published in The Express Tribune, December 3rd,  2015.