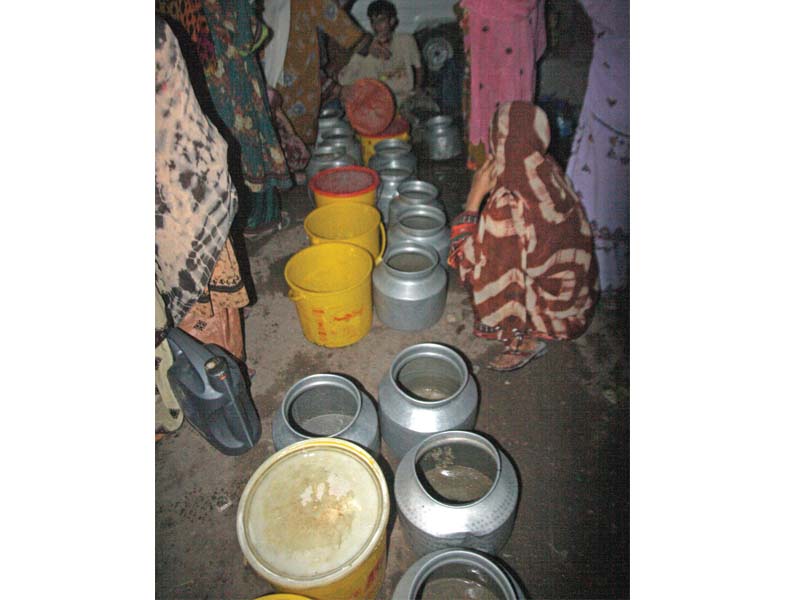 ---
KARACHI: Spending three hours every night to fetch water for her house in Lyari's Sargwad Muhalla has not made Malika bitter. She still hopes an honest official will resolve this problem and earn her blessings in return.

"I will pray for the rest of my life for anyone who solves this issue," said the 55-year-old woman, who has been suffering from this ordeal for the past 17 years. Since she works as domestic help during the day, she hardly finds time to catch up on her sleep given the time spent at the water tap every night from 9pm to midnight. "I have to do this every day," she said, gesturing at her bent fingers. "I am tired now."

If not cash, poultry can help the poor

It is mostly women who make the trip. "All women [and girls] have to get water for their family members even if they are pregnant or sick," claimed Safooran, 50.

Her neighbour, 50-year-old Aziza, balanced two 20-litre gallons as she spoke about the route they usually take. All women have to cross the busy Shah Abdul Latif Bhittai road, she said. "Our women have been taking this risk for years," she said. "We have crossed this road even when there were fights between gangs."

These Baloch women, dressed in their traditional frocks, form a queue when they leave Sargwad Muhalla, which is located in Lyari's union committee two. The area falls between the residences of former MPA Dr Saleem Hingora and current lawmaker Javed Nagori — both men belonging to the Pakistan Peoples Party, which claims Lyari to be its stronghold.

"Everyone comes to us and requests for votes but never solves our issues," Aziza pointed out. "We'll vote for someone who supplies water," she said. "We are prepared to live with uneven streets, old houses and damaged sewerage lines but we need water."

Graduating from extreme poverty

Mahnoor, another woman, pushed a trolley full of bottles and gallons with her daughter-in-law and smiled in agreement. "It is a part of life," she said. "Women in this area have to get water."

The men, most of whom enjoy some downtime as the women go fetch water, complained that the politicians merely use them as voters. "They close their doors to us when we go and ask them to provide water," said a resident Nawaz Baloch.

Shiraz Baloch, who lives on Shambo Mandost Street, said they hold on to the little water the women bring home. "I don't take baths at home," he said. "It is easy to find a job but difficult to get water."

Those residents who can afford to hire rickshaws travel to other neighbourhoods where the queues are shorter. "It saves time and energy but not everyone can afford it," said Shiraz.

This is what the face of the poorest of poor in Pakistan looks like

Recently, some social workers got together to install a pipeline and a sucking machine that links parts of the neighbourhood with Ali Muhammad Muhalla, which is located around 200 metres away on the other side of the busy Shah Abdul Latif Bhitai road. This small project has not brought any significant changes in the lives of these Baloch women.

The chief engineer of the Karachi Water and Sewerage Board, Muhammad Arif Khan, accepted that Sargwad faces an acute water shortage but not the entire area. "The shortage is due to low water levels in Hub Dam," he said.

According to Khan, the people of Ali Muhammad Muhalla also faced a similar crisis but the situation has improved now. "We provide water to Sargwad's residents at least twice a week," he claimed, promising to address the water crisis soon.

Published in The Express Tribune, December 3rd,  2015.
COMMENTS
Comments are moderated and generally will be posted if they are on-topic and not abusive.
For more information, please see our Comments FAQ