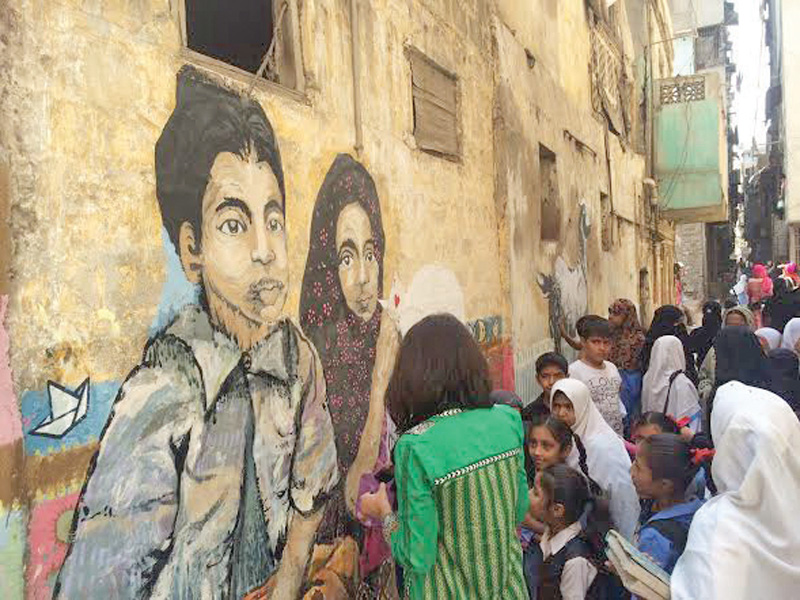 ---
KARACHI: The Fearless Collective is spreading its magic through brushstrokes, leaving behind a mural for all of Lyari to admire. For its people to smile about each time they remember the 'crazy' girls who had suddenly appeared in their bustling neighbourhood and insisted on brightening it up for them.

The Fearless Collective

A brainchild of Indian artist Shilo Shiv Suleman, the collective aims to portray the quieter conversations that are a part of everyday life. For Shilo, it all began on the eve of the Delhi rape incident in 2012. Shilo found herself to be immediately surrounded by this mass wave of protests where thousands of people had come out to raise a voice against an evil that had been ignored thus far. But then things quickly turned sour, with the mass media adding a sense of fear. "People started telling me not to wear this, not to go there and there was just this sense of fear all around," she tells The Express Tribune.

A hidden talent in Lyari paints the First Family of the US




But fear, Shilo believes, is counter-productive. She voiced her concern in a poster she posted online that read: "I never asked for it" and it became an instant hit. Subsequently, she appealed for poster contributions and received hundreds from artists from across the country and other parts of the world. "Thus began the Fearless Collective."

The fearless comes to Pakistan

Shilo came to Pakistan on the invitation of Nida Mushtaq, who wants to seed the idea on this side of the border. Together, Shilo, Nida and Haya Fatima Iqbal, who has been documenting the entire journey, travelled to Lahore, then to Rawalpindi before finally making their way to Karachi. "It has been absolute love," says Shilo. "Everywhere we went, we were made to feel so loved." The group made its way to Lyari last Friday where they conducted a day-long workshop with the community. The aim was to develop a theme for the murals.

Out comes the magic

"It is some weird magic that works for us each time," says Shilo. "Every time we go into a neighbourhood, we go without any assumptions and just manage to develop a theme through our interactions with the community," she says with a laugh.

Game changer: Reinventing Lyari, one photograph at a time

"What I have learned so far is that it is the quieter conversations that have the most profound effect on a person's psyche," she says. "A mother's conversation with her child or a married couple having an intimate chat." Shilo believes that personal affirmations are the best way to change and challenge ideas and social taboos. "The idea is to use public spaces to give a voice to these quieter conversations," she says. "Love and beauty. That is what the Fearless Collective is about."

An idea for Lyari

Through their interaction with the community, they were able to pick out a theme that revolved around the word 'Play'. "When we were walking through the streets on the first day, we saw old men playing cards and dice games on almost every corner," Shilo recalls. "And there were children playing everywhere."

Yet, there is a darker connotation to the theme too. "We are all playing with our lives. And then we play the games of life," she adds. "One of the walls we have painted is located in what serves as the largest playground for children as well as the neighbourhood dump," she laughs. "Such is the irony of life."

Unleashing talent: Getting to know the 'Humans of Lyari'

The team has painted four murals over three days. The three others are painted on the wall of a house located behind Abdullah Haroon College on Khoja Street, Khadda Market.

A member of the team, Rabea Arif, who teaches Art and Design at the Karachi University, recalls that Shilo chose the location on a whim. "This corner of the street comes to life after 5pm every day so it was the perfect choice," she explains. "We couldn't have asked for a better response from the community," she adds. They have been well taken care of, with people constantly coming up to them with offers of tea, water and food or just to strike a casual conversation. But it is the children who have been most excited. The older men, too, love to paint, says Rabia.

Published in The Express Tribune, December 3rd,  2015.
COMMENTS (1)
Comments are moderated and generally will be posted if they are on-topic and not abusive.
For more information, please see our Comments FAQ