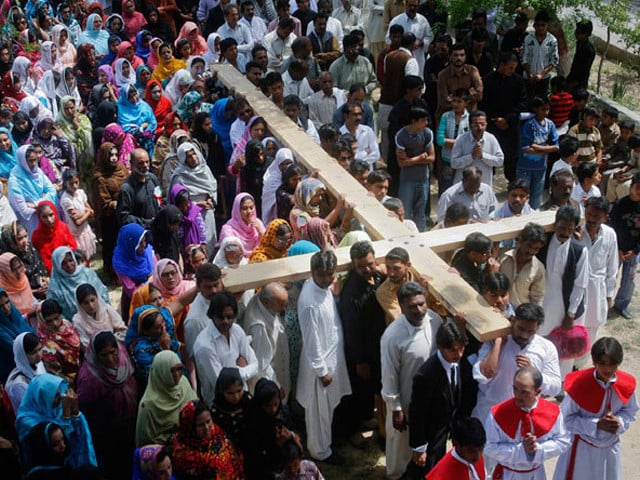 ---
Minority rights and the Pakistani-American diaspora
Pakistani-Americans should use their leverage to urge Pakistan to repeal discriminatory actions against its minorities
---
Earlier this year, a violent mob stormed a police station in eastern Pakistan, dragged out a young man, who had been accused of desecrating the Holy Quran, and bludgeoned him to death. This comes after the gruesome killing of Priyantha Kumara, a Sri Lankan Christian factory manager, who was lynched in December 2021 by a crazed mob, and his body was set alight after he was accused of blasphemy. While the blame for these horrific murders lies squarely with the perpetrators, the state shares significant responsibility for creating a climate of intolerance in the country, which allows such incidents to occur with increasing frequency.
When a country formulates discriminatory laws and policies that target particular communities, it creates space for hate crimes and vigilante violence against members of those groups. The state has done this time and again through a range of laws that have exposed Ahmadis, Christians, Hindus, and other religious and sectarian minorities to relentless persecution.
Among these are the nefarious blasphemy laws – rather than rolling them back, successive governments have strengthened them in an effort to appease the religious right, most recently through the passage of the Criminal Laws Amendment Act 2023. Following its unanimous approval in the national assembly, the Human Rights Commission of Pakistan issued the following statement:
"Given Pakistan's troubled record of the misuse of such laws, these amendments are likely to be weaponised disproportionately against religious minorities and sects, resulting in false FIRs, harassment and persecution. Moreover, increasing the penalty for alleged blasphemy will aggravate misuse of the law to settle personal vendettas, as is often the case with blasphemy allegations."
While courageous civil society activists in Pakistan continue to speak out against these laws, many others who have raised their voices have been gunned down, silenced or harassed. Given the risks involved for those living in Pakistan, it is important for members of the Pakistani diaspora to use their positions, their leverage, and their voices to speak out.
While certainly not to the same extent, Pakistani-Americans, who are predominantly Muslim, know what it is like to be targeted as a religious minority. Over the past two decades, through laws such as the Patriot Act, programs such as Countering Violent Extremism and NSEERS, and policies of extensive surveillance and religious profiling, the US government has contributed to a socio-political climate that normalises hate and violence against Muslims in America.
Hence, the Pakistani-American community are familiar with what it means to be viewed with suspicion, to have its places of worship vandalised and attacked, and to have its children bullied because of their religious affiliation.
Even as many in the Pakistani-American community speak out openly against US government policies that perpetuate Islamophobia, there is an acute awareness that back in Pakistan, there is little space for criticism against laws that promote bigotry, violence and oppression.
Given their experience with structural and societal violence, Pakistani-Americans are uniquely positioned to understand and do something about the abhorrent treatment of religious minority groups in Pakistan. Many have strong links to their country of origin and are connected through family ties, remittances, and 'motherland politics'. They, therefore, have a significant role to play in shaping norms and values in Pakistan.
Pakistani-Americans have considerable leverage due to their enormous financial investments in Pakistan. Successive governments have called on the Pakistani diaspora for their assistance in funding infrastructure projects, alleviating the government's debts, promoting entrepreneurs, and contributing to the country's overall economic development. The overseas community should use this leverage to pressure the Pakistani government on its minority rights record and urge it to repeal discriminatory laws and practices.
There is also a need to expand space for Pakistani civil society groups to operate without fear of intimidation and harassment. Each year, Pakistani-Americans raise tens of millions in charitable donations to support education, health, and humanitarian relief initiatives in Pakistan. While this is commendable, there should be a concerted effort towards supporting non-government organisations and journalists in Pakistan that are doing the difficult and courageous work of promoting religious pluralism, human rights, and equal citizenship for all in the country.
Part of this effort includes Pakistani-Americans engaging with their congressional representatives to ensure that US assistance going to Pakistan includes rapid response emergency funds for human rights defenders and journalists in imminent danger.
As Pakistani-Americans seek to improve the civil rights and liberties of Muslims in America, they receive steadfast support from fellow Americans of all religious backgrounds. These allies stand alongside Muslims in their struggle for equal rights. It is time for the Pakistani-American community to demonstrate solidarity with minority communities in Pakistan, who, for far too long, have endured religious persecution in their own country.