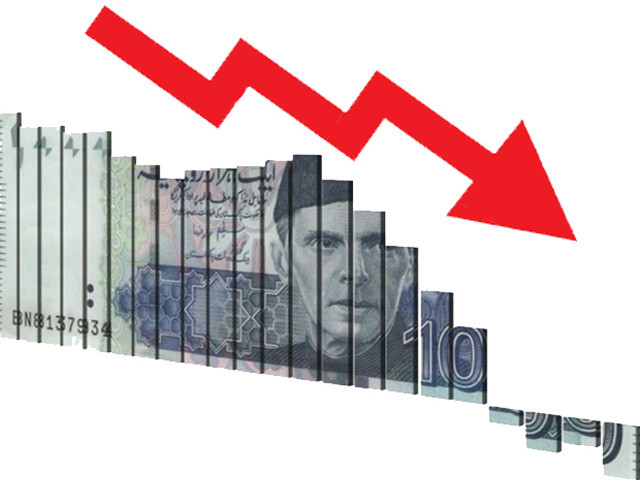 ---
A mismanaged economy and no true development
This pattern of public expenditure of the last three decades will indeed lead the economy and country to bankruptcy.
---
According to a report published by Visual Capitalist, Pakistan has been ranked in the top five countries with a higher default risk. The following indicators are what makes Pakistan vulnerable enough to stay on the default risk for a long time:
Government bond yields 16.8 per cent;
Interest expense 4.8 per cent;
Government debt 71.3 per cent.
It is no news that the country's unemployment rate is increasing with each passing year. According to the Labour Force Survey 2020-21, the overall unemployment rate is 6.3 per cent with a prevalence of a higher unemployment rate (12.2 per cent) among people aged 20-24 years, compared to the unemployment rate in 2018-2019, which was 11.8 per cent. If that is not bad enough, the Pakistan Bureau of Statistics also reported a 24.9 per cent increase in the annual inflation rate in July 2022. Hence, the major indicators stated above clearly show that Pakistan's pattern of resource distribution is not quite working out for the best.
Moreover, the country's economy is on the verge of a major collapse, which will ultimately affect people belonging to the middle and lower middle socio-economic class, who are already surviving on hand-to-mouth. At this point in the crisis, the government still has no plan to facilitate these particular groups in the country.
The current resource distribution pattern of Pakistan follows the "Pareto Efficiency", a term coined by Vilfredo Pareto (1848–1923), an Italian civil engineer and economist, which describes a situation where a limited number of people are made better off under finite resources, and it does not take equality or social wellbeing into account. Pakistan's current state is exactly this – the rich are still profiting off the meagre and uncertain economic and political situation, whereas the rest of the population is living in the toughest of times.
Recently, the government of Pakistan inaugurated the Lahore Orange Metro Train in Lahore, which is the second largest city of Pakistan. The project will facilitate 250,000 passengers a day and will cover a route of 27.1 kilometres with 27 trains running at a speed of 80 kmph at 26 stations. The project was estimated to cost Rs22 billion, but as we know, all things money is not straightforward in developing countries such as Pakistan. Eventually, the cost of the project increased to Rs33 billion, which means that an additional loss of Rs11 billion is added to the national exchequer on an already unsustainable project. This plan is much like buying an imported Mercedes S-Class when you can't even afford a Suzuki Alto.
A single ticket to travel on the Lahore Orange Metro Train costs Rs40, which is already not very economical for the lower-class population of the city. However, the government paid a subsidy of Rs12.72 billion in the first year of the project, which means that the government is giving a subsidy of Rs245 per capita for an average of 2.1 per cent of the city's population. The project will cost taxpayers five billion rupees annually only for tickets and the entire population will pay for an average of only 2.1 per cent of the population.
In the year 2019-20, Rs29 billion subsidies were provided to 88 sugar mills, but in return, the net tax paid by mills was only Rs10 billion. Exporting sugar on subsidies means exporting at the cost of taxpayers hard earned money. In 2017-18, Rs10.7 billion subsidies were given per kilogram for the export of two million tons of sugar. With a rough calculation, decreasing even a single rupee from the proposed subsidy would result in savings worth Rs2 billion. If we consider the adjustment of Rs5 per kg, this would save up to Rs10 billion, which is truly a huge amount and resource that could and should be invested in people who belong to the middle and lower-middle class.
The aforementioned pattern of public expenditure that Pakistan is following for the last three decades will indeed lead the economy to bankruptcy. In Pakistan, people are deceived by the rate of Gross Domestic Product (GDP) growth, which is nothing but a bluff. With this pattern, an economy can only achieve GDP growth but not the wellbeing of society and people, which means there is growth but no true development.
We have seen that our policy makers are focused on the so-called GDP growth, which is basically a shortcut and a lie to claim that they are focused on improving the economy. Then again, as we all know, the economy is hardly surviving on a ventilator and is always in the queue to receive International Monetary Fund (IMF) funds to keep the drowning economy afloat. One major drawback in Pakistan's expenditure pattern is that Pakistan is not investing in its people but rather extracting from them. On the other hand, it is recommended that Pakistan invests in the bigger proportion of middle and lower middle socio-economic class to make them participate productively in the economy.
The capital city of Islamabad has 30,000 street vendors and Karachi has 150,000. If we assume that earnings of Rs1000 are made per day, their yearly earnings will amount to Rs5,475 million. Hence, Pakistan should consider legalising street vendors, provide a proper license for entrepreneurs on merit, and develop a proper market for street vendors in different parts of the cities. Furthermore, a huge chunk of resources should be allocated towards the lower classes and provide them with interest-free small grants or loans to give a much-needed boost to this program. This will be a great source of generating immediate employment and government revenue to counter the current crisis. Legalising street vendors would also help protect the existing ones from paying bribes to the police and government touts in order to keep their businesses running.
The proposed model would also help achieve multiple Sustainable Development Goals (SDGs) such as poverty eradication, zero hunger, good health and enhanced living standards, decent work and economic growth, and reduced inequalities.