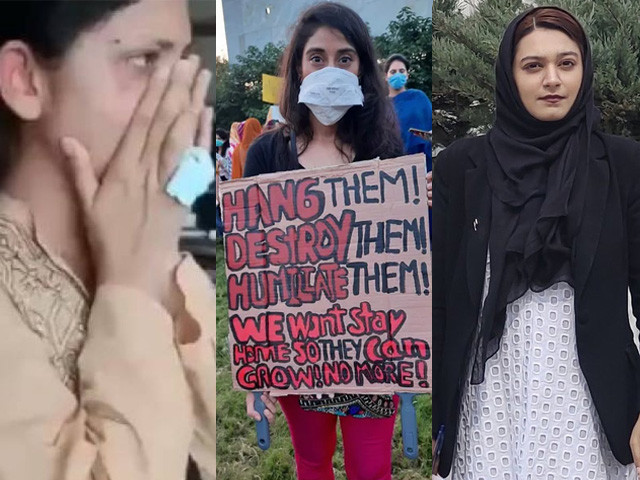 ---
How many Khadijas and Noors will it take?
How many Khadijas and Noors must fall victim before we realise? How many must fall before we can all rise?
---
Reports of sexual assault cases against women are rapidly increasing in Pakistan. It's no news that our country is deeply embedded in a misogynistic and patriarchal system which continues to discriminate against various existing minority groups. Honour killings, female infanticide, murders of women over refusing marriage proposals from entitled men, forced conversions of women belonging to religions other than Islam, acid attacks, forced and child marriages – these are only some of grave criminal acts perpetuated towards girls and women in Pakistan. One such recent case of assault and torture has surfaced from Faisalabad.
Sheikh Danish Ali, the accused, a businessman with associations with two leading political parties in Pakistan, apparently led him to believe that he can exercise and exploit his endless privilege without any serious consequences. What is most bizarre about this case is that the victim, Khadija Mehmood, was a friend of Danish Ali's daughter, Ana Ali, who is also a prime accused. Danish had been trying to, with the support of his daughter, coerce Khadija into marrying him but when she refused his proposal, she was abducted, tortured and sexually assaulted. A video of the accused assaulting Khadija in different forms went viral in which it was obvious that her hair had been chopped off, while the victim is being physically and verbally assaulted and being forced to lick Danish Ali's shoes.
In Faisalabad: After refusing to marry a man twice her age, a medical student was kidnapped from her home and tortured by accused Sheikh Danish Ali and his family. pic.twitter.com/jB2SSLdY7p

— The Express Tribune (@etribune) August 17, 2022
The idea that these incidences only happen amongst the "uneducated" has now publicly been trumped as the accused in this case are educated individuals with decent exposure to the international community and have fairly modern lifestyles. Clearly, this isn't about one's access to education or the ability to learn at academic institutions; rather, it is about the entitlement with which men are allowed to function and in fact even encouraged to sustain their male ego. Danish's power as a man and his fragile ego seems to be the cause of this complete insanity. These are the same traits that have continued to lead men to commit other heinous crimes against women.
The case received immense backlash to the point that lawyers attacked the accused and threw shoes at him once he entered the premises of the sessions court in Faisalabad. However, despite the national outrage and City Police Officer (CPO) Omer Saeed Malik forming a special team to be headed by the SP of Madina Town to see to this case closely, there is not much hope that the victim in this case will get the justice she deserves, much like Noor Muqqadam still awaits hers.
In recent developments, Ana, the daughter of the prime accused has been granted a four-day protective bail against surety bonds worth Rs25,000. Basically, all it takes is a little bit of money for criminals to evade their deserved fate. She has been, however, along with her father, been put on the Exit Control List (ECL) list so at least the probability of them fleeing the country is nearly impossible. But then again, all it takes is a little of bit of money to reverse even the strictest of laws and judgements in this country.
While we see frequent protests and rallies taking place for Shahbaz Gill, while we hear pleas to provide him with protection and stop the prosecution taking place against him, we hardly see that kind of commitment and uproar to protect women from becoming victims to such infuriating and downright unacceptable crimes every day. When women come out to march for their rights, for just a day – as a result of pure frustration stemming from listening to and experiencing harassment, violence and discrimination on a daily basis – it is considered a joke; a waste of time and is outright rejected because "women already have so many rights, so what more do they want?"

What's most disappointing is to see the internalised patriarchy in other women who choose to uphold bizarre traditions of inequality because of how much some benefit from it.
The sole point of the Aurat March is to highlight these very incidences and plead to the government to focus on forming legislations that protect women and other minority groups and the execution and application of these laws swiftly where needed. The slogan, "Mera Jism Meri Marzi" (my body, my choice) does not mean that women want to parade around naked; it means we demand our bodies and our lives to be respected, to be recognised as equal humans and to reclaim our right to do with our lives as we please without having the fear of someone murdering and raping us.
From Khadija Siddiqui, who was stabbed 23 times by her close friend for not responding to his inappropriate behaviour and intimidating threats, to Khadija Mehmood who was abducted, tortured, held on gunpoint and sexually assaulted for rejecting a marriage proposal from her friend's father, it is truly frightening to fathom the ease and normalcy with which such acts of violence are perpetrated against women. Not only that, Khadija Siddiqui's attacker, Shah Hussain, was able to receive early release from jail with the help of other influential men in the judicial system and multiple bribes offered to different people at different levels.
It is absolutely harrowing for women to live with the reality that this may happen to any of us at any time, whether in broad daylight in a crowded public setting or at night in a secluded area or even at home – we are never really safe. Presently, even though Khadija Siddiqui evaded her death and fought for a second life, her attacker walks freely and she lives with the constant fear of being attacked again without any kind of social protection. The same goes for several other similar cases silenced or ignored altogether.
At this point, we all must seriously question how low as a community we have stooped, and whether there is a concrete solution to these issues so that the women of this country can live safely, if at all.
How many Khadijas and Noors must fall victim before we see and realise what the real problem is; how many sisters, daughters, mothers must constantly feel unsafe and unheard before we collectively stand up for our own? How many must fall before we can all rise?