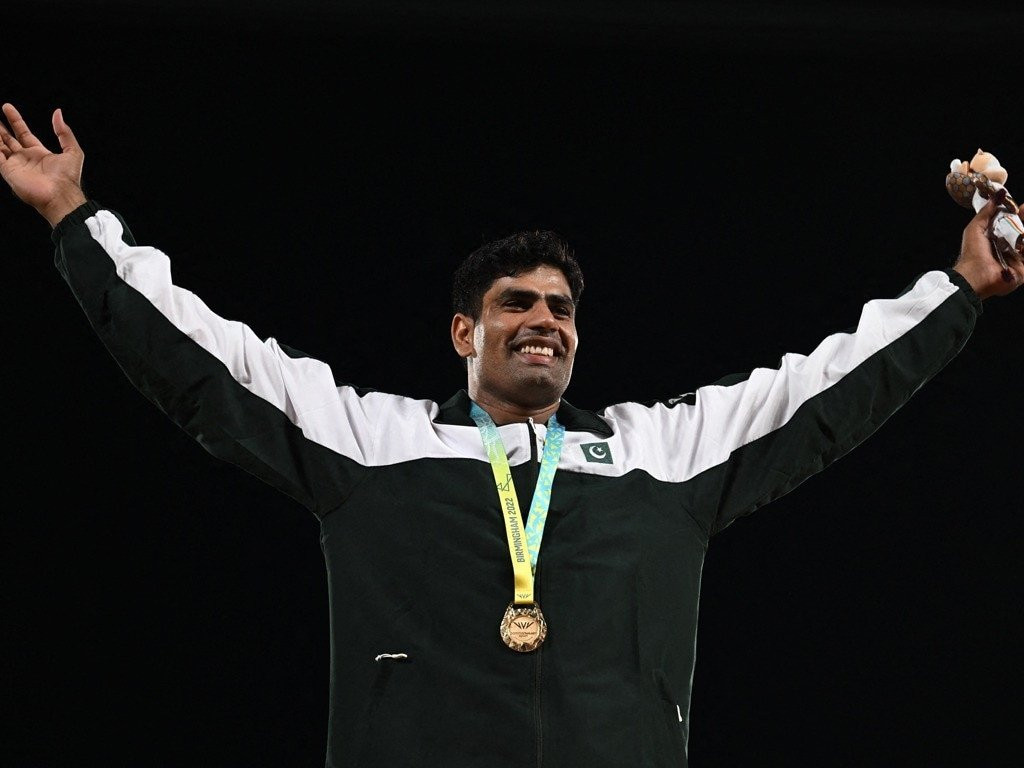 ---
Will our athletes be respected and supported only if they win?
Nadeem received scholarships, prizes since his big wins but only once he managed to get his name out there on his own
---
On August 7th, 2022, the news about Arshad Nadeem winning gold at the Common Wealth Games (CWG) in Birmingham, UK, went viral and Pakistanis around the globe rejoiced as the 25-year-old hero had managed to bring absolute pride to the nation. As he set the world record for the longest javelin throw at 90.18 meters, he brought back the title while being injured. Applause and congratulations poured in for the young winner. Nadeem is the second Pakistani to win the gold medal at the CWG after Nooh Dastgir Butt who crushed the weightlifting record just days before on August 4th, 2022.
Nadeem has managed to continue his winning streak as he won another gold medal on August 12th, 2022 at the Islamic Solidarity Games held in Konya, making this is his second big win in six days. He previously bagged a gold at the South Asian Games and the Imam Raza Cup held in Iran.
While this indeed is a moment of celebration, we must address the challenges faced by national athletes leading up to their huge feats on international sports platforms and events. The biggest challenge to name would be the lack of funding and the lack of worthiness that is associated with other sports in Pakistan. We often read that despite athletes winning big international titles, they usually have to search for relevant work in order to sustain a respectful lifestyle, unless lucky enough to be provided financial support and/or recognition. As a nation, we fail to consider sports as respectful profession enough to pump real vision, dedication and modes of acceleration towards it. Sports has always remained as "extracurricular" activities in educational intuitions, whereas conventional subjects such as science, mathematics and English always take the lead.
Furthermore, seldom do we see encouragement coming from children's parents and educators to pursue sports as a serious profession as a result of cultural conditioning. This conditioning to perceive sports as a secondary option altogether remains true for all children, but it runs deeper and becomes more complexed when gender comes into the mix. Whereas, it is still widely acceptable for men to become athletes, for women, the hindrances towards being recognised and celebrated as athletes are still manyfold.
This is not to say that Pakistanis lack talent nor passion. What is lacking most is the support. Just like Pakistan's veteran television actors and entertainers, athletes too struggle to meet ends meet on the daily; our athletes are usually met with the same fate in the later years of their career simply because our state does not see them as worthy and productive enough citizens. What stuns me most is that our people's understanding of "patriotism" and "loyalty" is limited to either supporting a particular political party and/or constantly trying to prove our superiority over India; whereas our solidarity should be proved by the way we stand together with each other, by how we support and encourage all kinds of professional growth, especially at the international level. Considering Pakistanis have brought home big titles at the CWG, it is now certain what we are capable of it if we are given the right kind of backing, support and financial allocation. My question then is: where is the funding?
As per reports earlier this year, the federal budget allocated for sports for the fiscal year 2022-23 has been cut down to Rs3.47 billion as compared to last year's allocation of Rs3.73 billion. It is obvious that even though the Pakistan Sports Board (PSB) is responsible for providing funds to various federations and looking after the needs of the athletes, it cannot possibly provide the necessary facilities with these meagre numbers. It is public knowledge now that unless these rising stars contribute to their own training, in terms of coaching, consuming correct diet and meals in order to stay fit, and accessing proper training facilities, they wouldn't be able to reach these heights today. Simply put, athletes need consistent and rigorous training in order to become medal-worthy sportspeople at the Olympics and this requires serious finances.
Not only that, because of financial restraints and set backs, national athletes do not get enough exposure ahead of international events. When we talk about trainings, it is not just the physical element that we speak of but also about becoming the best spokespersons for the country; it is about learning how to communicate flawlessly in a professional manner that pertains to their particular expertise, preparing them for international interviews and press conferences in hopes to represent the country in the best possible way.
Isn't it disheartening to know that in order to train for the CWG last year, Nadeem continued to train on his own at the gym in his house and at the cricket ground in Mian Channu, the village he belongs to in Punjab, instead of at a sporting ground built professionally with safe and relevant equipment. In fact, in an interview last year, he shared that Army Chief Qamar Javed Bajwa gifted him some weight training equipment while Maulana Tariq Jamil gifted him one machine-based equipment. My argument here would remain the same: if there were proper facilities established for athletic training, we wouldn't necessarily need the army chief or a leader of a political party donating a few handpicked equipment. Perhaps the money with which this very equipment is bought can instead directly be added to the budget allocated for sports.
Instead of producing better professional athletes by financially providing them with the right kind of support, equipment and coaching, we would still rather see money being misallocated or overallocated to projects that are only beneficial on paper or to a certain unit of people whose only objective is to sustain their hierarchy. If anyone is familiar with Pakistan's budget for the current fiscal year, they would know who is to get the most amount of funding but I guess that would be a dangerous terrain to explore here.
Nadeem has been lucky enough to receive sports scholarships and prizes since his big wins but these only arrived once he managed to get his name out there on his own. Our sports industry needs to expand to a certain international level in order to churn our world champions and that will only happen if:
there is a shift in the cultural perception of sports as a profession;

there are sufficient funds for well-rounded training and preparation;

corruption within the sporting industry is halted;

there are more facilities available and accessible in earlier stages of people's lives to try their hand at various sports
While cricket as a sport, both domestically and internationally, is constantly being pushed and pumped money into, we hardly see that kind of commitment towards other sports. It was recently revealed that a total of Rs 747 million were paid by the Punjab government for the deployment of Pakistan Rangers troops during PSL7. As per the official Pakistan Cricket Board (PCB) website, the 2022-23 budget stands at Rs15 billion with 78 per cent allocated to cricket activities for both men and women. This amount, though still quite average compared to the amount allocated for the sport in other leading nations, is still quite a handful. On the other hand, the national game of Pakistan, hockey, which has brought home multiple world cups in the past, has been pushed to the sidelines and hockey players today are faced by intense shortage of funding to the point that it is plain sad. Players can't even afford simple things like sporting kits, proved by a viral tweet mentioning how the hockey team captain couldn't give a fan a signed shirt as he only had one.
This is sad, a fan wanted signed shirt and our hockey players didn't have an extra one. Earlier head coach Siggy said players and coaching staff are unpaid for months.
But, officials ke joy-trips ko koi aaanch nahee aani chahiye. https://t.co/H7aomsXXZC

— Faizan Lakhani (@faizanlakhani) August 6, 2022
Besides that, our squash team ruled the world for years while the football team used to be one of our biggest strengths butdue to lack of attention, care, corruption and mismanagement, both sports and sportsmen/athletes have had to face the most terrible circumstances, including isolation from global events as well as financial hardships on a personal level. This holds true for all other sports except cricket.
I suppose this time we can celebrate our champions and hope that seeing them soar will inspire many others to follow their dreams.