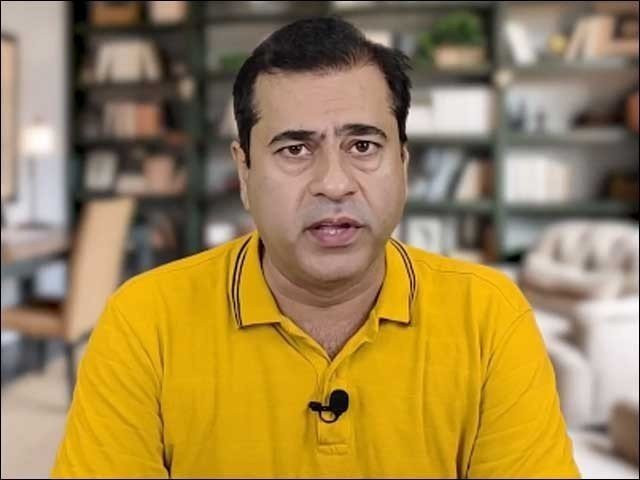 ---
Imran Riaz's arrest is both condemnable and inevitable
Imran's arrest should be condemned, but him and likeminded journalists also need to reform their behaviour
---
A few days ago, famous but controversial anchorperson Imran Riaz Khan was arrested near Islamabad. His arrest was not surprising since he was increasingly taking aggressive positions against state institutions and there was speculation that his arrest was imminent.
After Pakistan Tehreek-e-Insaf's (PTI) ouster from power, Imran was one of the main media personalities articulating PTI's narrative that a regime change had occurred as a result of a foreign conspiracy. Besides peddling that narrative vociferously on social media and his YouTube channel, he has also been openly blaming the Pakistani establishment for supposedly facilitating the regime change.
Although PTI social media accounts, along with some other anchorpersons, have also been active in putting the blame on Pakistan's security establishment, no one has ventured as far as Imran. For example, in one video, he directly accused the sitting Chief of Army Staff (COAS) of orchestrating the regime change, and in his last video he even challenged them by issuing threats that he would reveal all the "secrets" in five hours if he was not released from prison.
His arrest has led to widespread backlash, particularly from PTI supporters, and trends like "#میں_بھی_عمران__ریاض_ہوں", "#WeStandWithImranRiaz" are trending on Twitter. Along with PTI, his arrest is also being condemned by some prominent liberal journalists.
Let me be clear here. Arrests of journalists are condemnable irrespective of their political views because freedom of media (and, by extension, freedom of speech in the country) is one of the most important pillars of any democratic and free society. Individual freedom, which is a universally accepted ideal, is not possible without freedom of media as an independent media keeps check on the state's authority and prevents it from usurping individual rights. Moreover, journalists are often considered the moral compass of society since they highlight governance issues and social ills and keep a check on the ruling clique. In fact, compared to voters, it's the media which keeps a government in check on a daily basis as voters exercise their right only once every four or five years.
Due to the reasons stated above, I condemn his arrest, but I cannot feel too much sympathy for him. To explain why, I shall draw attention to some important aspects regarding both Imran and PTI.
The first reason as to why I cannot really feel much sympathy for him is that Imran constantly aired misogynistic and extremely sexist content on his YouTube channel, going to the extent of even maligning the late Noor Muqaddam. He also criticised the Aurat March and regularly attacked prominent liberal women. More recently, he also made fun of senior journalist Matiullah Jan for being "raped" when the latter asked him a probing question.
The second reason is the role Imran and his ilk has played in creating the current toxic situation as far as the media is concerned. What PTI supporters, who are currently crying about freedom of speech due to Imran's arrest, are forgetting is that their party is a major culprit in creating the present atmosphere. There is a general consensus that PTI's tenure was perhaps one of the worst periods as far as media freedom was concerned in the country, made evident by the fact that Pakistan dropped from 139th place in 2018 to 157th place in 2021 on the Press Freedom Index.
During PTI's rule, journalists critical of its policies were actively harassed on social media and often under direct official tutelage. The PTI government weaponised its huge social media footprint to target the opposition and some sections of the media. Interestingly, since during the first three years the establishment was supporting the PTI government, it also targeted those journalists who were even remotely critical of the hybrid regime.
Not only that, when some journalists were abducted and assaulted, PTI anchorpersons like Imran and PTI's social media cell actively mocked those journalists and even expressed doubts about such abductions. I still remember when Absar Alam was attacked, and PTI's leading anchorpersons like Arshad Sharif openly made fun of him on Twitter by implying that no such attack even took place.
In fact, Imran, more than anyone else, was involved in the same practice and routinely used to call all journalists critical of the establishment as traitors in his programmes as well as on social media. This behaviour was extremely unethical as it tarnished the credibility of several journalists in the public eye, hence making it easier for the state to silence them through pressure tactics. He openly mocked all forcible disappearances.
Moreover, he was also instrumental in justifying the introduction of draconian laws aimed at curbing press freedom in Pakistan. In this regard, he used his YouTube channel to first build support and then justify the infamous amendment in the Electronic Crimes Prevention Act which made criticism of state institutions a crime punishable by five years. This amendment was passed despite intense protests from opposition parties and a large section of the media. It is ironic that Imran's own arrest has taken place under the same charges he has been accusing others of in the past, and he is likely to be tried under the law he himself vociferously supported and justified. In many ways, he is the living proof of the famous saying "You reap, what you sow".
And even then, he has gotten a better deal than most. Unlike those who during PTI's rule were silently abducted and beaten, he has been arrested under the law of the land and therefore has proper recourse to legal assistance. Moreover, his arrest occurred in front of many TV cameras, hence allowing him and his supporters the abililty to perpetuate an image of "bravery" and attract a lot of support. In fact, the story of his time in custody is being regularly aired on his own YouTube channel and is then shared widely on social media platforms.
As I stated earlier, Imran's arrest should be condemned, but at the same time he and his fellow likeminded journalists also need to introspect and reform their behaviour. I hope that they have learnt their lesson and will not repeat these mistakes in the future because in the end, such acts eventually lead to one's own downfall while also making the country's political and social atmosphere extremely toxic.