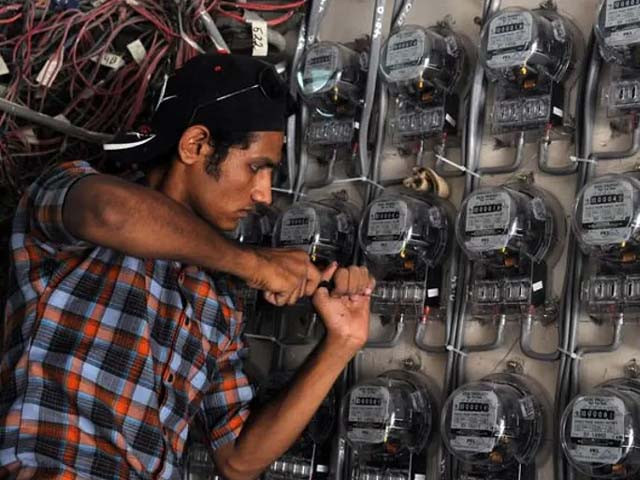 ---
Is power theft really theft?
It's strange that many people in Pakistan don't consider the theft of utilities to be theft
---
We were in the newsroom discussing topics for our Ramazan coverage when we started talking about the electricity situation in Karachi with regards to tarawih and night cricket matches. The assignment editor said that we had to keep a few things in mind while making the television package on this subject. This included an Islamic scholar's statement in which he said that religious gatherings should not be held with stolen electricity – i.e. no kundas should be used to light up a mosque. The sports reporter jumped in and asked:
"Is power theft really theft? Since our childhood, night cricket and other matches have been played with street lights and bulbs powered by kundas."
Soon the meeting's agenda caught up with us, but this thought stuck with me.
I find it strange that many people in Pakistan don't consider the theft of utilities to be theft. People steal water, power and natural gas on a large scale, and this results in huge losses. Talking specifically about the country's power sector, the generation and distribution of electricity is a large-scale process. The power distribution network extends from the Wagah border to the shores of Karachi. Besides electricity, this sector also provides numerous jobs and investment opportunities.
According to a representative from the Water and Power Development Authority (WAPDA), Pakistanis did not consider electricity theft to be stealing.
"This is due to several reasons. The one that makes the most sense is that when the Mangla and Tarbela dams were made, they resulted in the production of large amounts of electricity. In order to keep the power turbines going, the country needed consumers as well. This was the way the power distribution system was developing in the country," he informed me.
"WAPDA installed electricity metres across the country, but in many areas, no metre readings were taken, nor were bills sent to the consumers. This system continued for many years and resulted in the public becoming users of free electricity. That sentiment became so entrenched in society that people now don't consider power theft as theft. They forget that the government and private sector have to work very hard to generate and distribute power," he stated.
By the year 2023, the completion of many projects in the country should take Pakistan's power generation up to 53,504 megawatts. The World Bank's findings also show that electrical subsides in Pakistan are hampering the GDP and worsening Pakistan's fiscal debt. The purpose of the subsidies was to give relief to the poor, yet they have not managed to curb the menace of power theft.
In another report dexplaining the state of the industry, the National Electric Power Regulatory Authority (NEPRA) claimed that circular debt was rising due to transmission and distribution losses by distribution companies (DISCOs) and the non-payment of bills. This means that DISCOs are unable to recover bills on an individual basis from electricity thieves and fail to take action against them. Peshawar, Hyderabad, Sukkur and Quetta are taking less power than is prescribed to them in their quota, and are instead increasing load shedding so they can reduce losses. Increasing circular debt is not just impacting the power sector but is also hurting the entire economy.
Large scale theft of power and non-payment of subsidies by the government is having an adverse impact on circular debt. In June 2017, the circular debt was Rs729 billion, which increased to Rs1,148 billion in the following year. At the end of 2019, this amounted to Rs1,612 billion, and further climbed to Rs2,327 billion in fiscal year 2021. This financial year (till February), the circular debt has reached Rs2,300 billion.
According to Karachi Electric's (KE) Spokesperson Imran Rana, KE invested Rs415 billion in order to upgrade its system.
"KE has upgraded grids that were overloaded and replaced old pole mounted transformers (PMTs). Instead of open wires, KE has installed aerial bundle cables. On open wires, one could put a kunda anywhere and steal electricity, but with air bundle cables, this is not possible," he informed me.
He claimed that this was how KE had brought down power theft from 39% to 16%, resulting in 75% of the areas now being load shedding free. He added that this had brought a positive impact on industrial and business activities in the city as well. Experts claim that the only way to stop power theft is through legislation or using modern technology – like KE's air bundle cables.
The Pakistan Institute of Development Economics (PIDE) prepared a research paper on power theft around the world and steps taken to combat it. According to this report, the economic viewpoint states that financial crimes are committed when the gains achieved are bigger than the expected payments to be made by the person committing the crime. Experts say that power theft occurs in areas where power providers are unable to collect bills and the employees are unprofessional.
However, power theft is not just an issue specific to Pakistan. Globally, power is a consequence of a bad relationship between the power rates and per capita income. This means that the higher the per capita income, the lower the power theft. This is why experts suggest there should be an increase in commercial activities in the country in order to increase the per capita income to combat power theft.
The most important thing, however, is that the cheaper sources of power generation should be promoted. This includes alternative sources of energy being prioritised. It is imperative to also take legal action against those who steal electricity. If not, Pakistan will never rid itself of the menace of power theft.