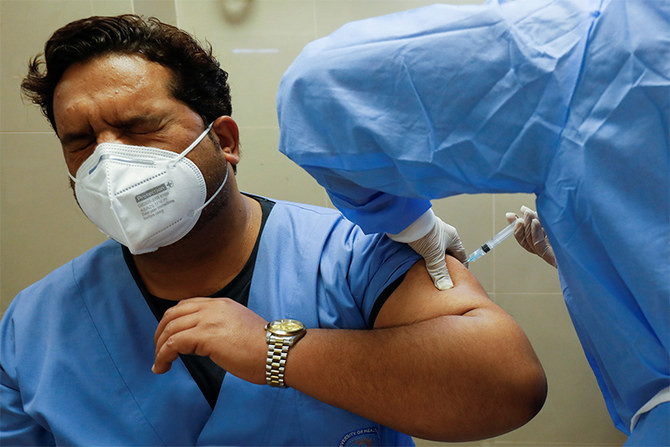 ---
How vaccine inequality is impacting South Asia
Obtaining vaccines shouldn't be a privilege but a fundamental right.
---
The advent of Covid-19 forced countries to take unprecedented steps such as national lockdowns, border closures and trade restrictions, causing a disruption in global food supply chains as well as bringing international travel and transportation to a temporary standstill. The pandemic has wreaked havoc on healthcare systems across the globe, and brought on socio-economic inequalities and vulnerabilities, especially in low income countries. The development of vaccinations in 2021 symbolised a much needed hope for humanity. Vaccines were always the main exit strategy out of this pandemic. Rapid manufacturing and efficient administration of vaccines worldwide is necessary to provide a safeguard from viral pandemics. This will only work if they are available and affordable to the entire world, however, most citizens of low income states are deprived of access to these life saving vaccines.
Afghanistan, amidst an unfortunate political upheaval, continues to be one of the lowest vaccinated countries in South Asia. In June 2021, the delta variant began to exacerbate the situation even more. The country received less than one million vaccine doses collectively from India and China; only nine percent of their total population has been fully vaccinated. This has laid bare the global North-South divide, as vaccine hierarchy continues to thrive within the international political structure. Public health initiatives face additional obstacles and difficulties in such conflict zones. The international community must genuinely engage with Afghanistan and come to terms with the political reality of the region. Otherwise, the conflict hit country might face another humanitarian disaster as winter approaches.
Similarly India, despite being one of the largest covid vaccine manufacturers is facing vaccine inequality. Especially in rural areas, a lack of technology and language barriers has put a section of society in danger of being unvaccinated. The main way to register for vaccines in India is through a government website, which operates in the English language. A majority of the country's population can't speak, read or write the language which directly affects large swaths of the population. Additionally, lack of transport, insufficient numbers of vaccine centres, difficulties in online registrations and a huge population have put those at the periphery of society at a severe disadvantage. Recent data has also revealed a gender gap in vaccinations. Currently 32% of the total population has been fully vaccinated which, despite being relatively better, is still a low percentage.
Another developing economy in the region, Bangladesh was severely hit by the pandemic. As the delta variant ravaged through the country it brought healthcare systems to a near collapse. Vaccination efforts in the country were initially abysmal, mainly due to an unavailability of vaccines. Like other regional neighbours, the country mostly depended on Chinese and Indian vaccines. Since India was also facing extreme difficulties in controlling covid cases, it stopped exporting vaccines to meet its internal healthcare requirement, causing a ripple effect in the region. Recent studies have shown that vulnerable and ethnic minorities of Bangladesh are at a disadvantage, as access to digital facilities is a significant determinant of online registration for vaccination. An existing divide in access to technology directly affects a large portion of the population.
Pakistan, as compared to its neighbours, displayed better administration and performance in keeping covid cases under control. However, Afghan refugees became vulnerable due to being unvaccinated since they are often excluded from the privileges enjoyed by most Pakistani citizens. The disenfranchised have little access to information and rumours against the vaccine thrive amongst the country. Pakistan's maximum portion of vaccinations relied on the Chinese Sinopharm vaccines because, like other middle income countries, it couldn't afford to procure Western manufactured vaccines. However, 22% of the country's population has been vaccinated.
The majority of South Asian, African, and Latin American countries are completely dependent on Chinese manufactured vaccines as the Western states do little to minimise the vaccine inequity. If this inequality continues, the pandemic will not end and new variants like the Omircon will continue to emerge.
This inequality in access to vaccines between developed countries and low-income countries paints a stark image of the current global political system. The pharmaceutical companies, no doubt, have been critical in the fight against covid. However, when it comes to the distribution of life-saving vaccines globally – profits take priority over human lives. Besides, what's appalling is that affluent countries which have already administered the highest number of vaccine jabs are now considering booster shots for their population that would further decrease any chance of the emergence of new variants.
Global vaccine supply has been discriminatory and inequitable. Obtaining safe and affordable vaccines shouldn't be a privilege but a fundamental right. Governments around the world, especially in Western countries, need to reassess and end this vaccine hierarchy. The barrier to equitable vaccine supply isn't due to a lack of vaccine options; the obstacle is intellectual property (IP) rights being exercised by the majority of pharmaceutical companies.
Affordable and equitable dissemination of vaccines across low-income countries should not be held hostage to profits or geopolitics.