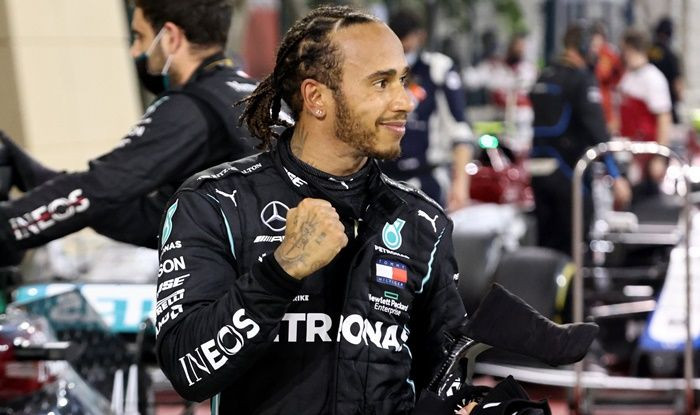 ---
Hamilton's F1 career maxed out?
The silver arrows have lagged this season and Mercedes F1 driver, Lewis Hamilton seems to be in a career free fall
---
With British Grand Prix just around the corner, all eyes will be – in fact, they already are – on the defending champion, Lewis Hamilton. The 36-year-old British driver will be hitting the circuit at Silverstone for the 15th time in what is surely a truly illustrious career. Having said that, 2021 does not look very promising for Hamilton and his Mercedes team even though he had a record-breaking British GP last year. Hamilton, who had gone into last year's British GP with already a few circuit records to his name, for instance, the quickest lap time of just 1:27.369 at Silverstone – managed to break a couple of more records in 2020.
His seventh Silverstone victory in 2020 set a new record for the most wins by a driver in a home event, besting Alain Prost's six in the French GP.In the very same GP, the Mercedes driver also set a new record for most races led from the start to the finish, beating the great Ayrton Senna's earlier record of 19 such races.
The 2020 season ended on a high for both Hamilton and Mercedes. Hamilton won his Schumacher-equaling seventh championship, and his team Mercedes won the seventh constructors' title in as many years.
Things having been what they were in 2020, it is amazing that the current year is an absolute contrast; one of the worst seasons for both Mercedes and its drivers. With already nine races in the season, Hamilton has managed to just clinch three P1 finishes which was nothing more than a walk in the park for the Mercedes superhero over the past few seasons. Then there were races like Monaco this year which ended in a complete tragedy for the Silver Arrows. Even Hamilton's high-performing teammate Valtteri Bottas is struggling to find his pace and control on the car.
Evaluating the obvious lack of performance from Mercedes,it is safe to say that the much-coveted W12 has proved to be a disappointment for Mercedes and its fans across the world. Even before the season started, during the three-day testing in Bahrain, the poor performance of the car was obvious. At the end of the testing, James Vowel, the chief strategist at Mercedes, admitted that the car's performance was weak and they had no ready answers for it. Even at the opening practice session, the performance gap between Mercedes and its rivals, particularly Red Bull, was so evident that Mercedes did not bother with excuses and just accepted it.
Red Bull, on the other hand, is having a dream season with six P1 finishes already, and has managed to feature on all podiums this year so far. Max Verstappen, the audacious Red Bull driver, is clearly enjoying this season. During this incredible last week where the 23-year-old managed to win both races in Austria – Red Bull's home circuit, The Red Bull Ring – he went on record saying; "I knew if I had a car capable of fighting for the title I would be up there and that is showing."There was never a doubt about Verstappen's talent and potential; even in his early days with Toro Rosso he was deemed a child prodigy. This year with Red Bull's ultra-dominant RB16B, he is showing his true pace. Cristian Horner, the Red Bull's team principal, has termed Verstappen's performance in Austria as the strongest and the most complete performance so far by Red Bull.
Apart from Azerbaijan GP, where the race ended with a DNF for the Dutch driver after a tragic crash tyre failure just three laps from the end when Verstappen was heading towards another victory, it has been smooth sailing for both the driver and the team so far. Sergio Perez, Verstappen's teammate, is also driving with great maturity and consistency in his first season with his new team after he was given Thai driver Alex Albon's seat at the Red Bull senior team in 2021.
While Mercedes is facing all kinds of issues from tyre management, jammed wheel nuts and pit-stop errors, it seems everything is working just right for Red Bull. Age is definitely a factor in Hamilton's sagging performance. Ironically, age is also the factor behind the rise and rise of the young Verstappen who has gained valuable experience over the years. For one reason or another, the sheer ruthlessness possessed by Lewis Hamilton is missing this year, and Max Verstappen is starting to impose himself. In 2021, we may well be witnessing another shift in Formula 1 superpowers.