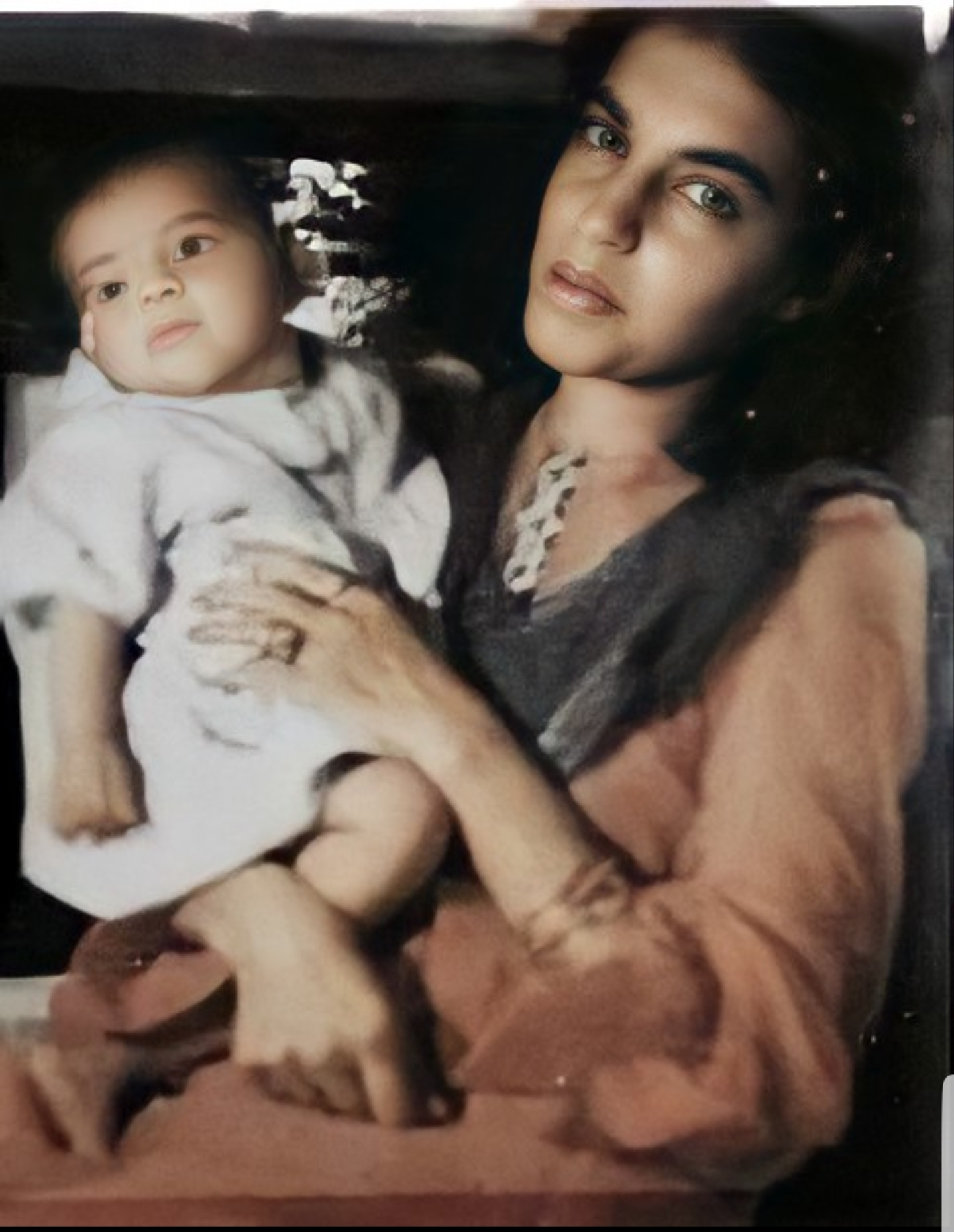 ---
My mother Pino!
Imagine waking up one day to discover that the couple you always thought to be your parents, are your adoptive parents
---
Imagine waking up one fine morning to discover that the couple you always thought to be your birth parents, are in-fact, your adoptive parents. This is how I came to know about my origins it was indeed a shocking discovery. Yes, it did hurt at the time and it hit me hard, just as a ten-ton truck would have done but little did I know that this new information would change the course of my life and trigger a bitter-sweet domino effect that would lead me to such love and affection. The discovery was indeed worth taking a hit.
I started my journey to self-discovery with just one name: Pino. Yes, that was my mother's nickname, and that is all I knew. I had known her as Aunty Pino through family photo albums though. Her real name was Raheela and I had always known her as my mamu's (paternal uncle) second wife. Mamu Ishaq was actually my birth father but I didn't know this until he passed away in a car accident in Syria in the early 80s. At the time, I was six years old. Before he went off to Syria on a military deputation through Pakistan Army's medical corp, he gifted me a teddy bear that I still have and adore.
My work was cut out for me. Pino's family was totally disconnected from my adoptive family. All I knew was that one of my adoptive father's friends was somehow related to Pino. But, my adoptive father passed away in 2014, before I could broach the subject with him. He was everything to me since Ammi passed away in 1999. I had always known him as a kind-hearted human being and also a very honest and upright administrator when on duty. He was a military officer and served as Lahore Development Authority's director general and also served as Water and Sewer Authority's managing director from mid to late 80s. Abu retired as a brigadier and was a recipient of Sitara-e-Imtiaz from the Government of Pakistan. It was through his stories that I remembered that one of his friends was related to Pino's family.
I knew his friend's cell number was in one of his telephone diaries. I was curious and wanted to know more about my birth mother. I was also worried since I had no idea who I would bump into on the other side of the wall and what would the level of acceptability be, if any. Finally, after a lot of convincing by my wife, Maryam, I made the call which opened up new doors in ways that I could not have imagined. I will always be thankful to my wife for her support when I needed it the most.
We started by meeting a couple of Pino's first cousins in Lahore and from there I never really looked back. One after the other, I kept meeting my blood relatives from around the world. Although, I still have not been able to meet all of my first cousins and an uncle (my actual Mamu Khalid), it is so joyful to know that my family, despite the gap of more than four decades, always kept me in their thoughts and accepted me with open arms once I showed up.
This journey has been exquisite. I met my first cousins in Lahore for the first time and could see both, sorrow and joy, in their eyes. When I telephonically talked to my Khala Zarina (who resides in England) for the first time, she could not control her emotions. She is the one who wanted to adopt me when Pino passed away. However, Ishaq eventually decided to let his sister have me so that I would live in Pakistan and stay close to him. Hence, it was a magical moment when I landed in England to meet my khala and found myself in her loving embrace while tears dropped from her eyes.
Although some of my uncles and aunties have passed away, the love that others have showered upon me has given me a very good idea of how they would have been if they were still in this world.
It gave me chills as I started to see more pictures of Pino. I came to know that she was a brilliant student, a good writer, a melodious singer and had a very cheerful and loving personality. I was able to discover and visit her grave in Miani Sahib graveyard and it felt as if I was meeting her for the first time. On her tombstone, I found excerpts from a poem written by Allama Muhammad Iqbal in memory of his mother when she passed away. Since then, I have never missed visiting her grave on her death anniversary, where I pause and reflect on these two lines from the poem on her epitaph:
Asman teri lehad par shabnam afshani kare
Sabza-e-Noorasta is ghar ki nigehbani kare
(May the sky shed its dew on your grave
May the freshly grown verdure watch over your home)
I was fascinated to know that my lineage is Kashmiri from my maternal side. The elders, in the nineteenth century, moved from India to the British Protectorate in Kenya. With time they established themselves while some of the family moved to Uganda. My great grandfather, Khwaja Shamsud Deen became a member of the Kenyan Legislative Council in 1922. Other family members served in the Bombay Police and Uganda Police from time to time. Some of the family members also became very successful businessmen in East Africa. The famous Indian/Pakistani writer Saadat Hassan Manto was also part of the family.
Pino met Ishaq while she was visiting Lahore from East Africa. It was during this time that they fell in love. There was strong opposition from the two families against their union but nothing could separate them. Even when Ishaq became a prisoner of war, the distance could only make their love stronger. They eventually got married in 1974. I was born on March 16, 1975. Like all good things must come to an end, Ishaq and Pino's love story also ended but it came to a close too early.
Due to tension at home owing to Ishaq's first marriage, Pino took her own life on September 10, 1975. I was only six months old at the time and obviously had no idea what calamity had befallen me.
I call my adoptive parents my guardian angels since they brought me up just like they would have their own progeny. Through the years, never did I realise that they were not my birth parents and all credit goes to them for loving me all through the decades while keeping me oblivious to the bitter facts.
And how can I thank God enough for bringing me in this world as Pino's son? Although, I don't remember seeing her but the thought that my tiny eyes, when I was an infant, must have gazed upon her gives me solace. She talked about me in the last letter that she left before ending her life and was concerned about my up-bringing. Her words showed affection and love that only a loving mother can feel for her child. When I go through the letters that Ishaq wrote to my maternal side after Pino's death, I can feel anguish, sorrow and helplessness in his writings for he was, obviously, a broken man. Both, Pino and Ishaq will always have a special place in my heart. They are, after all, my parents.
When I came to know about the facts, I never thought I would share these details in public. However, on my 46th birthday I decided to open up. I chose to share my story with the world as I thought this is a story of love that must be told: love between Pino and Ishaq; love for me by my foster parents; and love with which Pino and Ishaq showered me with until they lived.
I consider myself a person who has been very lucky; lucky to be protected by God when I was just too small to secure myself; lucky to be born as Pino and Ishaq's son; and lucky to be brought up immaculately by my foster parents. I am glad to say now that I didn't just have two parents – but four. After all these years of silence, mystery and estrangement, I am deeply relieved to have rediscovered and forged this connection, and to let the whole world know how proud I am of my mother: Pino.