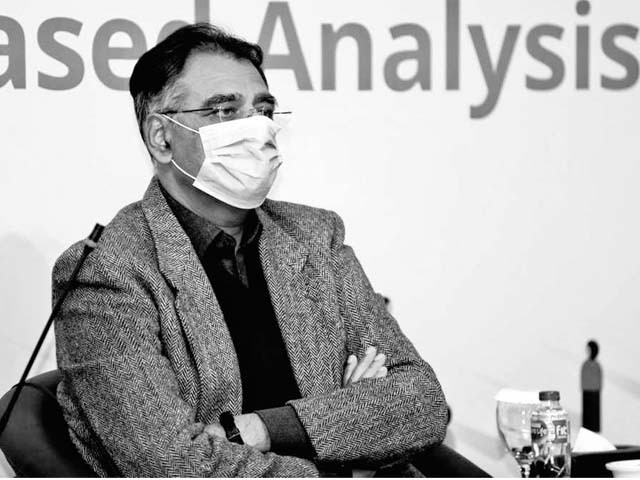 ---
How the NCOC brought Pakistan back from the brink
Two months ago we were on course to end up in an India-like disaster
---
In his address to the World Economic Forum in January 2021, Narendra Modi announced India's triumph over Covid-19. Less than two months later, his health minister Harsh Vardhan declared that India had reached the "endgame" in its fight against the pandemic. The next several weeks were spent addressing election rallies, encouraging people to attend the Kumbh Mela (which ended up being the greatest super spreader event in the world), and launching an aggressive vaccine diplomacy campaign. By mid-April however, the country was in the midst of a healthcare emergency of the kind it had never seen before; the official daily case numbers approached half a million, thousand were reported dead each day, and several major hospitals ran out of oxygen. Harrowing visuals of mass cremations, corpses floating in the Ganges river, and people begging for oxygen as their loved ones struggled to breathe in overwhelmed hospitals forced even the most ardent of Modi supporters to question what could the government have done to prevent this unprecedented catastrophe?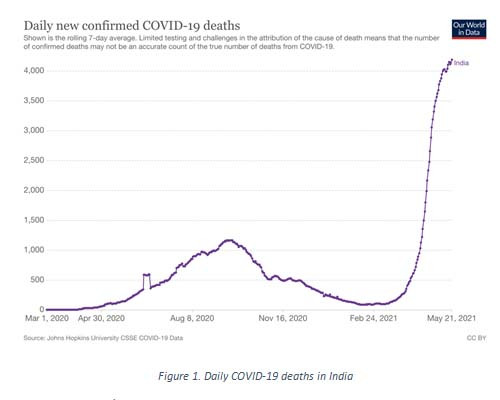 As shown in Figure 1, until March 11th, total number of daily Covid-19 deaths in India remained under 110 (less than 0.1 per million). During the same time, test positivity rate (Fig.3) remained below 2.5% (of 100 tests conducted, on an average 2.5 or less returned positive). Starting March 12th however, an exponential rise was noted in daily Covid-19 cases, Covid-19 deaths and test positivity rate. About two months later, on May 11th, daily Covid-19 deaths had shot up to about 4,000 (Fig.1) while the national test positivity rate had increased almost ten-fold to about 22% (Fig.3). During March and April, the Indian government failed to recognise, or respond to, the worsening trends. In fact, the government's attempts to stifle criticism on social media as well as its response to criticism from international media led to speculations of a cover up.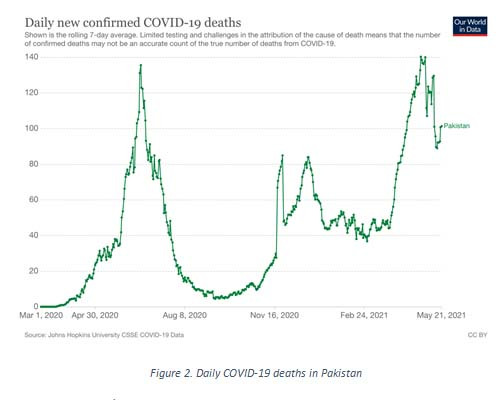 Pakistan and India are not very different in terms of their socioeconomic indicators. Both countries have a relatively large young population, healthcare systems that are stretched thin even at the best of times, and both populations have similar exposures to infections/immunisations at baseline. If anything, on most healthcare indices India usually fares better than Pakistan does. How is it then that the two countries, with similar populations, similar healthcare systems and similar challenges, ended up on two completely different Covid-19 trajectories over the last three months?
The answer to this lies in a close examination of how the Pakistan government responded to the latest Covid-19 spike in the country. For most of February, test positivity rate in Pakistan had remained under 4% (Fig.4). On March 7th, for the first time in a month the number exceeded 4% and then continued to increase every day until March 31st, when it peaked at 10.6%. Number of daily Covid-19 deaths in Pakistan also followed a similar trajectory (albeit lagging by a few days); on March 26th for the first time in over a month number of daily deaths exceeded 50, and peaked at 140 on April 28th (Fig.3). This March-early April period, when test positivity rate and daily Covid-19 deaths were rising sharply, was the time when several key decisions were taken by the National Command and Operation Center (NCOC) that would later prove to be a game changer for the country.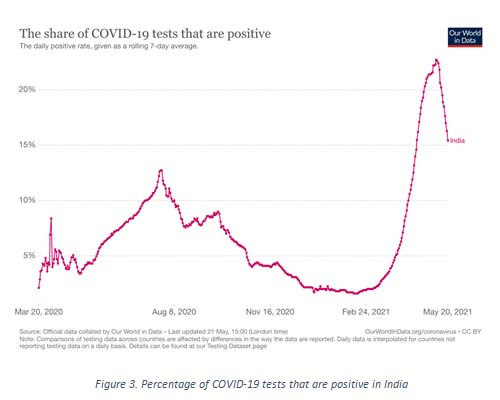 On March 11th, only four days after the test positivity rate exceeded 4%, the NCOC imposed several restrictions, such as smart lockdowns and micro smart lockdowns in Covid hotspots, fifty percent work from home policy and a 10 PM cap on all commercial activities. On March 22nd, stricter restrictions were enforced in cities with a test positivity rate of greater than 8 percent. In Peshawar, Swat, Faisalabad, Muzaffarabad, Lahore, Multan, Rawalpindi, Islamabad and Bahawalpur several new restrictions, such as broader lockdowns, closure of all indoor dining options, amusement parks, cinemas and shrines as well as restriction of intercity transport to 50 percent capacity were implemented. The next day, education institutes in areas of high Covid-19 spread were closed. On March 28th, wedding ceremonies, and other indoor and outdoor gatherings were banned across Covid-19 hotspots (cities with a test positivity rate of greater than 8 percent). The following week on April 5th, interprovincial transport on the weekends was banned leading to significantly reduced spread between cities. On April 23rd, as daily Covid-19 deaths continued to rise, Prime Minister called in the army to support the police in enforcing Covid-19 SOPs. Since April 30th, the test positivity rate has remained less than ten percent, and has overall been trending down (Fig.4). Similarly, daily Covid-19 deaths have remained under 130 since May 3rd (Fig.2).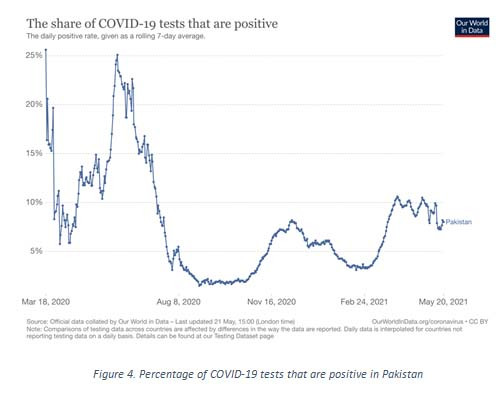 Pakistan is far from being out of the woods, especially with the impact of the recent Eid gatherings yet to be seen, but there is no denying that two months ago we were on course to end up in an India-like disaster. Instead of declaring victory, the government appears to be appropriately concerned and focused on ensuring that both test positivity rate and daily new cases remain at a level that can be managed by the available healthcare resources, while the vaccination drive has been ramped up, and additional oxygen capacity along with its improved supply are ensured.
So far what the NCOC has accomplished is nothing short of a modern-day miracle. It was very likely for Pakistan to end up in a situation far worse than its eastern neighbor was in, had it not been for the prompt, data-driven and dynamic interventions from the NCOC that have thus far saved the country's fragile healthcare system from a complete collapse. More importantly, this was achieved with surgical precision; focusing on very specific activities in certain hotspots, without enforcing blanket lockdowns that would deprive millions of their livelihoods. In today's world, not just the health but the economic wellbeing of a population depends greatly on the country's handling of the pandemic. The NCOC has therefore saved tens of thousands of lives and millions of livelihoods in Pakistan. Our fight against Covid-19 is far from over, but Pakistan appears to be in safe hands.
---
All charts are downloaded from https://ourworldindata.org/ and are current as of May 22, 2021.