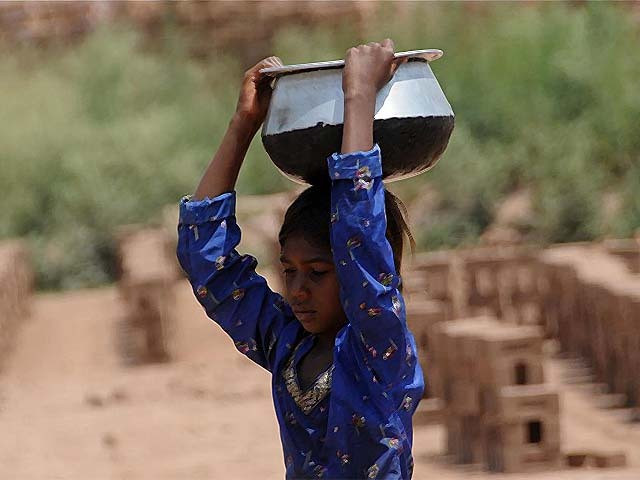 ---
The menace of child labour in Sindh
In Pakistan, 13 million children are involved in labour. In Sindh alone, four million children work as labourers
---
Child labour is any form of labour which exploits minors, interferes with their education, and deprives them of child-like activities while causing them physical or mental harm. It can also lead to physical and verbal abuse.
Child labour in Pakistan started as a social evil, but eventually transformed into a major national issue. Child labour has its grassroots in poverty and it is an attempt of parents to make children contribute to the family finances.
Every category of work performed by children is not child labour. If the health, education and lifestyle of a child remain unaffected then it is not child labour. They can assist their parents with their business or undertake short term jobs during their vacations from school.
The acceptance of children being hired as domestic help has led to this evil becoming deeply rooted in our society. It is so ironic that we pamper our own children, but a child of almost the same age performing adult chores in our household gets zero tolerance for any incompetence. In some cases underage maids have been tortured and murdered.
In Pakistan, 13 million children are involved in child labour. In Sindh alone, four million children work as labourers in different sectors and at least 1.8 million children work as labour in the agriculture sector. The growing number of child labour in Hyderabad, especially in the agriculture sector for the past three decades, is due to the lack of proper planning by the local government. Uneducated parents that are financially weak, force their children to work to increase finances.
According to UNICEF, children in Sindh between the ages of four to 14 constitute a major portion of the carpet industry's workforce. Workshop owners looking for cheap labour convince parents to take their children out of school and into the workforce. As children are cheaper to hire since they are paid less, this helps increase profit margins. Children can sometimes work up to 20 hours a day, seven days a week and are often deprived of sleep and food. These children eventually have health issues like weakened eyesight and breathing problems.
In a country where protecting children against sexual abuse is already a challenge, these kids employed, often after parents are given meagre sums of money, do not stand a chance. Sexual exploitation for those involved in child labour is so commonplace that many children just end up complying, thinking this is a norm. Sexual abuse coupled with the harsh life these kids see, often leads to depression and more often than not drug addictions.
A law was passed in Sindh on January 26th, 2017, that made child labour illegal. The Sindh Prohibition of Employment of Children Bill banned children under the age of 14 from working while also setting a three hour per day rule for those children that may be required to work despite the ban. The law also prohibits adolescents from working between the hours of 7pm to 8am. The minimum age for a child to undertake hazardous labour was set at 18. This kind of labour can include anything that may directly impact the safety, health or morals of children and adolescents, such as mining for example.
In July 2019, Sindh Chief Minister Syed Murad Ali Shah said that the provincial government in collaboration with UNICEF is conducting a survey to ascertain the number of children engaged in child labour so that they could be provided education and skilled training for formal employment when they are of age. But the project never kicked off despite it still being posted under the Bureau of Statistics, on Government of Sindh's website.
Recently the Directorate of the Labour Project Management Unit, Child Labour Survey Government of Sindh announced that they will be hiring 282 people on a four to six month contract for the survey, however its scope seems to be limited to Karachi.
Many laws have been passed but the implementation remains a major challenge. Without the implementation of these laws, no real changes can take place and the only way to end the suffering of these children is to ensure stringent checks on business and industries while heavy penalties need to be levied to ensure compliance with the law. The children are the future of this country and if we cannot save them, we may not be able to save the country.