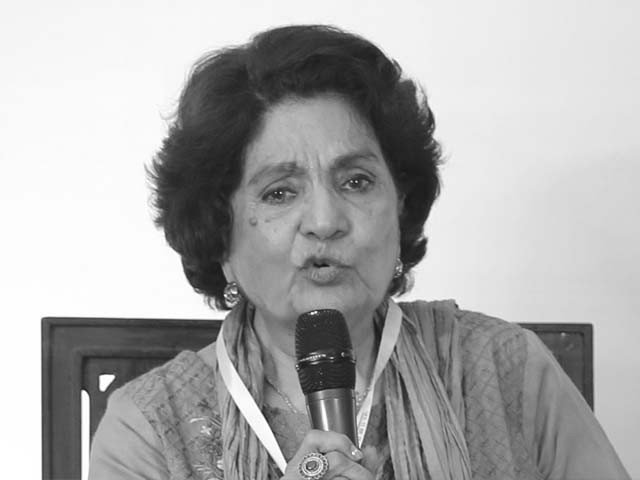 ---
Why Haseena Moin's women will live forever
Her passing has left a huge void not just in the feminist discourse in this country but in the creative zeitgeist too
---
I was probably too young to understand the nuance of Pakistan Television's (PTV) Tanhayian when I first watched it. My mother would have the episodes playing in the background as she completed chores around the house or helped us with our homework. It's a wonder, then, that I retain so much affection and appreciation for a drama I first watched when I was 12 years-old. Years later, at 24, I rewatched the series wondering if my nostalgia had given me too rosy an impression of the serial. Surely the characters couldn't actually be that relatable or well-developed? The story both emotionally and intellectually rewarding?
From the minute that first episode, with that opening scene between the incomparable Shahnaz Sheikh and her father played by Subhani ba Yunus, started playing, I was pulled right back in. As a young Pakistani woman, with a shiny new journalism degree and oodles of ambition, the women of Tanhaiyan embodied the actual women around me: unapologetically driven, passionate, flawed, funny, fierce and supportive. In 1986, the late, wonderfully gifted writer Haseena Moin created characters that had depth and nuance that so-called "modern" dramas have been unable to revive. I speak specifically of the women even though Haseena Moin also wrote male characters with grace, depth and, dare I say, humanity. She was able to write people like they were people, and that is the beauty of her dramas: how they speak to the resilience and beauty of our everyday lives – the tragedy, loss, romance, dreams and mistakes of ordinary men and women that make them extraordinary.
But I keep coming back to her female characters. From Sultana Zafar's brief appearance as Zara and Sanya's elegant mother to Shahnaz Sheikh and the delightful Marina Khan as the lead sisters, to Badar Khalil's tour de force Aani, to the hilarious Durdana Butt as Bibi and even Vida, played by a magnetic Yasmeen Ismail. These women were trailblazers and unfortunately, they still have to be; because we didn't get better than them in the last 36 years.
Certainly, there have been roles after them that introduced strong, passionate women in Pakistani dramas. I do not intend to criticise the hard work and tight rope many of our female writers, actresses and producers have to deal with in the modern television industry. But surely we can ask for better? We can ask for women who deal with their tragedies the way most Pakistani women actually do? Who see beyond hardship and pain and are allowed to feel joy and reward? Who have their motivations questioned by means other than torture or in some cases, death? Who are not divided into "good girl" and "bad girl" distinguished by the color of their lipsticks? Who have more to worry about than their relationships with men?
Zara and Sanya's characters were not written to be perfect – and that is the elegant simplicity of Haseena Moin's writing. People are meant to grow and change and learn from their mistakes. The women of Tanhaiyan, Dhoop Kinaray, Ankahi, and several other of Haseena Moin's dramas, all embodied that concept and did so without coming across as preachy. The question of whether or not a woman was an "achi larki", "achi biwi" or "achi beti" never had to be broken down over 22 sensational episodes because even back in 1985, Haseena Moin knew that was more than we deserved. In her own words:
"I decided I will never write about feeble, defenseless women who spend their time self-pitying rather than propelling change through their actions or intellect."
Haseena Moin's passing has left a huge void not just in the feminist discourse in this country, but in the creative zeitgeist as well. The one thing that gives me hope is that she already gave us the blueprint for excellence in the 1970s and 1980s. We were lucky to have her and we will be luckier still if we learn from her body of work.