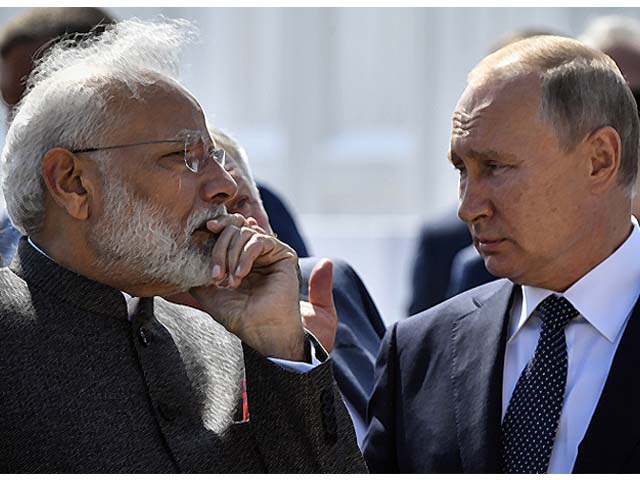 ---
Why it's wrong to claim that Russia tried to side-line India during the Afghan talks
It was always New Delhi's sovereign decision not to participate in the Moscow negotiations in any official capacity
---
The Indian Express published a piece on Tuesday headlined "Russia kept India out, US brings Delhi to talks table for Afghan peace plan". It relies on unnamed diplomatic sources to claim that "Moscow is learnt to have suggested a plan that kept New Delhi out. Sources said that Russian interlocutors — amid growing proximity between Moscow and Beijing — suggested that Russia, China, US, Pakistan and Iran should be at the table. This, officials said, was apparently done at the behest of Pakistan which has never wanted India to be part of any roadmap for the region." There's plenty wrong with that report, which will now be debunked point by point.
First, Russia never sought to side-line India on the Afghan talks that it's hosted over the years. In fact, it always invited India to participate on an equal standing with every other party but New Delhi declined to do so. The Hindustan Times quoted the External Affairs Ministry spokesman in November 2018 to report that "India to be in talks with Taliban in Russia at 'non-official' level, meeting to be held today". This was presumably influenced by India's interests in not doing anything that could legitimise the Taliban's political role in the peace process while still retaining a seat at the table in a non-official observer capacity. It was entirely New Delhi's decision.
Second, Russia has come to realise per the established precedent above that India has no desire to seriously participate in Moscow's Afghan peace process. If the Eurasian Great Power wants its proposed talks to achieve anything of tangible significance, then it would make sense to only invite serious parties, which India clearly isn't because it only sent "non-official" representatives to earlier events. Even so, India could probably still join the process if it finally decided to dispatch official representatives because it's extremely unlikely that Russia would reject its participation in that scenario. After all, Russia and India are trusted strategic partners.
Third, as mentioned above, the commencement of any new Russian-organised round of Afghan peace talks that doesn't officially include India would be solely the result of simple pragmatism and not anything done "at the behest of Pakistan". Claiming otherwise is intended to falsely make it seem as though Russia has surrendered its strategic autonomy to Pakistan. This information warfare narrative follows the pattern of similar Indian accusations over the years alleging that Russia has done the same vis-a-vis China, which were most recently repeated by influential BJP ideologue Subramanian Swamy in his hateful anti-Russian article last November.
It'll be telling if India accepts the US' invitation to join the new round of talks that Secretary of State Blinken proposed to be hosted by Turkey. That would show that New Delhi was playing political games with Moscow by not officially participating in the Russian-organised talks. The US has much more historic, closer, and strategic relations with Pakistan than Russia does so India couldn't play the anti-Pakistan card to explain its about-face. In addition, Indian-Turkish ties have reached a new low in recent years after Ankara criticised New Delhi's annexation of Kashmir. Officially attending Turkish-hosted Afghan talks would thus undercut India's position.
Of course, the point that few observers outside of Pakistan are willing to make is that India arguably doesn't even deserve a seat at the negotiations table. It doesn't care about Afghanistan, and unlike Russia, it doesn't have any historic security interests in the landlocked country. India only wants to deepen its involvement there in order to expand its so-called "strategic depth" against Pakistan, which New Delhi exploits by militarily supporting a slew of terrorist groups such as the TTP and certain Baloch organisations. Nevertheless, Russia and the US each have their own strategic reasons for inviting India to participate in this process.
Returning back to the lead-in news event that inspired this analysis, The Indian Express piece didn't accurately report the true state of political affairs when it comes to India's involvement in the Afghan peace process. The outlet misleadingly made it seem like Russia excluded India from talks due to Pakistan's influence, which isn't factually correct. It was always New Delhi's sovereign decision not to participate in the Moscow round of negotiations in any official capacity. This fact is important to keep in mind in case India reverses its position and joins the latest US-led talks in Turkey, which would signal that it was only playing political games with Russia this entire time.