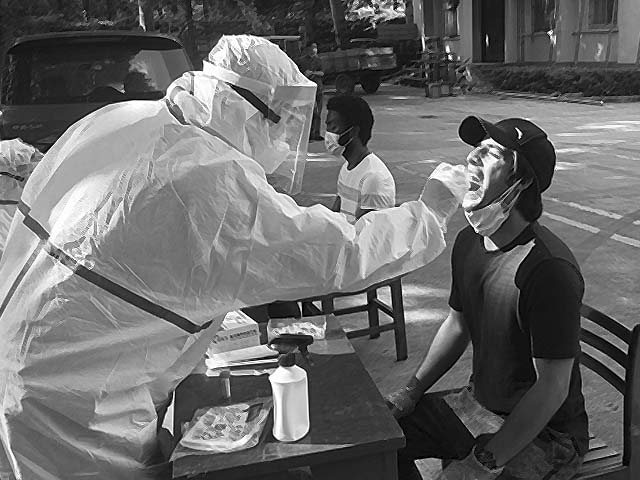 ---
How I survived the world's strictest Covid-19 lockdown in Wuhan
What I experienced was different from what the international community and media said about China's Covid-19 response
---
I write this piece as Wuhan approaches the first anniversary of its unprecedented lockdown when a city of more than 11 million people was cut off from the rest of the world almost overnight, leaving millions of people stranded. Many things have changed since then, but, with the lockdown lifting, everyday life resuming in China and other parts of the world, and the potential vaccination taking place in many countries, this day could not be more important. There has never been any other time during my overall stay in China more significant than today to celebrate, but with caution. It is like a dream come true for many of us who remained extraordinarily positive and stood alongside our friends and colleagues throughout this challenging time.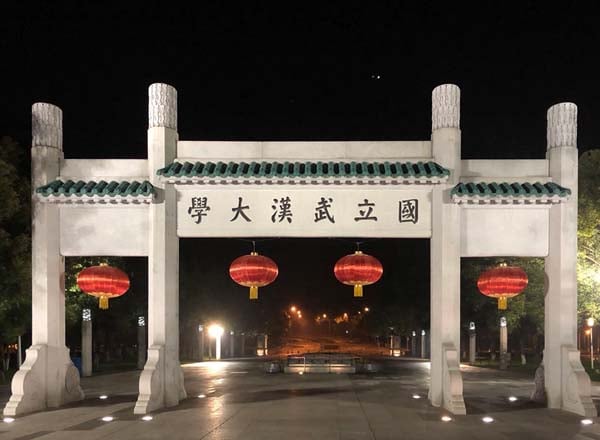 The main gate of Wuhan University, one week into the lockdown.
Hankou Railway Station a couple of days before the Wuhan lockdown. This hustling and bustling train station, along with others, were completely shut down on January 23, 2020, due to the Covid-19 outbreak.
Precisely one year ago, the highly contagious novel Coronavirus disease had hit China hard. The Chinese government imposed a lockdown in Wuhan – the then epicentre of Covid-19, to contain the novel Coronavirus's spread. The lockdown was then expanded to other cities and eventually to the whole of China gradually and systematically. Initially, China faced extreme criticism from the international community for cutting off a province from the rest of the world. The response of global media to the lockdown once again raised questions about its rationality and objectivity.
Consequently, it caused panic and added further to people's anxiety and fear. Still, time proved that the lockdown not only proved critical in containing the spread of the virus but also provided a window for other countries to develop contingency plans. Regrettably, so many countries couldn't exploit the opportunity to make a comprehensive preparedness and response mechanism.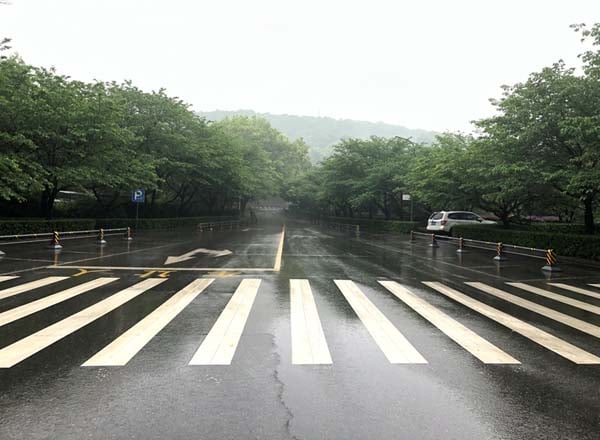 The busiest part of Wuhan University, famous for its cherry blossom, presents a picture of a ghost town.
It was during this lockdown that I happened to complete The Alchemist by Paulo Coelho, where he says, "It's the possibility of having a dream come true that makes life interesting." Just like other foreigners residing in China, for every Chinese citizen and their families at home and abroad, coming out of this crisis safe and sound was a dream. And today, after almost one challenging year, it seems that we are almost there.
Some of my most effective means to withstand the most stringent quarantine in the world.
The most challenging times China has ever faced
I have been living in China for almost five years now. I stayed in the beautiful city of Qingdao for two years before moving to Wuhan three years ago. During my five years of stay in China, I was lucky enough to explore China – from Beijing in the North to Urumqi in the West, and Qingdao in the East to Xiamen in the South. I also explored more than ten cities by cycling, and witnessed the irresistible charm of the land and its people. But what I have seen and learned during the past couple of months of one of the most challenging times China has ever faced is an entirely different experience.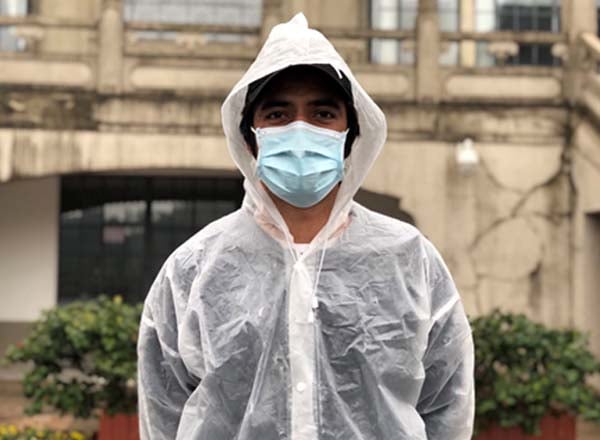 In-front of Wuhan University's Administration Building while practicing strict SOPs.
It was all about one goal, one mission. I saw a unified and comprehensive response and a massive human and financial resource mobilisation. The retired medical staff came back to duty, law enforcement agencies cancelled their vacations, and the media became the voice of the people and the government without creating hype and hysteria. Hospitals were built in days and weeks, the community wholeheartedly owned the government's measures, and overseas Chinese sent charter planes full of assistance. Above all, foreigners were looked after in a remarkably dignified and hospitable way. What I couldn't see was not politicking a national dilemma, companies making profits, and businesses hoarding critical supplies. I also couldn't see politicians playing the blame game, debate whether the centre must act or the provinces should take the lead, point-scoring, and people protesting on the streets. To sum up, what I experienced was very different from what the international community and media said about China's response to the Covid-19 pandemic.
Universities supplemented national efforts
Apart from government initiatives, it is also essential to mention what Universities did to cope with this grave situation. Universities carried out a holistic public awareness campaigns. They effectively quarantined students to restrict their mobility: disinfected dormitories and public places on campus. The schools monitored students' fever at the exit and entry points of the dorms, kept their records, and provided free meals to the students residing on campus. University employees cancelled their holidays and were present on-campus to facilitate the students. The universities connected students to online supermarkets that delivered groceries at the doorstep. They made every possible measure to look after the students stranded in Wuhan.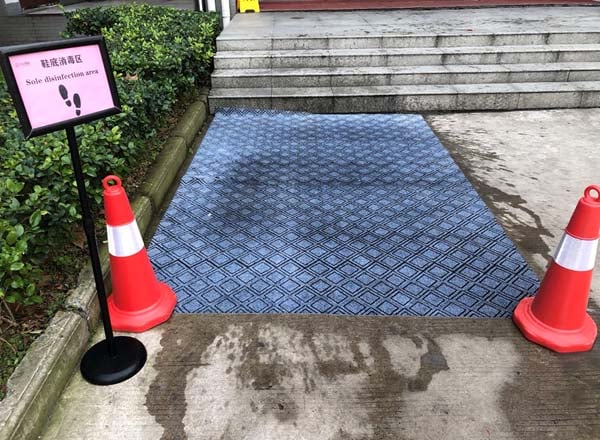 Sole disinfection area at the Service Centre of the International Students Dormitory of Wuhan University.
Being present at ground zero since the outbreak of the novel Coronavirus in early December 2019, I very much understood the problems faced by the students resided in Wuhan during the lockdown. But also, and more importantly, I was also aware of the measures that were taken by Chinese authorities and university administrations to cope with the situation. It was indeed challenging in the beginning amidst the uncertainty and frustration surrounding the outbreak. But gradually, we got accustomed to the environment.
Pakistani volunteer student, Muhammad Yasir, is helping the Service Centre team during the distribution of free meals.
Since some students were confined to their dormitories to limit exposure and halt the virus's spread, it was challenging to carry food and other essentials to their doorstep. Some service centre employees could not come to school due to the lockdown that further worsened delivering food. That was when our school called on students to volunteer for this relatively difficult task. Few of my Pakistani friends and I volunteered our services to deliver food and other essentials to all the students who were confined to their rooms. Despite the dangers of possible exposure to the virus, we remained positive and committed to the task that we had undertaken. Thanks to the extraordinary precautionary measures taken by the dormitory and school management, we came out of this challenging time safe and sound.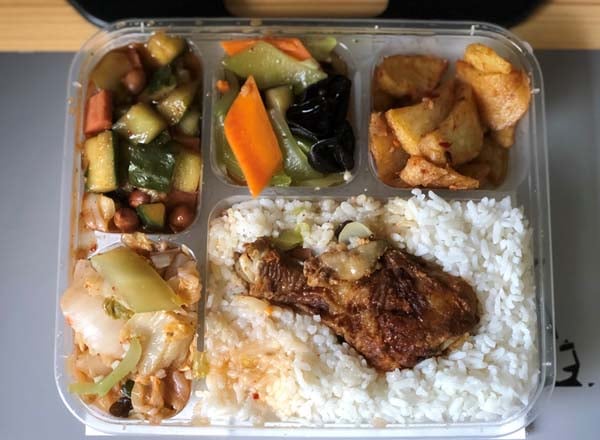 A glimpse of the free meal provided to all international students on-campus during the lockdown.
On April 01, 2020, we officially entered the last week of a two and a half month lockdown. A limited number of students were now allowed to leave the dormitory for about only two hours with strict SOPs still in place. Students with even mild temperatures or cough were not allowed to exit the dormitory.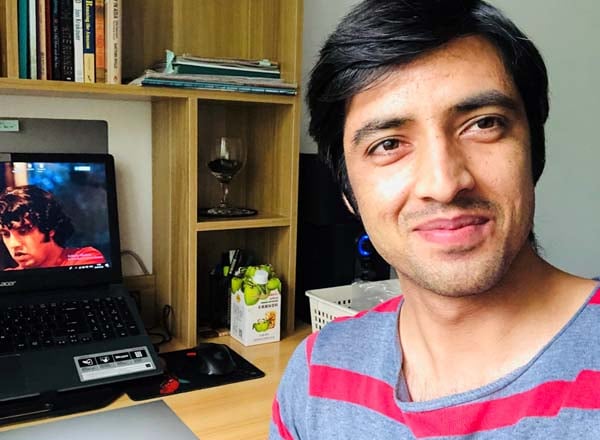 On April 01, 2020, we officially entered the last week of two and a half month-long lockdown; the smile says it all.
On April 12, I stepped out of my dormitory after spending 75 long days in strict quarantine. After an almost three-month-long quarantine, we were now allowed to leave our dormitory and move around on-campus for only two hours. But the exciting (rather funny) part was that students must get their out pass every time they go out and present it at the gate when they return. In my late 20s and that too at the post-graduate level, I never imagined that I would be new to the "Out Pass" system. The only place where we needed out pass was my primary school. Although our out pass in primary school used to be much more colourful than this one, it didn't matter as both served the same purpose.
Out Pass for students who wished to roam on-campus for only two hours.
Why the international media's response lacked rationality and objectivity
The response of international media to the novel Coronavirus outbreak raised questions about its rationality and objectivity. A part of the media incorrectly reported the outbreak and the problems faced by locals and foreigners here. Consequently, it caused panic and added to people's anxiety and fear. Politicians and media houses consciously portrayed myths and rumours as real stories that created hysteria and media hype. It is crucial to do responsible reporting and not to add to the people's fear. It is also important to check facts before reporting, as the World Health Organisation (WHO) repeatedly said, "Facts, not rumours."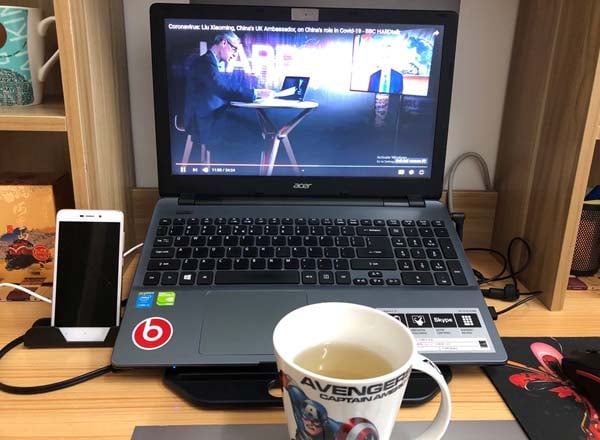 Watching China's Ambassador to the UK, Liu Xiaoming, on BBC HARDtalk while sitting in my dorm.
Some heads of the state and officials also tried to stigmatise a disease and associated it with a particular nation and race. It is very problematic to associate the disease with nationality, race, religion, sect, ideology, gender, or even age. The exponential hike in the new cases and deaths in certain countries results from a lack of comprehensive preparedness and response mechanism coupled with incompetence, mismanagement, at poor handling of the disease. They couldn't exploit the opportunity of a window provided by China and other countries.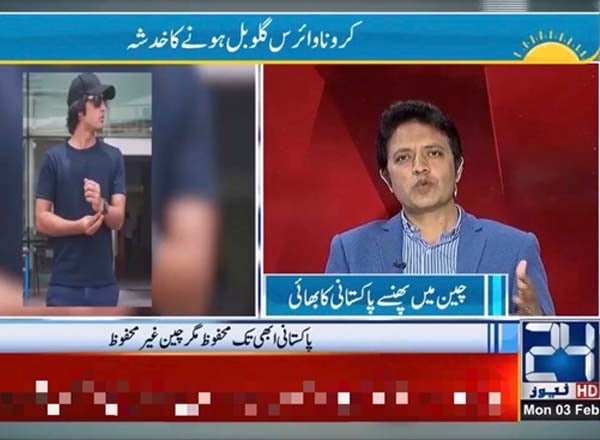 Screen grab of my brother, Badar Uzaman's interview to a private TV channel where he explained what was going on with me and other stranded Pakistanis in Wuhan during the peak of the Coronavirus outbreak.
Whether it was my family or someone else's, everyone needed rational and pragmatic thinking. Although the risk associated with the evacuation, particularly for developing countries like Pakistan, where the health system was relatively weaker, was higher and made it more challenging to handle any such situation, leaving citizens at the epicentre of the outbreak was also dangerous. Understandably, the situation was critical in how quickly the virus was spreading, but some myths and rumours were creating hysteria and media hype. Therefore, it is always crucial to do responsible reporting and not add to the nation's anxiety.
Doing it the "Chinese way"
The Chinese experience tells us that, "besides a firm political will, the pace of the interventions, and massive resource mobilisation, the seemingly little things like social distancing, self-isolation, washing hands, and wearing a mask could play a significant role in defeating the global pandemics like Covid-19." Enforced but community-owned social distancing was one of the significant reasons China could contain the novel Coronavirus so effectively. In response to Covid-19 pandemic, China was one of the few countries so far that has effectively and forcefully imposed a lockdown. Still, it was not a spontaneous and hastily taken decision. It was partial, incremental, and systematic.
Another decisive factor was the effective utilization of technology and big data. China is one of the most prominent players globally in technology, big data, and surveillance. China could trace the suspected cases and their close contacts effectively utilizing the available data and collaborating with the civil aviation, railways, and telecommunication companies. Now, so many countries and regions replicate similar strategies by implementing either partial or complete lockdowns to contain the virus.
Homecoming
While waiting at the boarding lounge of the Tianhe International Airport of Wuhan city, the so-called epicentre of Covid-19, to catch a special flight back home after a months-long lockdown, I felt grateful and content. Exactly five months ago, China was at the same crossroads where Pakistan is today. At the time, I had resolved to stay positive and get through a challenging time together with my friends and colleagues in China. Today, I also made precisely the same resolution – to stay positive and get through this challenging time together with my family and friends in Pakistan.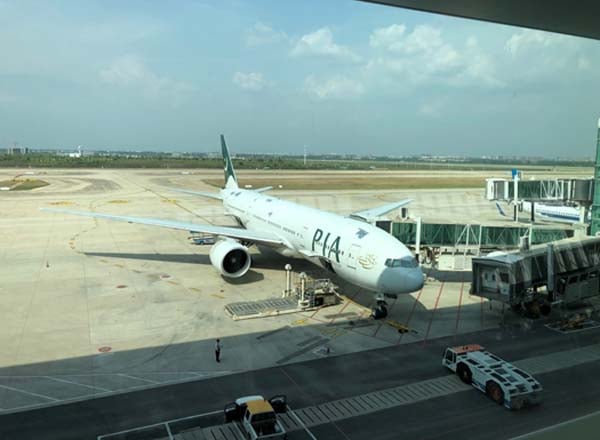 PIA's special flight PK8872 at the Wuhan at Wuhan Tianhe International Airport waiting for the stranded students and families.
Exactly one year ago, China was at the same crossroads where a lot of countries are today. The Chinese government was faced with a difficult choice to either fight an all-out war against the virus or let its citizens die. China instead decided to make a difficult choice of fighting the battle at the cost of potential civil liberty and substantial economic loss but to save its current and future generations. And the Chinese people embraced the decision wholeheartedly. Today, China reported zero new domestic infections for the fifth straight day.
Today, Pakistan has to make an existential choice, and the options are limited. New infections in the country are increasing significantly. In Wuhan, the ground zero of Covid-19 since the outbreak, I have witnessed the pandemic's worst phases. Thousands of infected people were in the hospitals not too far from where I resided. But, I have also seen the Chinese government's dedication and resolve and its people to defeat the virus. However, in Pakistan, it is very problematic to see people associate religion, sect, ideology, gender, or even age with the recent hike in Pakistan's Covid-19 cases. Although the situation is getting worse every other day, it is still not out of control. What we need to do is expand testing, trace and isolate suspected and confirmed cases, and above all, make sure that people are practicing social distancing. Politicising a national dilemma and blaming each other does not work; responsibility does! Be responsible and act fast.
Understandably, the challenge is enormous for Pakistan, where the economy and health system are relatively weaker, making it more challenging to handle any such situation. Still, the risk of leaving citizens at the disposal of the virus is even higher with the strain of resources. Humanity, religion, science, and common-sense require us to be vigilant, careful, and patient in such situations. Let us be patient, compassionate, and help each other in this difficult time. Let's hope and pray that this outbreak ends soon, and we witness the bustling cities, towns, and villages again.
Imagining a new and better world
Many people lost their loved ones, and others saw them suffer from this brutal disease. I also had to see a few difficult days of my life when my elder brother Badar Uzaman, who has dedicated his entire life to early childhood development and eradicating malnutrition among children, suffered from Covid-19. Since he had some underlying conditions as well, therefore, he went through some challenging few days. But unlike some unlucky Covid-19 victims, he eventually recovered. Thanks to Allah Almighty for His blessings, Who always sees your resolve and determination and steps in to do what you can't do.
Here, the purpose of mentioning a personal story is to request you all to take it seriously and observe all the necessary measures to protect yourself and others. This disease may not deal with everyone in the same manner. It may be mild for one and very serious for another one. Moreover, it negatively impacts the physiology rather badly engages your mental health, making it challenging to fight on two fronts.
Undoubtedly, 2020 was one of the most challenging years. But, amidst all the chaos of the pandemic and associated lockdowns and quarantines, it also provided an opportunity for us to reconnect with each other and nature, dig deep within ourselves, and reflect on our lives. There was a time when nobody among us was sure enough to get through the pandemic safe and sound. Today, after exactly one year, we are grateful that many of us are back with our families and loved ones. I learned from the challenging time in Wuhan and back home that the key to handling such situations is staying positive and grateful. We should learn to appreciate and cherish what we have. We should remind ourselves, every single day, just how lucky we are.
---
All pictures courtesy of the author.