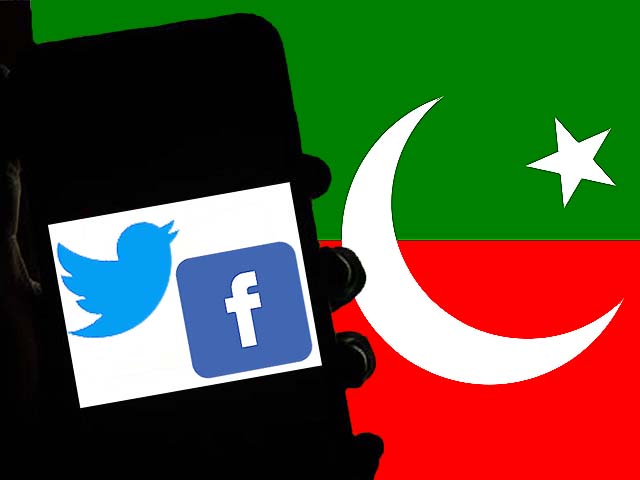 ---
Dissecting the actions of PTI's online brigade
The primary factor behind this is the cult of personality model which PTI has adopted
---
In 2019, while the Pakistan Muslim League-Nawaz (PML-N) leader Maryam Nawaz was speaking at a huge rally in Mandi Bahauddin, a party stronghold, a Twitter trend, "#رنڈی_اِن_منڈی" (Prostitute in Mandi) was becoming viral. The disgusting trend was thoroughly misogynistic and was being propagated by none other than some 'educated' supporters of the Pakistan Tehreek-e-Insaf (PTI).
Disgusted, I took to Facebook to express my outrage. One of my cousins, another PTI supporter, while 'condemning' such behaviour, commented that "What goes around comes around because Nawaz had done the same to Benazir Bhutto. Allah kee lathi beawaz hoti hai. (God's retribution is silent). It's a punishment for Nawaz from Allah". He was referring to an alleged incident in the late 1980s when photo-shopped nude pictures of Benazir Bhutto had allegedly been air dropped over several cities in Sindh.
At that point I realised that perhaps my cousin was even worse than the propagators of the aforementioned trend. Instead of condemning them he was actually rationalising their behaviour and framing it as some kind of retribution from God. It escaped his otherwise rich imagination that the supporters of PTI were behind the trend and that they were in no way trying to 'avenge' Benazir Bhutto but simply targeting Maryam Nawaz for being an opponent of their leader. I found it funny that Benazir Bhutto herself eventually had become very close to Nawaz Sharif and had no qualms in signing the famous "Charter of Democracy", yet somehow the PTI trolls, who hate the Pakistan Peoples Party (PPP) with an equal intensity, were avenging what Nawaz Sharif had allegedly done. The PPP's own supporters however were fine. In fact, they were cheering Maryam Nawaz on.
The trend and subsequent justification by some perfectly demonstrates the collective mind-set of some supporters of the PTI: abusive and reeking of self-righteousness – a combination which precludes any introspection.
That was more than a year ago. A few days ago, during the Pakistan Democratic Movement (PDM) rally in Multan, there was another trending hash tag, #رائیونڈ_کی_رنڈی (Prostitute of Raiwind), once again targeting Maryam Nawaz. Apart from her, another favourite target of such vile behaviour is Bilawal Bhutto Zardari, who is constantly called a transgender by individuals who claim allegiance to the PTI. One can dismiss this attitude by just brushing it aside as 'typical' of Pakistani politics and argue that it is not fair to single out PTI. After all, abusive behaviour and misogyny are rampant in all parties. This is true to a certain extent, but some parties appear to be guiltier of indulging in such behaviour than others.
According to statistics compiled by "The Coalition for Women Journalists", social media accounts relating to PTI supporters are behind 42% of the incidents of online abuse aimed at female journalists. In contrast, PML-N – PTI's foremost rival in the political realm – accounts for merely 3% of such online behaviour, and PPP for less than 1%.
Moreover, PTI trolls not only target critics but often abuse their family members also. For example, I still remember when the anchor-person Mansoor Ali Khan's daughters and wife were abused in the comments section of his Twitter account. Likewise, Mohammad Hanif, while writing for the BBC, shared an incident when PTI trolls posted a pic of his wife in his Twitter comments section and called her a traitor. In a similar incident, journalist Hasan Zaidi was forced to lodge a formal complaint to Bank Alfalah when one of its employees, a PTI supporter, abused his mother on social media. The said employee was fired by the bank, prompting another abusive online campaign against Zaidi by angry PTI supporters. Even Malala Yousafzai, who has never said a word against PTI, is regularly targeted by the PTI trolls.
But such behaviour becomes even more of an anomaly given the fact that many of these PTI supporters belong to the white collar, urban middle class and might be more 'educated' than supporters of other parties. Perhaps there are multiple reasons behind this phenomenon.
Firstly, such behaviour is actively encouraged by the PTI leadership, including Imran Khan who has constantly indulged in the usage of derogatory language against his opponents and has also gone to the extent of deliberately addressing Bilawal as "sahiba" (madam). Moreover, PTI has deliberately appointed foulmouthed individuals such as Shahbaz Gill, Faisal Vawda, Fayaz Chohan, Fawad Chaudhry and Firdous Ashiq Awan as its spokespersons. These individuals regularly indulge in crude rhetoric against PTI's political opponents. Additionally, on social media, PTI has a large footprint and its social media cell often indulges in coordinated attacks against its critics. Since the encouragement is coming from the party leadership as well as its social media cell, ordinary supporters of PTI have no hesitation whatsoever in indulging in abusive behaviour.
Secondly, the primary factor behind this is the cult of personality model which PTI has adopted. This model glorifies Imran Khan extravagantly by projecting him as the only 'true' leader and Pakistan's 'last hope' while demonising his opponents by labelling them as corrupt and disloyal to Pakistan. This lopsided glorification coupled with the scathing vilification of PTI's political opponents encourages PTI supporters to abuse Imran Khan's opponents and critics. In fact, it does something worse. It gives them an instinctive comfort in their vitriolic behaviour as they feel that Imran Khan's opponents 'deserve' all the abuse because they are corrupt traitors.
Lastly, a major reason behind this is the general polarised political atmosphere in Pakistan. As the PDM surges and battle lines are being drawn and re-drawn, the political polarisation has also increased; which in turn has made many PTI supporters even more intense in their support of the party and therefore even more abusive. For many of them, PDM is merely a union of the old corrupt elite to save their looted wealth. This perception only further encourages them to abuse all the opponents and critics of PTI.