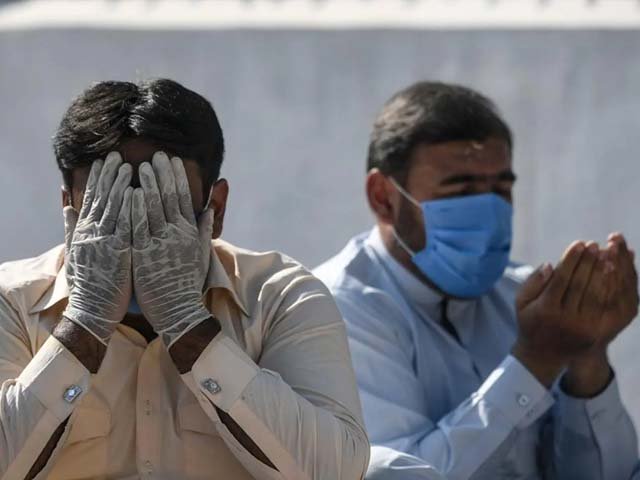 ---
The Covid-19 battle in Pakistan
Most cross-infections occur in hospitals because there are no defined clear cut pathways within the hospital
---
An algorithm generated by Imperial College London shows that Pakistan will reach its coronavirus peak on August 10, 2020 and record more than 78,500 deaths. According to the World Health Organisation's (WHO) recent updates, Pakistan has 748 active cases with 15 deaths per one million people. Within the last few weeks, the situation has gained an alarming momentum in Pakistan, and currently only patients who are sick with pneumonia are being admitted while many Covid-19 patients are sent home to be treated by their general practitioners. Hospitals are almost entirely filled, even though the number of patients is 50% more than the maximum capacity.

It is imperative that new critical care beds are set up at outpatient clinics, recovery rooms, and in OPD waiting areas. Day hospitals, rehabilitation units, psychiatric and dermatology units should be transformed into high dependency units. We have to adapt the services provided in our specialised tertiary care institutes according to the new demands. The hospitals should be equipped with ample supply of emerging Covid-19 treatment medications including steroids (which reduce the number of deaths by one third among patients on ventilators, and by one fifth among those receiving oxygen therapy); and Actrema injections required for critically sick patients. Blood bank units should be prepared for plasma extraction and donation from recovered coronavirus cases. The looming shortage of ventilators should be addressed by utilising low cost ventilators made using emerging 3D-printing technology.

Another issue faced by the medical staff during the current scenario is the insufficient safety measures in place. Physicians and patients must wear surgical masks and facilities need to be fully equipped with personal protective gear (PPEs). When Covid-19 patients are treated, in addition to a face mask, the medical staff needs to wear gloves and gowns, and, if there is physical contact, personal protective equipment such as glasses or face shields. The local fabric industries should be transformed into PPE manufacturing units to deal with the shortage of protective gear supplies.

We need to train the non-ICU staff ahead of time in order to combat the potential situation where front-line ICU trained staff either gets infected or needs replacement. The gaps among the healthcare workforce need to be filled. Additionally, the government should announce special pay packages for front-line warriors. In the near future, another catastrophe will be related to space availability for critical cases, apart from the need for trained medical staff. The non-acute care units in basic health units should be transformed into coronavirus care centres. Trained paramedical and medical staff, not the Tiger Force, should be sent to rural loclaities to confine the infected cases there and reduce the burden on central tertiary care hospitals. There is a dire need to identify the hotspots of Covid-19 infected cases across the country. Close monitoring of contacts and contact tracing should be carried out through mobile phone apps, while smart city algorithms should be implemented to identify active cases by utilising hyperspectral imaging satellites.

For the future, we need to plan a programme within the hospitals to take care of relatives of patients who are unable to visit them. Although it takes time to procure these devices and, in some hospitals, information technology security has not allowed free Wi-fi connection, this is something that needs to be set up well in advance. Such video-conferences in the hospital will reduce anxiety among patients and their families.

In multidisciplinary units, there should be one section for Covid-19 negative patients, one for potential victims awaiting test results, and another section for Covid-19 positive cases. Most cross-infections occur in hospitals because there are no defined clear cut pathways within the hospital. Thus, there is possible vertical transmission of infections through elevators, stairs, and by individuals who move from one place to another. It is important that there should be a separate spaces for staff and paths for the Covid-19 cases being entertained in the hospital facilities. All appointments should be done by video-conference or telephone. The complaints laid out by the patients should be addressed by a responsible medical staff and only cases requiring urgent medical management should be called into the hospitals emergency units. Pakistan must quickly implement these changes if the nation wishes to curb the spread of this virus.