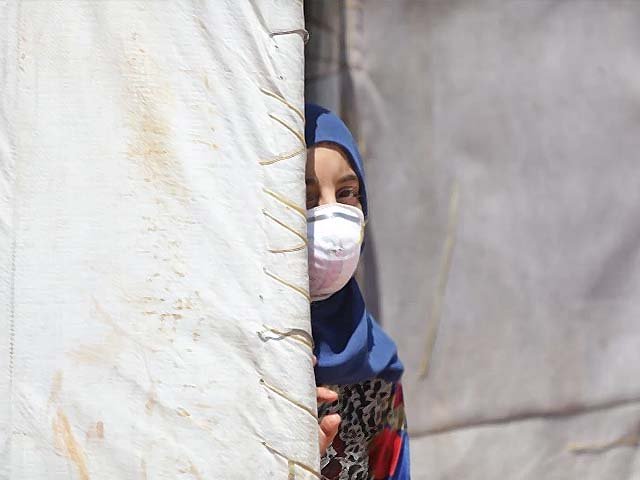 ---
The impact of Covid-19 on refugees
Refugees are extremely vulnerable to the debilitating impact this virus poses to their health and living standards
---
As the threat of Covid-19 intensifies over time, protection of the most vulnerable populations is of paramount importance. Falling on June 20th, World Refugee Day draws yearly attention towards the need to support and protect the 80 million people displaced all over the world. Of these, 30 million are classified as refugees, with this number having nearly doubled in the last decade. Around two-thirds of the world's refugees live in Syria, Venezuela, Afghanistan, South Sudan and Myanmar. Even though everyone is at risk of contracting the virus, refugees and asylum seekers stand to be the most vulnerable. Dwelling in overcrowded and densely populated urban settlements with unsafe and unhygienic living conditions, refugees are extremely vulnerable to the debilitating impact this virus poses to their health and living standards.

Accustomed to facing poverty, food insecurity, discrimination and conflict and having limited access to livelihood, healthcare and education opportunities, the vulnerabilities of refugees are now further compounded by the Covid-19 pandemic. For this, it is imperative to build refugee resilience so that they are better prepared to deal with the vagaries of this pandemic and are able to build a better and more secure future for themselves.

Prone to fleeing violence and rebuilding their lives in unfamiliar places even before the virus hit, refugees have gradually developed resilience and are able to face adversity in the most challenging of times. With the pandemic intensifying in refugee communities, exposure to the ravages of this virus is inevitable. Since a large majority work in the informal sector, refugees are susceptible to falling through social security cracks. The pandemic has not only resulted in job losses but has also increased xenophobia and discrimination among refugee populations, thereby giving rise to the number of evictions faced. One of the most serious threats faced is the spread of rampant misinformation within refugee camps.

This is further compounded by the inability of refugees to relocate due to stricter migration policies and border closures being put in place as the virus continues to spread. Coupled with their plight, the spread of misinformation results in increased fear and uncertainty among such communities. Because of this very reason, the role of humanitarian workers in correcting such misconceptions is critical. Moreover, in countries like Italy, immigration offices have been reassigned to address coronavirus-related emergencies. This means that asylum claims are no longer being entertained by such countries. Similarly, Uganda, which is host to 1.4 million refugees, has suspended the reception of new refugees, further curtailing their rights and putting their safety in jeopardy.

Both organisations and voluntary groups are taking steps to counter the impact of Covid-19 on refugee families. Located in Northwestern Kenya, Kakuma Refugee Camp hosts more than 190, 000 residents. A classic example of a densely populated refugee settlement, this camp is reflective of inadequate social distancing measures and the spread of inaccurate information. To combat these problems, the United Nations High Commissioner for Refugees (UNHCR) along with the Kakuma Hub, a network of young people striving to address the plight of the displaced, are using social messaging apps to disseminate accurate information and have launched a handwashing campaign to improve hand hygiene and sanitation levels within this community.

For this purpose, concerted efforts are being made to ensure that governments include refugees in their national health responses and recovery plans. With a significantly high proportion of refugees residing in countries having weak health systems, Covid-19 has successfully magnified the long-existing displacement crisis for these populations. Adopting a multifaceted approach, UNHCR is striving to protect refugee populations across the world by promoting the adoption of inclusive and non-discriminatory policies. It is monitoring the spread of the virus among these populations and is providing basic supplies such as water, medical care and hygiene materials and has set up isolation units to curb the spread of the virus. To date, it has distributed 6.4 million masks and 600-640 ventilators to countries classified as high priority and is also striving to ensure the setting up of adequate isolation facilities.

Furthermore, refugee families who have lost their income source are being provided with cash assistance programs. To alleviate the plight of the displaced and to counter the adverse impact of the pandemic, the private sector can also play a pivotal role in providing aid and education to ensure that learning continues undisrupted among the refugee population. Similarly, businesses can play a fundamental role in providing humanitarian aid and employing refugees, allowing the latter to achieve self-sustenance and the former to address the increased labour demand due to Covid-19. Philips is successfully supporting an initiative that employs refugees to produce masks from materials used in vacuum cleaner bags.

Similarly, financial service providers can also provide access to adequate credit, savings and insurance schemes. It is only through the cohesive efforts of multiple stakeholders that solidarity and inclusivity in responding to the refugee crisis in the time of Covid-19 and integrating such displaced populations into the economy can be achieved.
Facebook Conversations
COMMENTS
Comments are moderated and generally will be posted if they are on-topic and not abusive.
For more information, please see our Comments FAQ