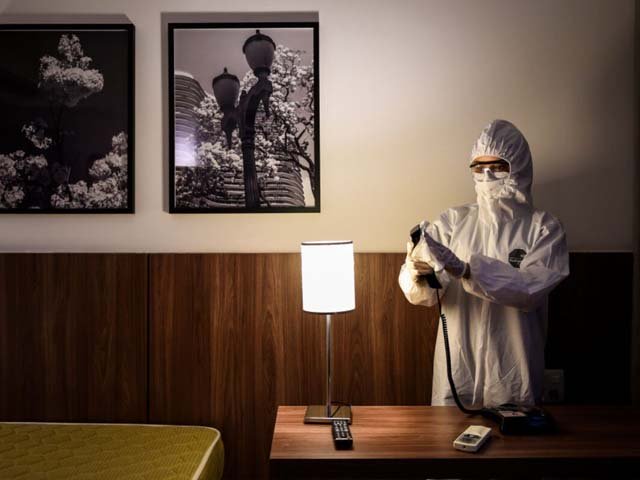 ---
How has Covid-19 impacted Pakistan's hotel industry?
How our clients operate their businesses and contact protocols will now impact how hotels operate
---
A hotel is essentially a micro-city. With an average ratio of two and a half to three staff members per hotel room, a 200 room hotel has around 500 employees who directly depend on it for their salaries, along with a minimum of 3000 additional co-dependent individuals if we also take into account their family members. Now, add into this mix the food contractors who supply raw materials to the hospitality industry; those who are responsible for maintaining general order like housekeeping and engineering suppliers; add all the paper and ancillary suppliers; and also include all the linen, chinaware, glassware, carpet and terry suppliers. Keep in mind that the families of these workers are dependent on the earnings of these individuals too.

In our case at the Avari Hotels, the medical and health costs of each staff member and their family is taken care of by us; as is their primary-level education, annual increment of salary and additional one month's bonus (minimum), funded termination benefits, and a funded 30 days annual leave. This is precisely why I stated that the hospitality industry is a micro-city.

Pakistan has seen several major economic downturns since the Afghan-Soviet war in the 1980's, all which have impacted the hotel industry particularly hard, and this doesn't even include the disruptions hotels have had to endure due to internal politics and strife. The 1990's Nuclear tests, 9/11 and the War on Terror, the 2008 world economic depression, and now Covid-19, with the latter being the worst of all these crises, by far.

One of the major impacts as a result of the pandemic was the lockdown. If companies and individuals cannot travel and visit a hotel, the hotel's revenues are garroted. As corporate expenses are strangled, off-sites and sales meetings cannot be held. With flights stopped, there is no inbound travel and no flight crew staying at airport hotels. Hotel gyms and pools have been closed, while restaurants, banquet and meeting facilities, an integral part of hotel operations, have been completely restricted. All this has led to a severe strangulation of the revenue generated by the hotel industry.

With export markets closed, which has created a ripple effect for manufacturing companies in Pakistan, the negative impact on hotels which rely on such companies is apparent. While we have temporarily closed down five of our eight properties, and we have had, on average, only seven per cent occupancy in our other three hotels since the start of March 2020, our family has not asked any of our employees to leave. Since the beginning of this crisis, every single person continues to receive their contracted amount. There is no concept of unemployment insurance in Pakistan, so where will these people go, how will they feed their families, take care of their medical finances, and survive if we removed them? We as an organisation will not have that on our conscience.

We continue to pay our small, independent contractors (like musicians, etc.) their contracted monthly stipend. We have waived off four months of rent payments from small shop tenants within our hotel premises due to their lack of business. To reduce variable costs, we have asked all non-essential staff to stay at home (in essence an extended "leave with pay"). We have stopped most of the extra allowances (like transport, etc.) as everyone is at home. Since public transport was stopped, our core staff were moved into the hotel rooms to keep the hotels clean and maintained (even those ones which are closed) and ensure they have no exposure to the coronavirus. Naturally, we have to continue to bear the electricity costs to maintain the hotels.

Like many other sectors, hotels will have to change their operating protocols with regards to staff and guests. Covid-19 is here to stay for the time being and we have to adapt to this new reality. Here are a few key areas we will have to pay attention to:



More vigorous cleaning and sanitation of public touch-areas


Institute staff contact protection


Reduction in guest cross-contamination


Reduce staff contact at entry gates, meal timings, etc.


Greater emphasis on checking incoming people – and, unfortunately for hotels, we may have to be stricter "policemen" with potentially sick guests or staff members


Some guest contact points will have to be changed to reduce contact as much as possible


Some in-room amenities and facilities may have to be removed to reduce guest touch points


The procedures our team follows for sales calls to clients may have to change


The buffet concept, in the short to medium term, will be restricted. A la carte service in restaurants – and tray service in guest rooms – will be the norm


Restaurants and meeting facilities will have to be realigned to account for social distancing, which means decreasing occupancy of these areas



Largely, how our clients operate their businesses and contact protocols will now impact how hotels operate – it will be a "wait and see" approach for us to adapt our operations. We continue to be educated by international practices and ascertain how many of these measures can be implemented in a Pakistani setting. Out of most economic sectors, the hospitality industry is one of the few which can actually implement and practice Covid-19 standard operating procedures (SOPs) correctly, and we are already doing so. Yet, the hotel industry remains on the "closed list" in Pakistan. The bottom line is that what we need now are 'heads' in beds and 'buns' in chairs.

With the fourth generation of our family now in Karachi since my grandfather's arrival in the 1930's, let me end with our Group's email footer – "Family owned since 1944 – proudly Pakistani!" We will weather this storm too.
Facebook Conversations
COMMENTS
Comments are moderated and generally will be posted if they are on-topic and not abusive.
For more information, please see our Comments FAQ