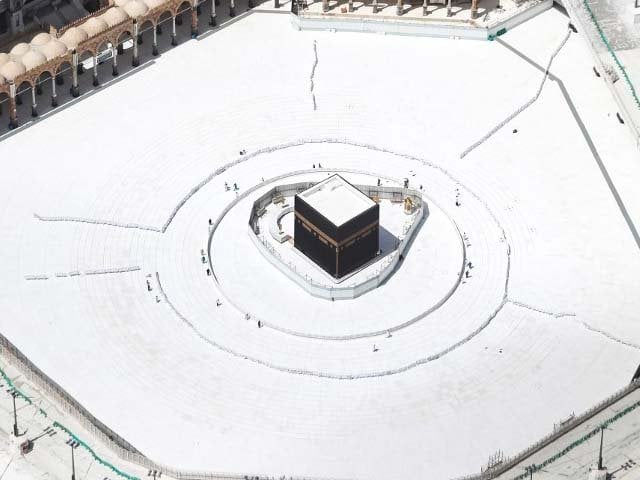 ---
Why the Hajj must be cancelled this year
Along with religious rituals also comes the basic responsibility to make rational decisions
---
For a species with an average life expectancy of about 72 years, we sure do take pleasure in playing the proverbial Russian roulette, all the while having the conceit and expectation that divine intervention will miraculously prevent the bullet in the chamber from aligning with the revolver's barrel once the cylinder is spun and the trigger is pulled. It is an attitude that is self-centered at best and ignorant at worst, to say the least.

As countries around the globe are working day and night to figure out how to cut their losses and prevent another recession in the 21st century during the Covid-19 pandemic, the Muslim world's primary pre-occupation is hoping that Saudi Arabia does not cancel the Hajj lest another prophecy predicting 'Qiyammah' is fulfilled. Over six million people have been reported positive with the novel coronavirus thus far, and that number is bound to increase.

That shocking number means only one thing: with no clear sign of a vaccine coming out, it would be suicidal to have millions of people from all over the world travel to Saudi Arabia only to make it certain that many will go back to their homelands infected. "Thoughts and prayers," while a great coping mechanism for the downtrodden, are never a substitute for competent decision-making. It only leads to more suffering and misery. Just take a look at Yemen.

There is absolutely no doubt that Hajj is one of the most important pillars in Islam and that its completion is a sacred duty; however, along with religious rituals also comes the basic responsibility to make rational decisions—decisions that have an impact on not just who share our faith but also those who, although do not share our convictions, are as equally worthy of our love and support. The suggestion that God will protect us from the virus during the pilgrimage when we, volitionally and stubbornly, open the door to it is tantamount to making the claim that jumping out of an airplane without a parachute will prevent a man from hitting the ground because he has a tasbih (rosary) in his right hand.

If we wish to see another vibrant Hajj in 2021, then Saudi Arabia must make the decision to suspend the Hajj this year, at least for foreigners. If not, there is a high probability that many might not live to see 2021, much less another Hajj. Even worse, the number of those infected around the world will increase exponentially as pilgrims return to their home states.

But, as much as I would love to say otherwise, it seems unlikely that Saudi Arabia will make the decision that health officials so desperately want it to make. As the annual Hajj is a major cash flowing business for the Saudi government, it really would be a miracle, for lack of a better word, if it actually suspends the Hajj this year for all foreigners. This is why I would like to appeal to governments of individual countries to halt flights to Saudi Arabia during the Hajj period. Do it for the welfare of your people and the world will thank you for it, that I assure you. For instance, Muslims from Indonesia and Singapore have themselves decided to skip Hajj this year due to the pandemic, with Indonesia's Minister of Religious Affairs Fachrul Razi stating,

"The government has decided to cancel the Hajj 2020 as the Saudi Arabian authorities failed to provide certainty."

On the other hand, Pakistan is currently in discussions with the Saudi government to allow 20% of the pilgrims from Pakistan to attend Hajj this year. Whether this will actually happen will be confirmed by the authorities next week.

Finally, as much as the zealots would like to argue, suspending the Hajj is not a war on religion; in fact, it is the opposite. If anything, it is the pursuit to save Islam, and Muslims, from a contagion that does not discriminate based on caste or creed. It is the desire to be able to perform multiple Umrahs down the road. Stubbornly denying the facts and choosing, instead, to reserve the title of 'shaheed' for those who might die from Covid-19 following the Hajj is nothing but grossly reckless behavior; it is a conscious disregard of an unjustifiably high risk to human life. Disconnecting with surrounding realities will only impede the progress of the Muslim world, which is why we must take action before it is too late.