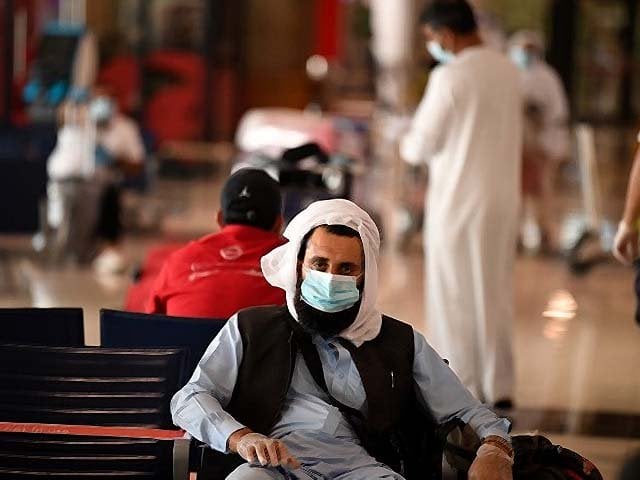 ---
Covid-19 and the perils of air travel
In light of lifting travel restrictions, it is imperative that the risk of air travel be minimised
---
To gradually revert to a life of normalcy, Pakistan is easing its social distancing restrictions and has lifted its lockdown. With respect to the aviation industry, the country is set to loosen its air travel restrictions and resume passenger airline operations. According to the Civil Aviation Authority (CAA), Pakistan resumed international flight operations from Friday, May 30th. With the exception of Gwadar and Turbat airports, both national and international airlines will resume regular operations from all international airports of the country. This decision was taken a week after Islamabad lifted its ban on domestic flights. Back in March when the number of coronavirus cases were exorbitantly rising, the country had decided to suspend all international flights in the interest of passenger safety and to curb the spread of this deadly virus.

In light of lifting travel restrictions, it is imperative that the risk of air travel be minimised. The likelihood of an individual getting infected is directly related to the duration of time exposed and the number of virus-contaminated droplets in the air. With flying, as with other modes of transportation, the primary source of concern would be maintaining the required distance of six feet of an infected person. This is particularly cumbersome especially in cases where an individual is asymptomatic. To prevent the spread of this contagion, the foremost step to be taken is to ensure that no large crowds are present at airports as is the norm in Pakistan. With the aim of turning the tide against this virus, special care should be taken before boarding the plane, when passengers are checking in, while waiting at the airport lounge, while going through security, as well as while deplaning by relying on bare essentials such as sanitisers, masks and plastic zip bags.

Furthermore, for outbound international flights, Covid-19 safety guidelines should be followed. Aircrafts are to be disinfected and adequate measures to curtail the spread of this virus - including equipping cabin crew with protective masks and ensuring passengers are adequately spaced, thereby utilising minimal plane capacity - are to be taken. To ensure social distancing of at least six feet, every alternative seat is to be occupied, with the middle seat being left vacant. Along similar lines, passengers are seated in every alternative row of the aircraft. In spite of these measures, virus transmission is likely to occur when passengers leave their seats to visit the bathroom, retrieve belongings from overhead cabins or even when they get up for an occasional walk just to stretch their legs. Another equally pressing issue is getting potentially contaminated by objects such as seat belts, seat trays, shared armrest and the restroom handle. If flying with the young, adequate face coverings should be worn and adherence to proper hygienic standards should be dutiful. For the older as well as those having preexisting health conditions, all nonessential travel should be completely avoided.

To minimise the risk exposure while airborne, the two-pronged "Hierarchy of Controls" methodology can be adopted. This is primarily reliant on strategies that aim to control exposure to the source and limit human interaction. Even though the decision to resume air travel has been taken to cater to the flying needs of the population, it is important to keep in mind that only trips that are exceedingly crucial should be taken. The Centres for Disease Control and Prevention (CDC) website recommends,

"You stay home as much as possible and practice social distancing," and "avoid all nonessential international travel because of the Covid-19 pandemic."

To reduce the transmission rate of the virus, it is imperative that protective measures including aggressive disinfection and thorough cleansing routines are followed and that air travel be adopted only when it is absolutely unavoidable. Unless deemed critically vital, travelers should gravitate towards road trips as these offer lesser chances of exposure and virus transmission. Reinforcing rational recommendations, one should limit social interactions, reduce contact with afflicted individuals and stay home to curb the active spread of the virus amongst communities.

For a nation that fails to adhere to lockdown measures, as evidenced by the aggregate number of confirmed Covid-19 affected patients rising with time, it would be overly optimistic to assume that they would adhere to precautionary health and hygiene measures during air travel. Regardless, travelers should be mindful of risk tolerance and inconvenience and should take additional precautions to ensure individual and communal safety. Upon arrival, some countries and states require meeting a 14-day quarantine requirement, violators of which can be fined up to $5000 or even have to serve time in prison. Since this pandemic is far from over, a definitive stance on when air travel would become safe and devoid of any risks would only arise when a vaccine is ultimately developed and not any time sooner than that.