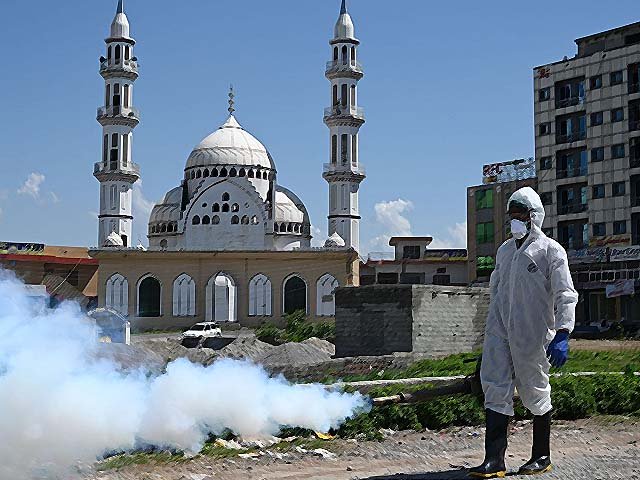 ---
Assessing COVID-19's impact on climate change
The pandemic has already shown us that a cleaner and safer new world is within our reach
---
In theory, blue skies across the world, grounded planes, empty roads, and closed factories are an environmentalist's zero emissions dream come true. However, the actualisation of this dream over the past few weeks has come at the cost of terrible human suffering caused by COVID-19. The unprecedented collapse in oil demand has also sent crude oil prices crashing. For years, environmentalists have been demanding an end to fossil fuel usage and suddenly a virus seems to have answered the call, but at a very heavy price. Nonetheless, is this a temporary pause which gives our polluted environments some much needed respite and allows nature to heal itself or will we soon go back to our oil guzzling days?

It's really too early to say – it's a tricky new virus and we just don't know enough about it at this stage to predict how it will impact our future. Will it take until this summer, will it take a year, even two years before we have this virus under control? Will we have to wait 12-18 months for a vaccine to be tested, manufactured and distributed? For those of us staying at home, glued to our television sets and smartphones, we now have the luxury of time to re-evaluate our priorities. Is clean air important? Do we really need to consume and waste so much? Was so much air travel really so essential?

We environmentalists can tell you that we as a planet were on an unsustainable trajectory – for us it was just a question of when, not if, our great societies would teeter on the brink of collapse. None of us had foreseen a global pandemic, however. We were waiting for the tipping points scientists had warned us about; the abrupt and irreversible climate changes caused by the end of the Amazon forest or the loss of the West Antarctic ice sheet. We knew about the massive flooding that would destroy our coastal cities and the wildfires that would ravage entire regions. Already, Indonesia was hit by massive flooding earlier this year and Australia was scorched by uncontrollable bushfires in December and January.

The youth had already woken up around the world and had joined the teenaged Greta Thurnberg and other climate activists in calling for a "climate emergency". We were all determined to fight against the powerful oil and gas companies and the wealthy corporations who resisted any calls for change. We were all going to ramp up our protests around the world in preparation for the decisive UN Climate Change Conference 2020 to be held later this year. COP26, as the meeting was called, was supposed to be held in Glasgow this November – it was the deadline for the operationalisation of the Paris Agreement. COP26 was expected to be the most important climate meet since 2015, when the Paris Agreement was signed – every country was due to raise its ambitions in cutting carbon emissions.

Governments were expected to update their national climate plans by the end of 2020. We activists were hoping that instead of locking us into more years of dependence on fossil fuels they would focus on the need for decentralised energy systems based on renewable sources. With proper planning, technology and renewable energy investments, all countries would tackle the climate crisis together.

According to the Intergovernmental Panel on Climate Change, human activity has already caused approximately 1.0°C of global warming above pre-industrial levels. If warming continues at its current rate, temperatures will reach 1.5°C above these levels between 2030 and 2052, leading us all towards a climate catastrophe.

With the spread of COVID-19, which is now escalating globally, the United Nations has announced that the 26th UN Climate Change Conference will be postponed until early 2021. The Bonn preparatory meetings will now be held in October instead of June this year. Governments around the world are currently in fire-fighting mode as they battle against the pandemic. However, the postponement of COP26 also gives governments more time to increase their climate pledges under the Paris Agreement. Current climate plans put the world on track for a catastrophic 3 or 4 degrees of warming. We all need to raise our ambitions to protect our societies from further harm.

This year's climate conference was to take place just a few days after the US presidential elections, and climate activists were dreading the re-election of President Donald Trump, a well-known climate change denier. Now experts argue that the positive side to the postponement is that COP26 will no longer be so close to the US presidential elections and there is a chance that Trump will not be re-elected given his disastrous handling of the pandemic in the US.

Having more time to prepare for COP26 is also considered beneficial as governments and political leaders will now have the time to learn from the response to COVID-19. As Harjeet Singh, ActionAid's global lead on climate change, points out:

"The pandemic also proves that if there is political will, dramatic actions can be taken, trillions of dollars can be mobilised and people will accept inconvenience and strong government interventions, if it means protecting millions of lives. It shows the level of ambition that must be applied to the climate emergency."

This pandemic is taking place while the world faces an ecological crisis, which will also threaten the lives of millions of people around the globe. As we help each other through the COVID-19 crisis, we must keep in mind that further international efforts will be needed to ensure a more sustainable future for our planet. The pandemic has already shown us that a cleaner and safer new world is within our reach.

According to Lord Nicholas Stern, an adviser to the United Kingdom (UK) government on COP26:

"There is an opportunity in the recovery from the Covid-19 crisis to create a new approach to growth that is sustainable, inclusive and resilient… Now is the time to forge a new internationalism and move from this crisis to a much more sustainable economy in closer harmony with the natural world".

Right now governments are too distracted but the climate crisis will not wait – already forecasters are predicting a very active 2020 hurricane season in the Atlantic basin, which could see at least eight hurricanes (from June to November this year). Pandemic or not, the world will continue to see extreme weather, including more droughts, flooding, and heat-waves hitting various regions this year. It is important we never lose sight of these grave realities.