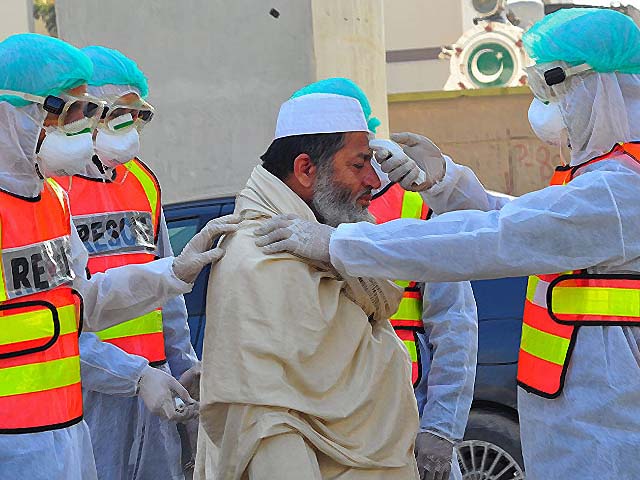 ---
How to get past the mismanagement of COVID-19 in Pakistan
Banding together to control the havoc this pandemic has wreaked is the only way to get through this storm
---
Pakistan currently finds itself in a precarious situation – keeping itself afloat amidst a pandemic. The notion that the state is also inflicted with a fledgling economy, a weak healthcare infrastructure and a divided leadership, doesn't do much to help the situation. In early February, Special Assistant to the Prime Minister on Health Dr Zafar Mirza chaired a meeting of the Coronavirus Emergency Core Group in Islamabad where he reassured the nation that sufficient measures had been put in place across healthcare institutions to prepare for an outbreak. However, at the time of writing, the number of cases has crossed 3,200, with 50 reported deaths. Like other nations, Pakistan's leadership was unwilling to officially declare an outbreak for the preservation of national pride.

The skyrocketing cases in Pakistan can be amounted to the re-entry of pilgrims returning from Iran in mid-March who were initially believed to be coronavirus-free, thereby bespeaking the blasé attitude of the federal government. Given that Pakistan shares a border with both China and Iran, two of the countries with the highest number of reported cases, there was a dire need for effective cross-border communication. But the lack of health surveillance and cooperation between the countries encouraged the mobility of infected groups into Pakistan.

Due to limited multi-disciplinary coordination across the economic, social and political sectors, no clear responsibilities in managing the spread of COVID-19 were highlighted. The need for swift decision-making was evidently absent given the delayed implementation of a nationwide lockdown, consequently leading to a greater spread of infections. Further, most of the research and development that is happening now was only instigated after numerous deaths were reported. Doctors across the nation have decried the lack of personal protective equipment (PPE) provided by the government for their frontline healthcare workers, hospital cleaners and security staff. Scarce testing has also led to limited case ascertainment.

Given that going into quarantine for many weeks is a luxury only a small percentage of Pakistan's population can afford, social and economic inequities have to be factored in by the administration during our current and any protracted lockdown to minimise economic fallout. As those in lower socio-economic groups are less likely to gain access to timely healthcare and may also not engage with public health initiatives, government policies must address these issues. A step in the right direction was the finalising of a Rs1.2 trillion package by the Economic Coordination Committee (ECC) for an Emergency Relief Fund to combat the economic slump and also approving a stimulus package for the relief of 12 million poor families under the Ehsaas programme.

To manage the spread of coronavirus it is crucial to examine the steps taken by other nations which have successfully controlled the outbreak. In China, for instance, their headship had apprehended the perils of COVID-19 and chose to immediately cordon off Wuhan (the site of the pandemic), preventing movement into and out of the city. The healthcare workers worked to target at-risk groups and diagnosed the infected quickly. Since it could take 12-18 months to develop a COVID-19 vaccine, early diagnosis through targeted testing and effectual contact tracing should be the focal point of healthcare systems.  In Pakistan, to locate risk groups and the communities they move around in, data scientists can work with town municipals to map out city blocs. Further, COVID-19 patients who are currently in recovery should be encouraged to donate their plasma for the essential antibodies which can provide passive immunisation to the victims. A tried and tested method, this has even been done in Pakistan by the first COVID-19 victim, Yahya Jaffery.

For the safeguarding of our frontline healthcare workers, protective measures must be implemented – during all consultations, health care workers should don gloves and surgical masks, whilst maintaining a safe distance between the patient and themselves. All surfaces should be disinfected between each patient interaction and clinicians must perform regular hand washing. A specialised background check must be completed which gathers critical data about whether the patient belongs to a risk group, has had a significant travel history and/or has any relevant symptoms such as a flu or a dry cough. If a patient checks positive for any of the preceding statements, they should be treated in a special clinic.

Moving forward, there needs to be improved communication between the outbreak control teams and those involved in community organisation and the media. Media coverage should be scientific and reliable, as mis-information can have a major impact on public perception and therefore political will. An all-out strategy with logistics which engage with the government at the capital and district level is a necessity. Due the uncertainty of the length of this pandemic, the government should look into putting forward advanced purchase agreements to produce antiviral stockpiles. There is also an essential need to consider the wider health impacts of COVID-19. For example, many routine childhood immunisation programmes have been affected, and pregnant women may not be receiving crucial maternal care. Management centres which address these issues should be established. The centres may also set up survivor clinics for those in recovery, thereby freeing up beds in hospitals.

Pakistan has the benefit of having a young population, which is extremely willing and ready to assist in this time of crisis. The state must utilise the knowledge of information scientists who can work together on mathematically modelling the trajectory of COVID-19, which can help the leadership plan and respond effectively via real-time analysis. New graduates can work on experimental studies for vaccine research or can work on setting up community surveillance systems in regions with high population densities.

There has already been an impressive response across the board to manage this outbreak. In Karachi, the group, First Response Initiative of Pakistan, has been working steadily to collect and provide PPEs to healthcare workers. Online initiatives like the Jugaad Innovation Challenge have provided a platform for people of all ages and professional backgrounds to come together to propose ideas and solutions to tackle the pandemic. Engineers and medical students have also been working against time to construct makeshift masks and low-cost ventilators. Pakistan, at the time of writing, has had 257 recovered cases, signifying that the steps we're taking are working.

As a nation, we are currently in the eye of the storm. For a country which still faces preventable deaths from polio and diarrhoea, managing COVID-19 will be no small feat. However, Pakistan has the power of charity, bold frontline health care workers and an eager young population. Banding together to control the havoc this pandemic has wreaked is the only way to get through this storm.