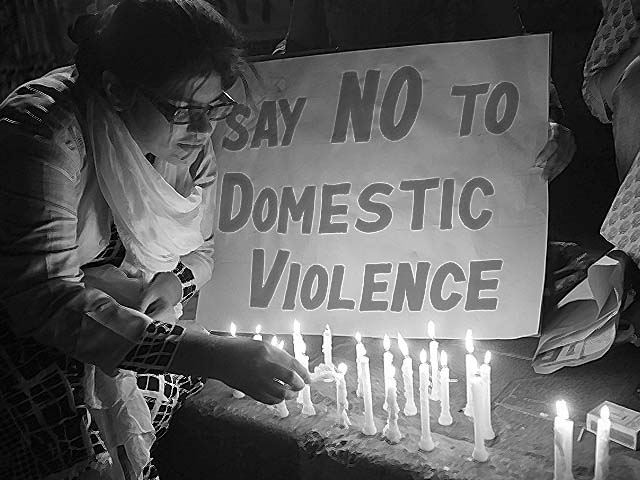 ---
How to tackle increased domestic abuse during COVID-19
It is important to draft laws and policies to reflect the increased risk to women and children in quarantine
---
The fact that I am able to write this has a lot to do with my privilege to do so. As I write this, I sit on my dining table in the living room at home with my family members scattered in different corners; everyone is busy doing something or the other, without necessarily fearing nor contemplating whether our lives are at risk of domestic abuse. For some people, however, their home is not as safe of a place as it is for others.

Unfortunately, the COVID-19 pandemic has had an unwavering impact on the increasing rate of domestic violence. Activists around the world already feared this would happen and the global lockdown has unfortunately proven that hypothesis correct. Following the imposed quarantine, there is substantial uncertainty about job security, other financial complications and the sheer stress caused by social isolation, which in turn can result in women and children being at the receiving ednd of risk of domestic violence against women and children. It is also important to emphasise here that domestic violence can be perpetrated against both male and female victims.

However, across the globe, we have seen an alarming rise in the cases of violence against women. The severity of the issue has propelled some governments to prescribe laws and policies for women who are being abused by male partners inside their households during the COVID-19 quarantine period. One prominent example of this is of Spain, where lockdown laws are extremely strict and people are being fined for stepping out of the house but the government has told women that they will be not be fined if they leave home to report abuse.  In fact, this policy cracked through after March 19th, when a husband murdered his wife in front of their kids in Valencia.

There is a legitimate reason why women around the world come out on the streets on March 8th to march, asking for a safer environment to thrive in. In most cases, it is literally a matter of survival because according to statistics provided by the Pakistan Journal of Medical Sciences, 90% of women interviewed stated they had experienced some form of domestic violence. In fact, according to the World Health Organisation (WHO), domestic violence is among the most widespread but least reported human rights abuses.

Patriarchal ideologies to maintain control, in addition to personal and professional pressures lead to many dreadful actions and even though the decision to shut down schools and sports clubs for children is the right one to help prevent the virus from spreading, it is also making victims more available to their perpetrators. Now, I know many people reading this will be raising questions like, "But what about the men?" Well, here is your answer.

According to a report done on domestic violence during the COVID-19 lockdown in TIME Magazine, even though men experience domestic violence,

"women make up the majority of the victims, with LGBTQ individuals also facing elevated rates of domestic violence. But during times of crisis — such as natural disasters, wars, and epidemics — the risk of gender-based-violence escalates. In China, the number of domestic violence cases reported to the local police tripled in February compared to the previous year, according to Axios. Activists say this is a result of enforced lockdown."

In Pakistan, where a crime like domestic violence is still primarily a taboo subject and something that is not necessarily understood as a bad thing (due to various reasons like patriarchal structures, lack of self-awareness, lack of sex-education, flawed religious beliefs that allow violence against women, lack of women's financial independence and lack of institutional support), it is foolish to believe that the actual frequency at which violence is being perpetrated inside the homes can ever be uncovered or reported. Though legislations exist to tackle crimes like domestic violence, they too have too many problematic loopholes to make them legitimately helpful, not to mention the lack of implementation across the board. What makes it worse is that there are just not enough regulated women shelters and help centres that women who are experiencing such an ordeal can reach out to. Additionally, in this case, leaving the house may simply also mean contracting the virus and suffering medically.

Many civil society members across the world have lobbied to their governments to draft laws and policies to reflect the increased risk to women and children in quarantine. Across the border in India, the state of Uttar Pradesh (UP) has launched a new domestic violence helpline, the police have promised a female officer to handle each case and the police will arrest the perpetrator.

If you, your friends, your loved ones, or your neighbors are experiencing domestic violence, the Ministry of Human Rights Pakistan helpline is open. However, it is imperative that this helpline provides services in Urdu, English, and regional languages to ensure that it is accessible to women belonging to all backgrounds. Additionally, the AGHS Legal Aid Cell helpline and the Digital Rights Foundation helplines are open as well.


Lockdowns and quarantine measures often leave women and children vulnerable to domestic abuse and violence - which is known to rise during emergencies

Our helpline is here to help you
Dial 1099 or call/text us on WhatsApp 03339085709 #HighRiskCovid19 #COVID19Pakistan pic.twitter.com/KRjC2gSLBe

— Ministry of Human Rights (@mohrpakistan) March 30, 2020


Aside from all the technical and legal jargon, at times like these, it's always easier to think that our situations could be better. However, it is also just as important to check our privilege and realise that things could be worse. Everyone is suffering and trying to survive in their own way but if there is any capacity through which we can help others then it is our duty to do so. Just like we care about those who don't have food during this time, we should also care for those who don't have safe environment at home.

Considering that the prime minister has announced ration packages for people who cannot afford a living in these trying times, at least some of the financial burden will be eased and we can hope that this factor will not trigger increased domestic violence in Pakistan. In my opinion, another way to help would be for governments to provide packages for women doing unpaid work inside the homes as a stipend or allowance to make them more financially independent. However, I am also aware of the current economical stance of our country and providing allowances that are gender-focused is probably not financially viable as money for complete families is needed for their survival. However, making a policy around this kind of a scheme is what needs to be implemented in the future to secure all citizens in emergency situations.