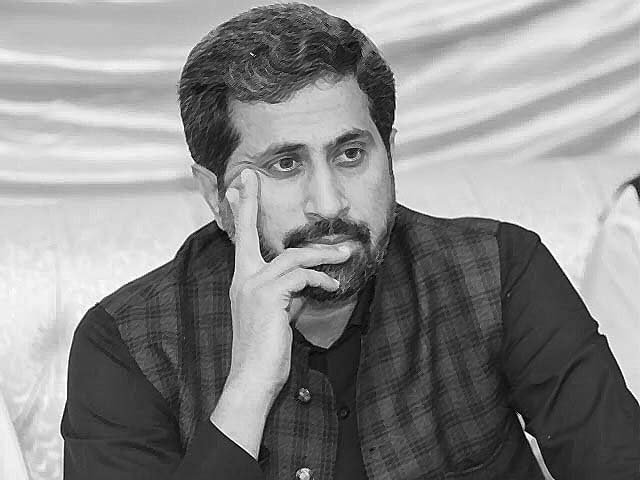 ---
What someone with a disability wants Fayyaz Chohan to know
Deeming children with disabilities as a punishment from God is, to put mildly, both disgusting and abhorrent
---
Savoyard philosopher, Joseph de Maistre has been quoted, saying,
"Every nation gets the government it deserves."

Indeed, leaders do mirror the qualities of a nation. The intellect, gestures and mannerisms of men and women in power reflect a nation's character and so, the civility of Pakistani society may be judged by the problematic mindset of a spokesperson that is supposed to represent the country's most populous province. The subsequent apathetic response by the state also speaks volumes about the polluted ethos that characterises certain sections of our society.

Thus, in light of the aforementioned sad state of affairs, I felt obliged to express strong condemnation on behalf of the entire disabled community for being mercilessly humiliated by Information Minister of Punjab Fayyazul Hassan Chohan, whose

unforgivable

remarks during a recent press-conference were nothing short of point-blank character assassination of the differently-abled and their loved ones. Deeming children with disabilities a punishment from God is, to put mildly, both disgusting and abhorrent.

Undoubtedly, the society we live in is contaminated with such various fallacies and myths. Suffering from an impairment myself, I too have encountered similar inhumane remarks from almost all quarters, yet I never expected to be targeted by a person holding an eminent ministerial position, someone who claims to represent the masses who, of course, include me and many others that are differently abled.

These are the people we count on for our well-being, but instead, they marginalise and degrade us along with our parents with nefarious remarks that would feel right at home in Hitler's fascist Reich, something that Prime Minister Imran Khan regularly accuses Modi's government of being. Does this not bring into serious question their ability to carve out a civilised society which they claim is their foremost goal?

I can contemplate giving leeway to people lacking decent education and inadequate exposure to the world around them, but no one should expect me to remain calm and silent after being brutally disgraced by someone who simply cannot hide behind an excuse that may be afforded to the less privileged. The apathetic response of the provincial and federal government's hierarchy as well as large sections of  the mainstream media, who rarely miss an opportunity to criticise the government, have certainly added to my dismay as well.

The resilience with which I have faced my struggles throughout my academic and professional life have become a source of pride to my loved ones. Regrettably, through an uncouth shot of words, these struggles have been callously brushed off. My very existence has been stigmatised on a state-level and I have been chastised for the supposed mistakes of my parents. Although such nefarious remarks do not diminish my fighting spirit or deter my motivation to excel, I am after all human and they do affect me. Do I not have the right to live with dignity and do I not deserve to be treated with respect?

With a heavy heart, I demand an immediate explanation from all my democratically elected representatives and the self-proclaimed intellectuals from our society on how they can allow such filthy comments to go unpunished. If the supposed defenders of our constitution and the protectors of fundamental rights enshrined therein behave in such a reckless manner, can I really expect them to protect my dignity and that of my guardians?

As a PTI voter with special needs, I demand a policy statement from the concerned government officials to address the heartache they have inflicted upon the entire disabled community. Lastly, being a diehard follower and supporter of the incumbent prime minister, I urge Imran Khan to take strict and meaningful action against Chohan, which should result in nothing less than his immediate removal from the ministerial position, as has been done in the recent past on a similar pretext, even though such an action would only be a minor step towards redressing a grievance of such enormous magnitude.