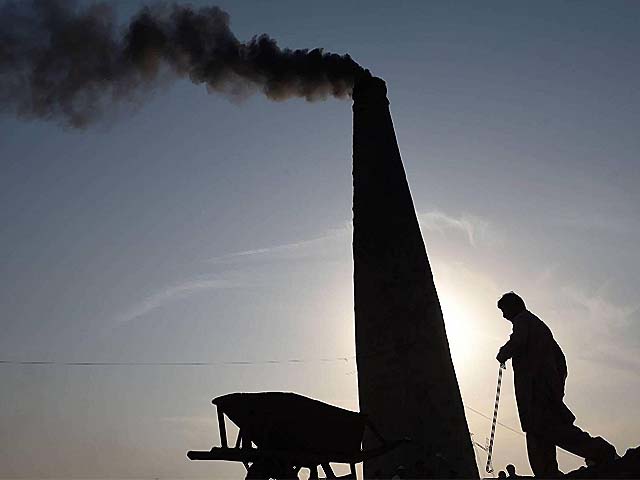 ---
The modern day slaves of Umerkot's brick kilns
The Umerkot Labour Department is more of an ad hoc organisation that does not even have a designated office
---
Before the sun has even risen, 47-year-old Laali Bai, a mother of five from Umerkot, begins her daily commute on foot towards the brick kiln, braving the often harsh morning air with the rest of her family members. She has been working at the kiln for the last five years, earning a daily wage of merely Rs500. Bai is visibly suffering from a skin allergy that she has most likely contracted from the soil that is used for making bricks.
"I work for 12 hours a day and earn a mere Rs500. My family members and I use the soil to make bricks. We have not been given any tools and we use our hands and feet to mix the soil. The brick kiln owners pay no attention to our physical safety and health. Many of us are suffering from skin diseases."

Obviously, there is no concept of social security or healthcare at these brick kilns. Clean drinking water is unavailable at the site which increases the likelihood of the workers contracting waterborne diseases. To make matters worse, if the workers do fall ill enough to warrant medical attention, the brick kiln owners deduct the medical expenditure from the already low daily wages.

A labourer severely suffering from this problem is 35-year-old Amroo. Along with the commonly occurring skin allergy at the kiln, she has also contracted an eye disease. Sadly, as she earns Rs500 a day, she has to choose between medical attention for herself and putting food on her table for her family. Besides her ailments, she also complained about carrying the heavy bricks from the brick making area to the furnaces. Amroo told me that most labourers had to stand in front of the furnace for almost 12 hours each day.

The kiln in Umerkot I was visiting employed far more women and children than it did men. Sarwan Kumar was one of those unfortunate child employees who instead of going to school had to toil away with the rest of his family.  The 14-year-old said that he ends up making an average of a 1,000 bricks a day.

In my time in Umerkot I also learned that the daily minimum wage was recently increased to Rs500. I was able to talk to Bonded Labour Liberation Front (BLLF) Umerkot Chapter President Mevaram Doongrani in this regard. He told me that the BLLF wrote to the Sindh chief secretary in December 2019 about the dire need to increase the daily wages of the labourers at brick kilns. The chief secretary then directed the Labour Department and the Umerkot District Administration to fix the daily wages at Rs500. Doongrani also said,

"Several brick kiln owners are still reluctant to implement the district administration's orders and continue to underpay workers. Some are getting a measly Rs300 or Rs400 for a day's hard work.  In Punjab, the daily wage for making 1,000 bricks a day is set at Rs1,300, but in Sindh, you still don't have to pay more than Rs500."

The Umerkot Labour Department unlike the name implies, is more of an ad hoc organisation that does not even have a designated office. The department looks like it is up to its ears in work, as was expressed by Gulzar Ahmed Arain. Arain holds the distinct, all encompassing portfolio of not only the labour officer but is also the designated inspector for all kinds of commercial and industrial establishments in Umerkot including factories. Perks of having next to no office system and infrastructure. Arain said,

"Even though a day's wage for making a 1,000 bricks has been set at Rs1,200 by the labour and price control departments, it is very difficult to get the brick kiln owners to implement the order. The Umerkot deputy commissioner also set up a committee to check and implement daily wages but not much could be done."

The lack of system goes beyond just the Labour Department not having office space. If Arain or his department has ever tried to take legal action against the brick kiln owners, they have usually been threatened with transfers.

"If I have ever tried to take any steps to enforce the minimum wage, I have been threatened with transfers, as most brick kiln owners have political influence. The district administration has a very hard time actually implementing legislature due to the political interference."

Sources, that would prefer to stay anonymous, told me that brick kiln owners and wealthy landlords also own private prisons in the Mirpurkhas region of Sindh. Hundreds of labourers languish in these prisons for taking loans from their bosses, which many of them cannot pay back, owing to their low daily wages, a lack of empowerment and education. Many labourers are never actually shown accounts or truthfully told how much of the debt is remaining, being forced into bonded labour as compensation. These labourers will often die at the brick kilns, never having paid off their fabricated debt, leaving behind their family to do so, thus starting a vicious cycle of generational bonded labour.

It is important that we rid our country of this modern form of slavery and offer basic human rights that have been guaranteed to all of us by Pakistan's constitution. The government needs to increase daily wages  further, so that people like Aaroo do not have to make hard choices that we take for granted and so that children like Kumar are not robbed of their youth and can attend schools.  We also need to take a stock of the existing systems that let landlords and brick kiln owners exercise unchecked power, often supported by the very people elected to prevent injustices.
Facebook Conversations
COMMENTS
Comments are moderated and generally will be posted if they are on-topic and not abusive.
For more information, please see our Comments FAQ