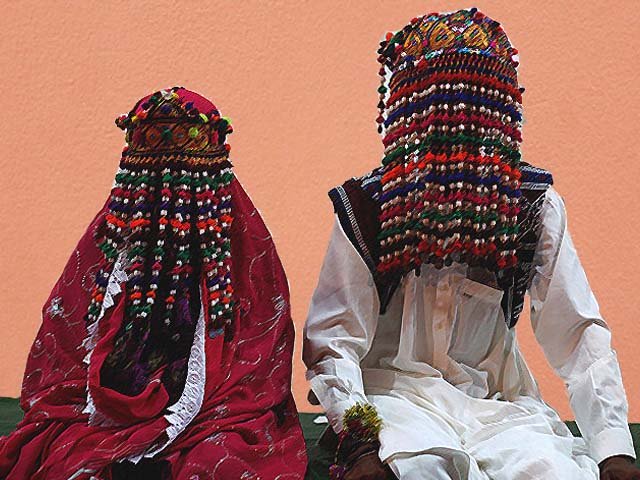 ---
Child marriages: coerced adulthood and the loss of innocence
According to UNICEF, Pakistan has the sixth highest number of absolute child brides in the world
---
Family has great socio-cultural and economic significance in Pakistan. It acts as a foundation for society from which its members derive protection as well as a sense of identity. Essentially, the primary building block of a family is the institution of marriage. A culturally and legally recognised marriage in Pakistan is a union between a bride and groom that is approved by their parents, sanctioned by their religion, registered by the state and ratified through a ceremony which is witnessed by guests from their concerned social network.

A wedding is supposed to be a joyous and important occasion for the concerned individuals and their families; a rite of passage if you will, that marks the journey from adolescence to adulthood. Unfortunately, marriage is thrust upon many teens, mostly girls, before they enter legally recognised adulthood.  According to UNICEF, Pakistan has the sixth highest number of absolute child brides in the world. Approximately 21% of Pakistani girls are forced into marriage before their 18th birthday and three per cent are married by the age of 15 which, by extension, means that they are incapable of providing consent for marriage. Many a times, their consent is also not sought. These statistics show that more than one-fifth of the families in Pakistan are formed through the infringement of basic human rights. However, local statistics suggest that the situation is even worse. According to the Demographic and Health Survey 2012-13, one in three girls is married before reaching the age of 18.

A child is defined by the Child Marriage Restraint (Amendment) Act 2018 and the Sindh Child Marriage Restraint Act 2014 as a person who is under 18 years of age whereas in Punjab, the legal marriage age is still 16 for girls and 18 for boys. However, in spite of the aforementioned legislation passed by the Sindh assembly, the days where local Sindhi newspapers do not report child marriages are rare. Recently, the Daily Kawish reported that a 50-year-old man wed a 15-year-old girl in Makli, Thatta.  An NGO worker from Kashmore revealed that during child marriages were rampant during the floods of 2010 too, despite all of Sindh being devastated and people were living at temporary camp sites. The role of the Sindh High Court has also been far from exemplary in this regard. On February 2, 2020, the high court circumvented national and provincial laws by declaring that a girl can be deemed an adult according to the Sharia if she has had her first menstrual cycle. This ruling was made during a forced conversion hearing, where a 14-year-old Catholic girl was allegedly abducted, forcefully converted to Islam and then married to her abductor.

There are a multitude of factors behind child marriages, some of which are local customs such as the traditional watta-satta, where the brother and sister in one family, marry the siblings of another and pait likhai, where a female fetus still in the womb is pledged for marriage. Then there are the stereotypical concepts surrounding gender, where females double as a family's honour or izzat, religious beliefs and the lack of exposure and education.

Child marriage is a global problem that cuts across countries, cultures, regions, religions and ethnicities. However, it is unfortunate to note that this problem is widely prevalent in South Asia with nearly half of the girls marrying before they reach the age of 18. Undoubtedly, it is a major social, economic and public health concern seeing as how it affects 15 million girls annually around the world. Child marriages have a severely detrimental impact on the health and well-being of girls, exemplified by the fact that in developing countries, the leading cause of death for young girls between the age of 15 and 19 is early pregnancy. Typically, as methods of contraception are also frowned upon due to religion or shunned due to misinformation or the sheer unavailability not to mention the added pressure of having a child soon after marriage, minor brides conceive very early on. This leads to miscarriages and other health issues for the child, which can also cause mental trauma in the long run.

Child marriages also have enormous economic consequences. It is estimated that child marriages will cost the developing world approximately four trillion dollars by 2030. A 2014 study found females married off very young have high fertility rates,  repeated and often unwanted pregnancies and illegal, hence non-regulated and dangerous abortions. Another important factor that gets affected when a girl is married off as a child, is her right to study, which can make her a more productive member of society. A study in 2017 estimated that ending child marriage in Pakistan could lead to a 13.28% rise in earnings and productivity.

However, it is important to remember that child marriages cannot be ended by simply passing bills into law. This practice is deeply rooted in our tradition and can only be eliminated by changing mindsets, which can only be done by understanding the mindset. Therefore, in addition to adequate legislation, appropriate researches based on social and behavioural sciences needs to be conducted so that tangible factors around the problem can be identified and fixed to eliminate the menace of child marriages from society, for once and for all.