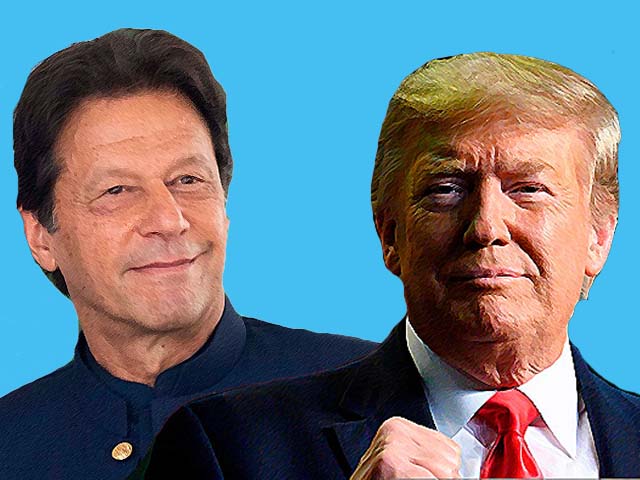 ---
Is America's outlook towards Pakistan changing?
It is significant that the transition from "do more" to "they have been working on that very hard" happened in...
---
Predictably, President Donald Trump's 36 hour visit to India generated a lot of hype not only in the country but also in the United States (US). Despite the trade deal remaining elusive, both parties seem to have gained from the optics of the visit. In his election year, President Trump will benefit from the pomp and show that his campaign will showcase to the domestic audience as proof of his international publicity and stature. The visit will also help him gain the support of the four million strong Indian-American community. Similarly, although some might say that Narendra Modi fiddled around while Delhi burned, the truth is that Modi desperately wanted to be seen in a positive light after being in the international headlines

 

for human rights violations in Kashmir and the violent protests that followed the CAA (Citizenship Amendment Act). Given the nature of its relationship with both India and the US, Pakistan was following the developments next door with bated breath. Sure enough, there were several prompted and unprompted references to Pakistan, most of which were surprisingly favourable.

During his speech at the packed Sardar Patel cricket stadium, President Trump said,

"Our relationship with Pakistan is a very good one. Thanks to these efforts [of the Trump administration], we are beginning to see signs of big progress with Pakistan and we are hopeful for reduced tensions, greater stability and the future of harmony for all of the nations of South Asia".

The following day, during his solo press conference in New Delhi (solo since Modi does not make himself available for press conferences), Trump was asked several questions concerning Pakistan. First, in response to a question about the Trump doctrine on fighting Islamic terrorism, the president very deliberately focused his answer on the successes against the Islamic State of Iraq and the Levant (ISIS), Al-Baghdadi and General Qasem Soleimani. When the follow up question asked specifically about alleged terror groups in Pakistan, Trump continued to talk about the victories in the Middle East. In response to a subsequent direct question about the alleged terrorism emanating from Pakistan, President Trump's response was remarkably favourable towards Pakistan. He started off by saying, "They (Pakistan) are working on it" and went on to mention Kashmir in the same reply saying "Kashmir has been a thorn in a lot of people's sides for a long time, and there are two sides to every story. But they have been working on that very hard".

Nonetheless, throughout the visit, Trump was incredibly generous in his praise for Modi; he even parried questions about the CAA and the rise in hate crimes against Muslims in India under the Bharatiya Janata Party (BJP) government. This is certainly a major shift from the times when the US revoked Modi's visa in 2005 for his involvement in the anti-Muslim Gujrat pogrom of 2002. But today Modi is the prime minister of India, the country America views as a counter-weight to China's rising influence in the region. It is therefore not surprising that the US is willing to turn a blind eye to the human rights violations and rising hate crimes in India, with the objective of protecting its strategic and economic interests in the region. What is certainly unprecedented and surprising however, is Trump's remarkably positive tone towards Pakistan during his visit to India. In fact, it is all the more significant that the transition from "do more" to "they have been working on that very hard" happened on Indian soil.

There are multiple possible explanations for this change in outlook. It might be a result of Pakistan's constructive role in the Afghan peace process, it might also be an attempt to keep Pakistan positively engaged since isolation could drive Pakistan towards China even more. But most importantly, it is a testament to Pakistan's aggressive and effective diplomacy over the last 18 months. For decades Pakistan was viewed internationally as the troublemaker in the subcontinent, and it is not hard to understand why. For what seemed like an eternity, Pakistan effectively did not have a voice on the international stage; we did not even have a dedicated foreign minister for several years. This, coupled with India's powerful propagation of their narrative for several years, made Pakistan a sitting duck in the diplomatic arena.

But, one could argue that all that has changed over the last year and a half; for the first time, the world in general, and the US in particular, is starting to acknowledge the second side to this story. The recent visit by United Nations Secretary General Antonio Guterres and his acknowledgment of how Pakistan is changing for the better is a testament to this. For once, Pakistan's effective counter-terrorism measures and the resultant triumphs are being effectively communicated to the world. And, as a result, Pakistan is now being recognised as a part of the solution rather than being held responsible for the problem.

Undoubtedly, there is still a lot of lost ground to regain, but as far as counter-terrorism is concerned Pakistan has turned the corner, and has also figured out a way to communicate that to the world.
Facebook Conversations
COMMENTS
Comments are moderated and generally will be posted if they are on-topic and not abusive.
For more information, please see our Comments FAQ