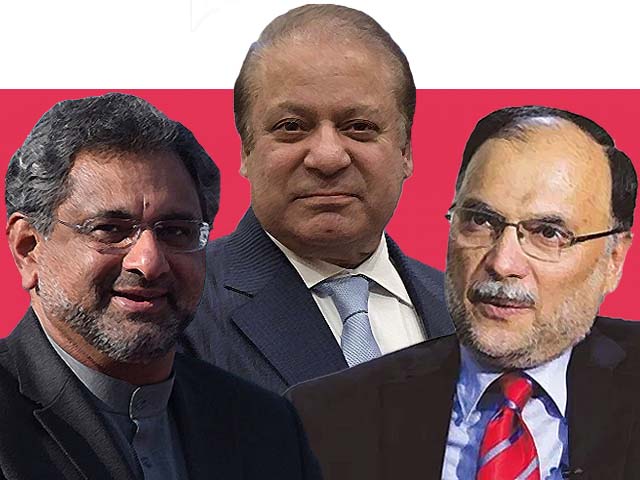 ---
Is a PML-N resurgence on the cards?
In wake of these recent developments, expect a lot more twists and turns in Pakistani politics in the days to come
---
On Tuesday, the stalwarts of Pakistan Muslim League-Nawaz (PML-N) Shahid Khaqan Abbasi and Ahsan Iqbal were both granted bail by the Islamabad High Court (IHC). Given that PML-N has adopted a much softer line of political rhetoric and has completely ditched its narrative of "respect the vote" in an effort to mend fences with the powers that be, Abbasi and Iqbal receiving bail was not particularly surprising. It appears that a new power-sharing deal between the PML-N and the establishment is being negotiated through the back channels. However, the Punjab government's decision to recommend to the federal government to not extend Nawaz Sharif's bail came as a surprise to many. Sharif has been in London since October last year to receive medical treatment. But Minister of Punjab for Law and Parliamentary Affairs Muhammad Basharat Raja stated that,
"So far, he [Nawaz] has not been admitted to any hospital in London. Nothing concrete has been shared with the government about his health and the matter seems to be lingering on."

and,

"The Punjab cabinet has decided that there is no legal, moral or medical basis for further allowing the extension in bail without any substantial evidence."

So, on a day when the PML-N vote bank was celebrating the release of Abbasi and Iqbal they were also condemning the decision of the Punjab government to not extend Sharif's bail. A far as Abbasi and Iqbal are concerned, since both of them have been granted bail, it seems that the establishment is slowly losing interest in the so-called accountability of PML-N. Pakistan Tehreek-e-Insaf (PTI) is gradually learning the merciless rules of the power game since its promise of accountability has evolved into a political witch-hunt against its opponents, which has backfired.

From Asif Ali Zardari to Faryal Talpur, and from Rana Sanaullah to Abbasi and Iqbal, almost every PTI political opponent is out of jail. Given this pattern, one can expect Khawaja Saad Rafique and his brother to soon get bail as well. Evidently, in order to save face and continue its pretense of control, PTI has decided to not grant a bail extension to Sharif. PTI thinks that if Sharif is not granted a bail extension then he will try to stay on in London. However, in reality, anyone familiar with the politics of Sharif can predict that he will come back to Pakistan even if his bail extension is not approved by the government. No one knows better than Sharif that every single minute he spends behind bars only further increases the pressure on the government.

Furthermore, the ongoing negotiations between PML-N and powers that be can only be stalled if PML-N reverts back to its aggressive anti-establishment narrative, which currently does not seem to be the case. Hence, it is likely that Sharif will get a bail extension through the courts, with the powers that be hoping for a possible in-house change or fresh elections. Clearly, PTI did not learn any lessons after the death of Kulsoom Nawaz. The party is repeating its mistakes now in Sharif's case without realising that the culture of hatred it has created to thrive in politics will eventually come back to haunt PTI itself.

All the cases levied against PML-N politicians at some point have to reach their logical conclusion, and it seems that time is fast approaching. PML-N, which was out of favour with the establishment and was taught a lesson for going beyond the allowed spectrum of dissent, now appears to be gradually receiving some relief. On the other hand, the Pakistan Peoples Party (PPP) is also monitoring the situation in an attempt get its share of the cake too. Given the scramble for power, PTI is trying to give the appearance that is has control over the political proceedings in the country. However, given the party's inability to steer the country out of the current political and economic turmoil, it is highly unlikely that PTI will be able to survive the onslaught led by Sharif's PML-N if he is able to strike a deal with the establishment.

That is how the power chessboard works in Pakistan; 'change' and 'accountability' are repeatedly sold by the political and non-political stakeholders to the masses. However, Sharif, unlike Khan or other political players, has a good team and he knows that the growing economic turmoil will force the powers that be to accept his terms and conditions. PTI can temporarily save face by not allowing a bail extension to Sharif, but eventually both PTI and Khan need to exit this self-created political crisis and pray that the negotiations between PML-N and the establishment hit a road-block. Hence, in wake of these recent developments, expect a lot more twists and turns in Pakistani politics in the days to come.
Facebook Conversations
COMMENTS
Comments are moderated and generally will be posted if they are on-topic and not abusive.
For more information, please see our Comments FAQ