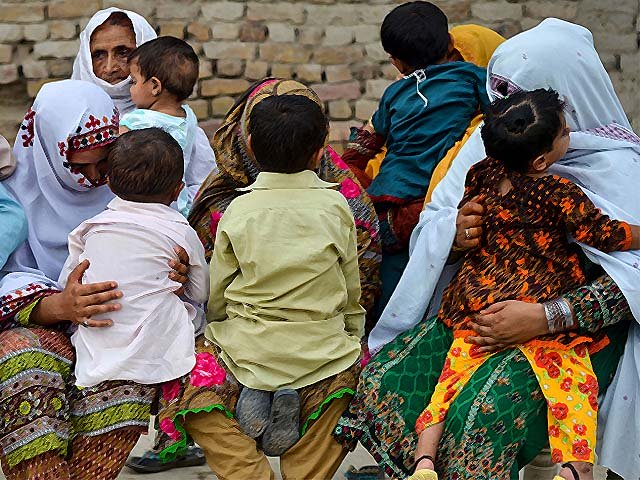 ---
How Pakistan's economic crisis is impacting women
Although the entire country is struggling to survive in this economy, the impact on females is mostly overlooked
---
The fact that Pakistan's economy is in a crisis need not be restated. Inflation rates are at a historic high, industrial units are shutting down, workers are being laid-off and there are limited employment opportunities for job market entrants. Sources of revenue are shrinking and the daily life of most the country's population has become significantly harder. Opinion writers, academics and economists have said a lot about the current economic crisis and its impact on the lives of ordinary people. There is also little to no doubt that the average man is struggling to keep up with the current economic crisis. But what is even truer and often overlooked is the impact of the crisis on the women of this country. The long term negative effects on women are much higher than those on men. This is always more likely in contexts where gender inequality is pervasive.

Pakistan ranked 152 out of 189 on the United Nation's Gender Development Index in 2019 and the Global Gender Gap Index placed the country at the 148th place out of 149 countries in 2017. Existing gaps in literacy rates, school enrolment, education attainment, health, incomes and labour force participation are likely to widen in the aftermath of the current crisis.

To understand why the gap will widen, it is important to understand how families deal with economic turmoil first. Households are forced to cut down on expenditures, starting with those deemed nonessential, before moving on to cutting budgets for food and housing. In some cases, depending on the economic crunch, the quality of food is also compromised on. Expensive items such as meat, poultry, fish, eggs, dairy, fruits and vegetables are let go off for more economically viable options, such as wheat. This naturally has a negative impact on an individual's health. The situation is much worse for those who spend their growing years during an economic crisis.

Having said that, the distribution of food within households is not uniform either, with evidence suggesting that men and children get the lion's share of the food, both in terms of quantity and quality. The distribution is further watered down by gender when it comes to the children, with boys getting bigger portions than the girls. In fact, in some cases, boys continue to eat items declared too expensive for the rest of the household.

The two plausible reasons behind this could be the inherent preference of a male child in Pakistan and the common belief that since boys and men work outside the house, they need their strength more than the women. Lack of adequate nutrition while growing up and even as grown women, lead to long term health problems, while the discrimination may also give rise to a host of mental health issues.

Another area where households, unfortunately, compromise on is education, with many families being almost forced to pull their children out of school. Studies on children's schooling in Pakistan, including those conducted by the Pakistan Institute of Development Economics (PIDE), have shown that the negative impact of poverty is higher on the primary school enrollment of girls than of boys.

In Pakistan, women's literacy rates are already abysmally low; between 49-52 per cent in urban centres and a mere 38-40 per cent in rural areas, compared to the 70-72.5 per cent overall for men and 63-66 per cent in rural areas.

Disparities also exist in the school enrolment rates between boys and girls. The net enrolment rate (NER) or the proportion of girls, from ages six to ten, being enrolled into primary school is 62 per cent out of which only 56 per cent of girls are enroled into schools in rural areas. For boys, although the numbers are not ideal, they are much better than those for the girls, with 72 per cent of the country's boys being enrolled into primary levels of education and 69 per cent for rural areas.

Similarly, the NER at middle school level for girls is 34 per cent across the country and a mere 29 per cent in rural areas, while 39 per cent of boys attend middle school from cities and 36 per cent from rural areas. In addition, only 2.2 per cent of all women in rural areas complete some form of tertiary education as per the Labour Force Survey of 2017-18.

The general consensus in the country is that a boy will be the primary breadwinner in the future, hence making his education much more important than that of a girl. So when economic shocks force families to the brink of poverty or in some cases over the poverty line, they stop enrolling their daughters into school first. In many cases, if a household cannot afford necessities, higher education for girls is also not an option.

Inflation also directly affects a girl's mobility in the country, further exacerbating the impact on her health and education. The constant fear of harassment and violence against women in this country makes it much more expensive for a woman to travel as compared to a man. In most cases, women cannot use public transport or walk long distances alone, while cheaper options such as bicycles and motorcycles are also not available for them, owing to conservative cultural norms.

Therefore, women have to either be driven around by the men in their family or they have to opt for rickshaws or private taxis more often than men.  This lack of mobility is overarching and affects not only their access to healthcare but also to an education. These forms of basic discrimination are devastating in the here and now but have lifelong impacts that debilitate a woman's chances of contributing to the labour market.

Despite women having fewer opportunities available to them, the burden of domestic work falls squarely on their shoulders. Women, even young girls sometimes, are responsible for cooking, cleaning and taking care of children and the elderly. Women in rural areas are also responsible for collecting fuel and water for the household.

Objective analyses of the way men and women use their time suggests that on average women spend more time in non-leisure activities as compared to men; this includes the time men spend at paid work and other related activities. Women tend to have less time for sleep and leisure. In the case of higher income households, women can invest in domestic labour-saving technology, such as washing machines, hiring domestic staff and also opting to eat out or bring ready cooked meals home.

If finances are drastically altered, domestic staff and eating out are both heavily curtailed, even the staff hired for specialised jobs, such as caring for children or the elderly, is let go off, putting more pressure on the women. In lower income households, the situation is graver, with many women being forced to even compromise on the kind of fuel they use to cook food. Cheaper firewood or even dung may replace natural gas usually used for cooking. The resultant fumes from burning raw fuel impact the lungs of women and also affect their overall health, especially in the case of women that have recently given birth or are about to.

Owing to the lack of comprehensive healthcare facilities and lack of access to existing healthcare, maternal mortality ratio is already really high at 140 per 100,000 live births while infant mortality rates are 57 per 1000 live births. These numbers are further exacerbated, when women's needs are side-lined owing to the economic crisis.

It is time that relevant policy makers in the government not only realise but also try to correct the general discrimination based on gender, while also fully acknowledging the brunt of the burden women bear when the economy plummets. We need comprehensive policies to elevate the overall status of women in the country, while also designing economic schemes that take this disparity into account, otherwise a bleak situation will only turn abysmal in the times to come.


---
Data Sources
Pakistan Social and Living Standards Measurement Survey (PSLM), 2014-15 and Pakistan Labour Force Survey (LFS), 2017-18. World Development Indicators (WDI), The World Bank.
Arif, G. M., Saqib, N., & Zahid, G. M. (1999). Poverty, gender, and primary school enrolment in Pakistan. Pakistan Development Review, 38(4; PART 2), 979-990.
Khan, R. E. A. (2008). Gender analysis of children's activities in Pakistan. The Pakistan Development Review, 169-195.