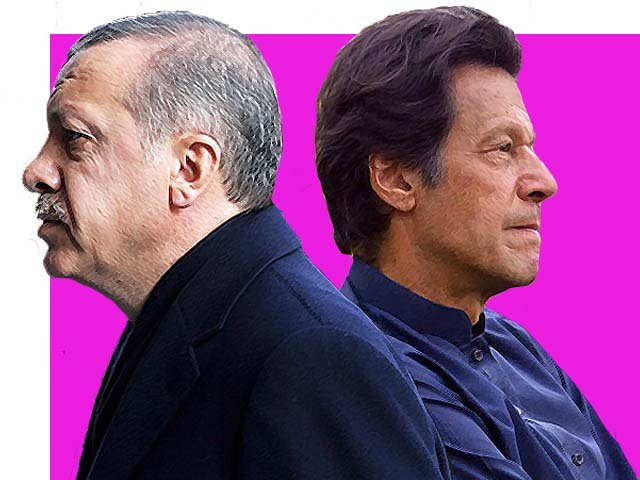 ---
Erdoğan's Pakistan trip comes at a crucial juncture for both the countries
Pakistan's foreign policy is currently in a diplomatic quagmire since it cannot afford to lose any of its allies
---
Turkish President Recep Tayyip Erdoğan is due to visit Pakistan tomorrow, February 13th, for a two-day visit. Erdoğan's trip is timely for both countries. Turkey is in the middle of a crisis with Syria, where the Syrian government-led forces have attacked Turkish troops in their quest to retain the remaining territory from the opposition forces; with Erdoğan stating that Syria will "pay a very, very heavy price" for the attacks. Similarly, Turkey also deployed its forces in Libya in early January this year to support Fayez al-Sarraj's government against the eastern opposition led by General Khalifa Hifter. Hence Turkey's ambitions to remain a regional power are evident. On the other hand, Pakistan is battling its own host of problems on the economic and political front.

For Pakistan, according to the foreign ministries of both countries, Erdoğan's trip will further open the business-to-business opportunities for local investors. Prime Minister Imran Khan's Adviser on Commerce, Textile, Industry and Production and Investment, Abdul Razak Dawood, said that Prime Minister Erdoğan will be accompanied by Turkish businessmen to discuss the potential opportunities Pakistan has to offer. According to the Turkish foreign ministry, both countries are currently trading $180 million a year, where Pakistan's export to Turkey have gradually increased to $112 million and imports stand at $68 million. Both countries are expected to sign more bilateral agreements aimed at increasing investment in the cotton, textile and technology sectors.

But apart from the economic opportunities, the visit also comes at a critical juncture with regards to Pakistan's foreign policy, and could potentially put Pakistan into an uncertain position vis-à-vis Riyadh.

During his last trip to Malaysia, Khan, without naming Saudi Arabia, told Mahathir Mohamad,

"Unfortunately, our friends, who are very close to Pakistan as well, felt that somehow the conference was going to divide the ummah. It was clearly a misconception because that was not the purpose of the conference as evident from when the conference took place."

This statement was an attempt to address Pakistan ditching the Kuala Lumpur summit at the behest of Saudi Arabia. Therefore, it seems an audacious move on Pakistan's part to have the premier meet both Mahathir and Erdoğan back to back given Saudi Arabia's disapproval of Pakistan's ties with Malaysia and Turkey, particularly with regards to the notion of uniting the 'Muslim ummah'.

One of the important reasons why Pakistan now appears to be ignoring Riyadh's instructions is the latter's pro-India position on Kashmir. The growing ties between Saudi Arabia and India will only result in a diplomatic crisis for Pakistan. In October last year, it was reported that Saudi Arabia tacitly approved India's abrogation of Article 370 in Jammu and Kashmir. Since the revocation of Article 370 in August 2019, Pakistan has accelerated its diplomatic outreach efforts to put pressure on India. There has been some success, particularly in the responses from Iran, Turkey and Malaysia. However, the key challenge Islamabad is currently facing is to convince Riyadh and the Gulf states to address the Kashmir issue through the Organisation of Islamic Cooperation (OIC), since support from the 57-member organisation could advance Pakistan's narrative.

But contrary to Islamabad's expectations, Saudi Arabia is evidently siding with India as the nation continues to sweep the Kashmir issue under the carpet. According to reports, Riyadh has been reluctant to back Pakistan's request to add Kashmir onto the agenda of the Council of Foreign Ministers (CFM) meeting.

Therefore, the above-mentioned decision by Saudi Arabia will serve as the backdrop when Erdoğan arrives in Pakistan tomorrow. Hence, this leads to two pertinent questions. Will Erdoğan's support have any impact on the Kashmir issue? And can Pakistan advance the Kashmir cause without the support of Saudi Arabia?

Pakistan's foreign policy is currently in a diplomatic quagmire since it cannot afford to lose any of its allies. For instance, Khan is desperate to show his supporters that Pakistan is securing support from the international community, particularly Muslim majority countries. Erdoğan, who is as keen as Khan to become the voice of the 'Muslim ummah', will also address the parliament. This symbolic gesture will provide temporary relief to Pakistan Tehreek-e-Insaf (PTI) and help assure its voters of international support as well as signal to India that Pakistan still has the backing of influential leaders such as Erdoğan and Mahathir.

But this display of support will remain symbolic and will have little impact on the Kashmir issue since Pakistan will eventually have to return to the doorstep of Mohammad bin Salman because of Pakistan's abysmal economic state. Pakistan is still struggling to cope with its current account deficit and has no financier to bail them out other than the International Monetary Fund (IMF) and Saudi Arabia. In October 2018, Saudi Arabia agreed to offer $6 billion and, last year in February, the country also hinted at a $20 billion investment in Pakistan.

Therefore, in comparison to what economic assistance Turkey can offer through trade, the rational choice for Pakistan would be to appease Saudi Arabia before any other country. But this is where the dilemma lies. Going with Saudi Arabia means not prioritising the Kashmir issue, while staying with Turkey and Malaysia to keep the Kashmir issue alive means further jeopardising Pakistan's economy.

Indeed, it's a positive gesture from Erdoğan to visit Pakistan given the crises Turkey is currently dealing with. But, in the long term, the solution to the Kashmir issue cannot be brought about by merely symbolic gestures. The cause requires more substantial diplomatic support from Saudi Arabia, which Pakistan is struggling to secure.
Facebook Conversations
COMMENTS
Comments are moderated and generally will be posted if they are on-topic and not abusive.
For more information, please see our Comments FAQ