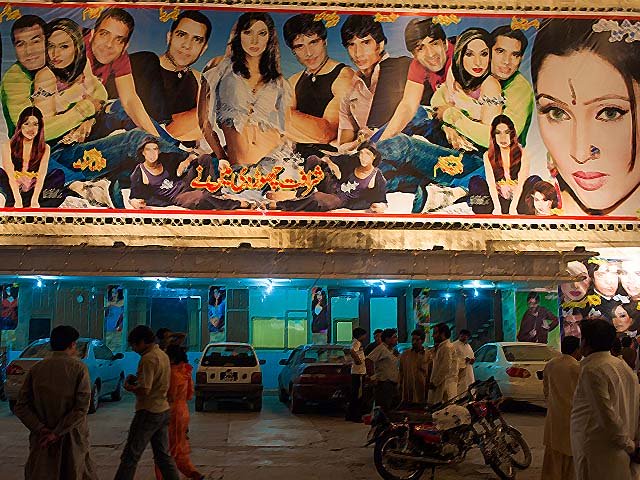 ---
Lahore's infamous night theatres: obscenity or art?
These actors take their craft extremely seriously and are largely unperturbed by the criticism thrown their way
---
The Al-Hamra Arts Council has always been extremely sensitive about giving a platform to political content. During the tenure of the previous provincial government, one could not even use the words "kyun nikala" as part of the dialogue during a performance. If you did, your production team would immediately be expelled from the theatre.

However, this sensitivity is only limited to politics and does not extend to content of the infamous 'night productions', which seem to rule the roost at Al-Hamra. No plays can run beyond 10pm from Monday to Saturday and beyond 7pm on Sundays because both the main halls are reserved for these productions. So much so, that if you really need to run your play beyond this allotted time, you either have to be influential, know someone influential, or pay an exuberant sum of money to the producers of the show since they book the halls a year in advance.

I would always wonder, and even asked some of my friends who work in the Al-Hamra management team, about the content of these stage productions and how what many classify as obscene is freely shown and promoted. In fact, till before the current government began to actively target what it perceives to be 'vulgar', the content of most night theatres ran unchecked. Regardless of what one may think of the content, it is important to debate whether or not clamping down on what many refer to as 'dirty theatres' is actually a good thing or not.

I produced my last play in February 2018 at Al-Hamra Mall Road Hall One. Due to the complex nature of the production, I literally lived at the Al-Hamra compound for a month, spending most of my days and nights there. During the time, I was fortunate enough to befriend not only the producers of the nightly plays but also the entire crew, starting from actors, down to the very last technician. This is when I actually understood what the situation was like and why the thick skins which theatre crews adopt are necessary in a society where their productions, although packed with audiences, are looked at with disdain.

I think it is very important to look at the content objectively first and then wonder why these performers are branded obscene whereas mainstream producers who hire self-proclaimed choreographers for western dance routines are heralded as creative geniuses. Additionally, it is also important to understand what a mammoth task it is to carry out these plays night after night.

Each play runs in two cycles of 16 days, one during the 6pm to 9pm time slot and the other from 10pm to 1am. A cycle starts when a writer is told to come up with a basic plot, on what is usually a short notice. The plot is then approved by the Al-Hamra management and a script is developed after which rehearsals will start on the very same day. Mind you, sometimes, these cycles usually start a day after the last one has ended, and sometimes both cycles go on side by side.

Everyone associated with the theatre, be it the actors or the supporting staff, are employed through contracts that are also based on the cycle system and although the money they earn is not a lot, they all seem content with the amount they receive; which is usually on time. In fact, the team behaves like a family, with many producers also helping the cast and crew pay for their marriages while also offering them advances on salaries, which are deducted from future payments without interest.

The objections that are raised are mostly against the content of the script and the dances. While many other small theatres may choose not to censor content, Al-Hamra maintains a strict check and balance. At least one member of the management sits through the entire performance to vet the play, and in case any of the dialogue is found to be 'obscene', the relevant producer has to pay a heavy fine. During one of the performances I sat through, I personally witnessed Haji Sahib, a celebrated floor manager at the theatre, drag an actor off stage in the middle of a play because he was starting to cross the clearly demarcated 'Al-Hamra line'.

Then there are the dances and the dancers themselves. I spoke to one of the more eminent dancers on the circuit and could not contain my curiousity about how she feels the way society views their form of art and how it is often associated with words like classless or vulgar. She said,

"When educated, university going individuals dance to English songs, people deem it to be artistic, creative and full of passion. But when we dance to Punjabi songs, it is called vulgar. When actors on Broadway dress scantily, they are considered liberals and if we dress similarly, we suddenly become responsible for enticing and corrupting men. If a man or even woman comes to watch the performance with ill or dirty intentions, that is on them, not on us. I have loved to dance since I was a child and I will keep dancing for as long as I want. I dance to Punjabi songs because my audience understands the language, you guys are more than welcome to keep dancing to your English songs."

I realised that these actors take their craft extremely seriously and are largely unperturbed by the criticism thrown their way, unless it is about the performance itself. I was backstage when another one of the celebrated female actors finished her act amidst thunderous applause and joined me. She looked visibly upset. When I asked her what the problem since the crowd clearly loved her she said,

"They were more people chanting my name yesterday than today. Maybe my performance lacked something. I think I will rehearse all through the night for tomorrow's show."

People usually dismiss the night theatre, calling it derogatory, even classist terms, but what they fail to see is the palpable energy that goes into each performance. The performers' energy and enthusiasm is unparalleled. Even if I spend years perfecting an act, I would still never be able to bring an iota of the stage presence they have or ever be able to replicate the precision of their timing. Some actors have been a part of the industry for over three decades now, and after interacting with them and watching them perform, I realised that I was extremely naive to just write them off as the flag bearers of obscenity. They were living, breathing legends that I could learn a lot from.

With that thought in mind, I decided I would write and produce a play for the night theatre cast and despite producers being courteous when I approached them with my ideas, I sadly realised that I could not keep up with the economics of the 16-day cycles and could barely afford to make the extra payments that end up supporting many families at one time. Then there is the age old debate of whether the audience will want to watch something they are not used to in place of the threatre they adore. I was told getting the show sponsored would be a problem and that if tickets are not sold then the livelihood of multiple families will be at risk, forcing me to drop the idea for now.

Whether you love the content of the night theatre or deem it obscene, you cannot deny the talent and resilience of those who partake in it. The productions have taken place through blanket government bans in the past, simply because the art has not been understood or even given the right avenues and support to develop into something bigger than it already is. Even if you fall in the category of people who wish for these theatres to disappear forever, you must agree that some alternate forms of revenue or collaboration with commercial theatres is necessary for the survival of this energetic, yet dismissed art form.