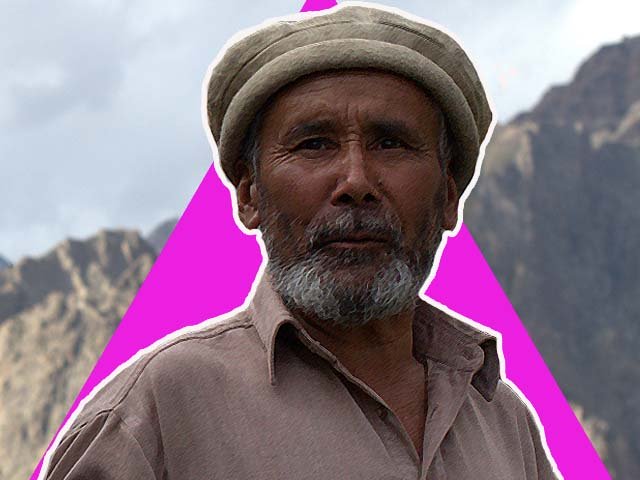 ---
The extraordinary life of Little Karim
Karim remains an obscure figure in Pakistan but a celebrity in the circle of international mountaineering enthusiasts
---
"Little Karim is not someone who gives up. He is a fighter and he will keep fighting like he did while climbing the world's tallest peaks, snatching life from the jaws of death,"

remarks journalist Muzafar Hussain as he learns that Mohammad Karim has been in critical condition for the past seven days in a hospital in Skardu. Belonging to the small village of Hushe in the Ghangche District of Baltistan, Karim (populalrly known as "Little Karim") is a veteran high altitude mountain porter who is famous for his decades worth of expeditions, climbing skills and incredible resolve, which truly belie his small stature. But given that Karim's enduring legacy is do deeply intertwined with the cavernous mountains located in the north of Pakistan, it is perhaps unsurprising that many across the country are unaware of the truly singular life Karim has led.

As a youngster, Karim missed out on a schooling due to the lack of educational institutions located in his valley, but a love for climbing the hills which encompassed him from all sides possessed him at an early age. Hence, the mountains became his school. In 1976, Karim made his way to Skardu city, adamant to get work as a porter for the mountain climbing groups which had arrived in the region. Perhaps the most famous story of his grit and determination is when mountaineer Chris Bonington refused to let Karim be a part of his expedition because he felt Karim was too small and lacked the physical strength needed to make the climb. Unperturbed, Karim, as Obaid Ur Rehman Abbasi narrates, quickly,

"snuck his head between the big man's (Bonington) legs, hoisted the two-metre-tall Brit on his shoulders and ran the length of an open ground. The assembled porters broke into fits of laughter, but Bonington was impressed by the audition. Karim was granted his wish, he would be part of the expedition to K2."

Karim's adventurous life is not only filled with a bevy of such delightful anecdotes but is also overflowing with stories of valour and heroism which the humble Karim would be quick to dismiss. For instance, in 1981, Karim was leading a group of high altitude porters accompanying a Japanese expedition which was led by the famous Pakistani climber Nazir Sabir. But at 7,100 metres the expedition ran out of oxygen and food supplies. This was when Karim came to the rescue. He travelled down to the lower camps alone and single-handedly transported food supplies and oxygen tanks to the stranded Japanese expedition. Karim also made a name for himself when he climbed the 8,035 metre-high Gasherbrum 2 without supplementary oxygen and set a world record in the process. But apart from being a daring porter, Karim has also been a diligent social worker committed to uplifting his community. As his son Hanif, who is Karim's eldest son and has three brothers and four sisters, says,




 "My father is a social worker by default. He thinks and cares for his people more than he does for his family."
For instance, a Spanish non-governmental organisation (NGO) built a hotel for Karim in 2008 in his village. But instead of using the structure for his personal use, Karim donated the building to his community and the money generated from the venue was used to improve the health and education facilities in the region. The welfare centre which was later established in place of the hotel has so far provided scholarships to over 300 students according to Hanif.
Paradoxically, Karim still remains an obscure figure in his own country but a celebrity among the circle of international mountaineering enthusiasts. Narrating an interesting incident, Hanif recounts that he accompanied his father to Spain on an official invitation to attend an event organised by the Spanish government. During the function, which was also attended by the prime minister of Spain and renowned mountaineers, the organisers asked Karim who he would like to meet while he was in Spain. According to Hanif,



 "My father said that he wanted to meet the famous footballer Christiano Ronaldo. To our surprise, the organisers arranged a meeting with Ronaldo the very next day and we met the Portuguese star! Ronaldo gifted my father his signed shirt, which we still have, even though many people have offered to by it from us."
 But now it seems that age has finally caught up with the 70-year-old climbing royalty. And as with most our sporting heros, despite his services to both tourism and mountaineering in the country, he is unable to afford adequate healthcare for himself. As he battles old age and ill health, his wife is looking to the government for some relief.
There is comfort in the fact that even when Karim was hospitalised three years ago he was convinced that he would live to climb another day. At the time, his son had
remarked
,



"He (Karim) is here, sick and on the hospital bed, but he keeps telling me that we need to go on another expedition. And not just to any nearby peak, he wants to scale the Broad Peak in the Karakoram Range."
Regardless of whether or not Karim climbs again, his legacy is not only intact but is being furthered by two of his granddaughters, Hanif's daughters, who have scaled the 6,080 metre high
Manglesser peak
in the Shimshal valley of Hunza. Last year in May, The girls were also awarded the best hikers award for going through Las Cañadas, one of the highest hiking sites in Spain. Hence, Karim will undoubtedly be remembered as a true trailblazer who always put the needs of others before his own – which is why it imperative that government does what they can for him at this time of need and we as a nation acknowledge his years of diligent service.