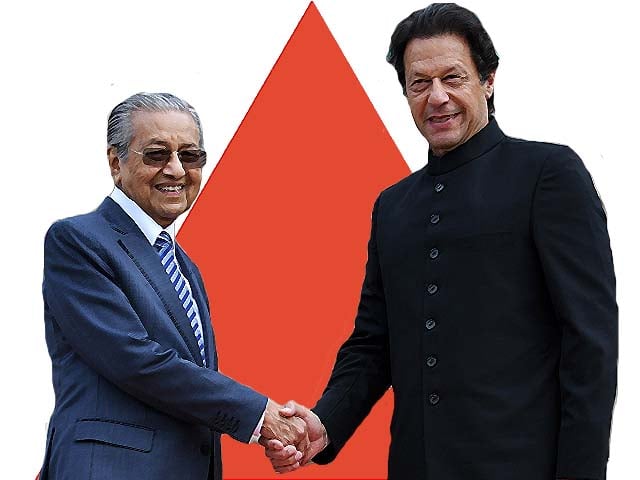 ---
The importance of Imran Khan's Malaysia visit
Besides the economic significance, this visit will also help determine the course of Imran's foreign policy
---
Imran Khan's Malaysia trip has gained an added sense of importance since it comes after last year's fiasco when Pakistan, at the very last moment, refused to participate in the Kuala Lumpur summit due to Saudi pressure. Although Malaysia, despite knowing the reason for Pakistan's failure to attend the summit, never showed any discernible annoyance, this Malaysia trip presents Imran with an opportunity to engage in some damage control in light of that decision. This was evident since upon landing in Malaysia one of the first things Imran did was express his regret for missing the Kuala Lumpur summit because, 
"Unfortunately, our friends, who are very close to Pakistan as well, felt that somehow the conference was going to divide the ummah. It was clearly a misconception because that was not the purpose of the conference as evident from when the conference took place."

Malaysia, along with Turkey, is trying to address the problems of the Muslim world in the modern age and it wants other Muslim countries to collectively find the solution to their problems. Both Mahathir Mohamad and Recep Tayyip Erdoğan want Muslims to not bank on the west for their survival and progress. Hence, Imran now has the opportunity to strengthen economic ties with Malaysia and other Muslim nations in an attempt to decrease Pakistan's dependence on the International Monetary Fund (IMF) for monetary assistance. The economic importance of this trip is made evident by the fact that both the Minister for Planning Asad Umar and Advisor on commerce Razaq Dawood have also accompanied the prime minister on this trip. The team Imran has taken to Malaysia is competent and one hopes that big Malaysian companies like EdotCo Group, Proton Holdings, Minsconsult and others who are interested in investing in Pakistan will be assured of hassle-free business investment plans so that Pakistan can receive some much needed foreign direct investment (FDI). Furthermore, the numbers of Pakistanis working in Malaysia is also gradually increasing and if Imran is able to ensure more employment opportunities for Pakistanis in Malaysia it would result in an increase in foreign remittances.

Besides the economic significance and improvement of bilateral ties, this visit will also help determine the course of Imran's foreign policy in the future since thus far it has been rather static and overly reliant on Riyadh and Washington. Malaysia, on the other hand, is not only leading the new Muslim bloc with Turkey but has also somehow managed to maintain ties with the Gulf countries and Saudia Arabia. So Imran, who has great respect for Mahatir, can learn a few diplomatic skills from him about how to nurture foreign relations on various fronts. Furthermore, given that Malaysia is one of the few countries which called out the Indian government's actions in Indian-occupied Kashmir (IoK), it is imperative that Imran values the Pakistan-Malaysia relationship.

However, the hype of the current visit aside, the problem remains that the current regime has till now not shown any real signs of truly impacting Pakistan's foreign and economic policies. Even if Mahatir extends an olive branch to Pakistan in the shape of Malaysian investment and promises to give more jobs to Pakistani skilled workers in Malaysia, the issue remains that currently Pakistan is still caught in the web of Washington and Riyadh. Therefore, unlike in the past when Imran assured Mahatir of his full co-operation with regards to the Kuala Lumpur Summit and at the end was forced to skip it and embarrass Pakistan in the process, Imran should not commit to anything on the diplomatic front this time around and not announce anything prematurely without considering Pakistan's economic dependence on America and Saudi Arabia. If Imran can instead focus his energies on ensuring investment from Malaysia's private sector this will not only help in thwarting the economic crisis but it will also send a positive message to investors around the globe. But, since there is no concept of a 'free lunch' in the diplomatic world, what can Pakistan offer Malaysia in return remains the big question.

Hence, Mahathir will be eyeing Pakistan's markets for signs of improvement and would also want a statement from Imran about how he intends to address the problems the Muslim world is currently facing. While on paper the Organisation of Islamic Cooperation (OIC) is of little use when it comes to solving regional and geopolitical disputes, the Arab monarchs see the Malaysia-Turkey bloc as a threat to their hegemony over the Muslim world; which is why Imran was not allowed to participate in the Kauala Lumpur summit last year. In light of this, Imran has to play it smart and, given Pakistan's tricky position on the world stage, he should confine himself to only giving a symbolic statement when it comes to endorsing the vision of Mahatir and Erdogan.

One hopes that Imran will not over-commit himself or his country, like he often does, when meeting with friendly nations. Instead, he has to get something substantial out of this visit as far as investment and employing Pakistani manpower is concerned. As long as Mahathir is at the helm of affairs in Malaysia the relations between Pakistan and Malaysia will remain cordial. It is up to Imran to ensure that he avoids any other strategic blunders which may upset Malaysia since this alliance will only grow in importance in the years to come.
Facebook Conversations
COMMENTS
Comments are moderated and generally will be posted if they are on-topic and not abusive.
For more information, please see our Comments FAQ