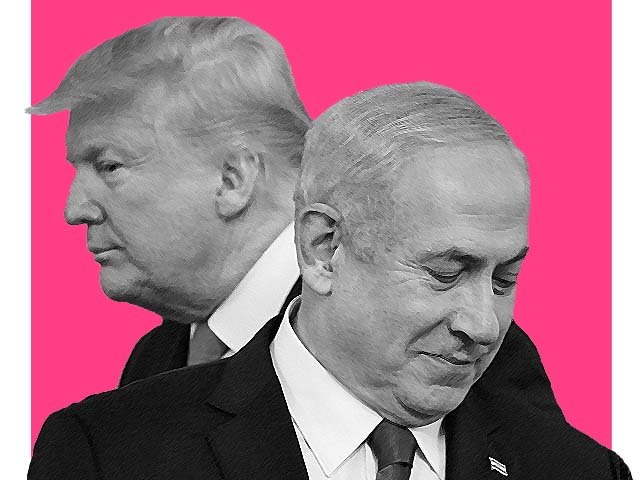 ---
Why Israel is in no position to forcibly implement the 'Deal of the Century'
Israel has thus far been incapable of extending settlements into the embattled Gaza Strip due to armed resistance
---
Donald Trump, alongside Israeli Prime Minister Benjamin Netanyahu, announced the 'Deal of the Century' on January 28th at the White House. Described insincerely as a 'peace deal', it is the de-facto legitimisation of illegal Israeli military occupation, territorial expansion and apartheid over Palestine. There is no Palestinian 'state' involved, only scattered territories surrounded by Israel – who still, as has historically remained the case, does not adhere to the finalised international borders. Illegal Israeli settlements in the West Bank – which are in essence Jewish-only racial colonies and often built after Arab homes are bulldozed and the inhabitants expelled – built over the decades have been legitimised and Jerusalem has been maintained as Israel's capital with useless provisions allotted for Palestinian 'governance' in East Jerusalem.

However, the question remains as to how this arrangement is going to be enforced if Israel shows increasing incapability to subdue the Palestinians?

While the West Bank is another story due to the Palestinian authority's historical 'stand and watch' approach to Israeli settlements, Israel has thus far been incapable of extending settlements into the embattled Gaza Strip due to armed resistance. Rockets, mortars and now even anti-tank guided missiles and primitive drones boasted by the groups Hamas and Palestinian Islamic Jihad (PIJ) have kept settlements and Israeli advancement at bay. These groups in recent times have publicly exhibited new rockets with greater range, capable of striking Tel Aviv and northern Israeli areas as well.

Israel, moreover, has performed poorly in the last few flare-ups with Gaza, with the cheap yet rising and increasingly self-made weapon stockpiles of the Gazan resistance resulting in Israel's expensive Iron Dome air defence system intercepting fewer attacks during each bout of hostilities.

For a geographically small country with a narrow width and thus larger numbers of sensitive targets within the range of the Gazan groups, this is a significant problem. The most sensitive Israeli economic and civilian targets would come in range of what credible estimates say may be thousands of rockets per day if the escalation is severe enough. The groups also maintain underground bases and tunnel networks reportedly hundreds of kilometers long which they take cover during clashes with Israel.

The probability of Israel launching a sustained assault on Gaza the likes of its Operation Protective Edge in 2014 which killed 2,251 Palestinians – 1,462 of them civilians and over 500 children – is significantly lessened now due to its trepidation regarding prolonged conflict given its enemies' enhanced capabilities. However, other factors also indicate the implausibility of Israel undertaking relentless efforts to subdue Gaza and disarm it as the deal mandates.

Israel is currently managing an economic transformation of sorts vis a vis utilising the newly-discovered Leviathan gas field off Gaza's coast to become a gas exporter. The last thing the companies investing effort and money in exploiting Leviathan's gas would need is rockets from Gaza seeking to respond to any Israeli aggression striking them during such delicate and expensive operations.

Gas sales to Egypt, the proceeds of which constitute part of the return on the investment in developing Leviathan, would be inhibited and cause inconvenience to Israel's largest Arab ally as well. Another Israeli aggression against Gaza, far from achieving what even massive operations such as Protective Edge in 2014 could not in terms of subduing the armed resistance, would thus needlessly interfere with Israel's new geo-economic ambitions as well.

Murdering Gazan civilians and blowing up a few houses would not compensate for the inconvenience. And to add to this, when one considers the Lebanon and Hezbollah factor, the feasibility for Israel of war with Gaza lessens further. Israeli operations in the post-deal announcement scenario to attempt to crush Hamas and PIJ would trigger retaliation upon Israel from Hezbollah in south Lebanon, bordering Israel's north.

Considering Hezbollah is much more powerful than the Gazan groups, which are also supplied and trained by Hezbollah and Iran's Islamic Revolutionary Guard Corp (IRGC), Israel's northern flank would be considerably exposed. Hezbollah possesses large missile stockpiles – reportedly including not only surface-to-surface but also short-range ballistic missiles – and also has the luxury of Iranian bases in neighbouring Syria to supply it with weapons and economic aid. With both its south and north facing reprisal and the preoccupation with stopping cheap rockets of its air defence systems, Israel would face an intolerable frequency of dangerous missile strikes landing upon soft targets.

The deal's announcement is provocative, but current regional military and economic circumstances surrounding Israel are far from conducive toward its application on the ground. The only certainty going forward for Israel and the Trump administration with regard to the deal is that it will likely merely add to the already rising tensions in the region which began their upward spiral earlier in January after the US-Iran stand off.