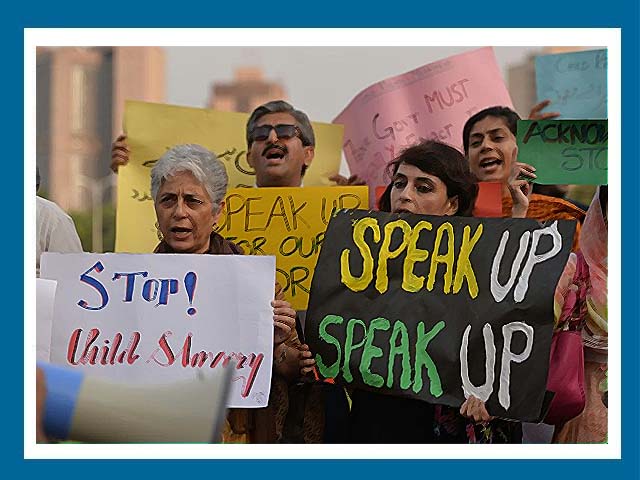 ---
Hooz Noor: Another reminder that we continue to fail our children
During the past year alone, at least seven children were abused per day in Pakistan
---
The sexual assault and subsequent murder of children in Pakistan has become a pandemic of biblical proportions. It is actively haunting the society and posing a significant challenge for the government. People expect law enforcement agencies to address the situation, but are they themselves ready to take responsibility and actively enact long lasting social measures that will protect our children?

Recently, yet another spine chilling and gruesome incident of rape and murder was reported in Khyber Pakhtunkhwa's (K-P) Nowshera district. This time, the victim was eight-year-old Hooz Noor. The assailants were identified and captured by the locals after which a jirga comprising of family members and eminent locals was held where one of the accused confessed to his crime.

Locals called for the jirga to "burn the murderers" themselves in order to set an example. However, the jirga refused to take the law into their own hands and showed faith in the police by handing over the accused to them. The police assured the jirga that the culprits shall face the wrath of the state.

The body of the deceased child was first transferred to the local hospital in Nowshera where it quickly became apparent that the post-mortem could not take place due to a lack of facilities and expert staff. The body was sent to a Peshawar based institute, Khyber Medical College, which did not possess the equipment to carry out DNA tests and so, the specimen was sent to Lahore.

However, due to a backlog of work, it takes up to 60 days to carry out a DNA test in a specialised laboratory, making it next to impossible to carry out the tests made mandatory under section 164-B of the Code of Criminal Procedure (CrPC). Many DNA tests are not carried out due to the same reason. This leads to lower conviction rates because, unfortunately, rape cannot be proven without corroborating medical evidence as held in Abdul Waheed vs Dai, (2012 YLR 2701).

A delay in DNA testing may not seem to be a huge deal, but in fact, it makes life harder for the prosecution because, in a criminal case, the standard of proof has to be beyond a reasonable doubt as exemplified by Muhammad Arshad vs The State and without accurate testing results, definitive proof becomes harder to find.

Recently, the Zainab Alert, Response and Recovery Act, 2020 was enacted for Islamabad which was soon followed up by a tweet from Punjab Chief Minister Usman Buzdar, wherein he expressed his intention to adopt a similar measure to ensure the safety of children in Punjab.

The sad fact of the matter is, that K-P was  the first to introduce legislature to protect children but even though the K-P Child Protection and Welfare Act, 2010 has been enforced since a decade now, there is barely any tangible implementation of the law.

What confirms this bleak picture, is the fact that the government has yet to appoint a chief for the Child Protection and Welfare Commission, despite the post laying vacant for a few months now. The commission itself suffers from a variety of issues, particularly a lack of funding, which renders rehabilitation for a survivor, including access to a therapist, next to impossible. Additionally, the commission's helpline and child protection committees are both inactive. The commission's website is severely out-dated and the case management system is practically non-existent. In addition, the body is supposed to meet at least four times in the year, which too does not happen.

Perhaps if such commissions were taken seriously and actual action was taken, the atrocities against innocent children would stop piling up but alas, a mere two days after the Hooz Noor murder, a ten-year-old boy was sexually assaulted by at least four men in the same district of Nowshera.

Sahil, an NGO working for the protection of children, provided statistics for the year 2019 in a press release which stated that in the past year, seven children were sexually abused per day in Pakistan. The report says that 1,304 children were sexually abused in Pakistan during the last six months, out of which 575 were boys and 729 were girls. This appalling number becomes even more horrific with the realisation that most incidents go unreported.

Whenever we hear of such incidents, our response is primarily reactionary. Angry social media condemnation, protests on the roads and a temporary increase in vigilance is observed across the country. However, such measures and sentiments are short lived and we blissfully slide into our old routines, completely forgetting about the horrific events that transpired just a few days ago.

It seems that the world, as a whole, does not know how to deal with murderous pedophilia. Can the fear of being put to death amongst such people be enough to curb the issue and protect our little ones? Does the solution lie in education and awareness? Or should we simply keep our children chained at home, seeing as how pedophiles exist everywhere, be it in public, in madrassas or at schools. Then again, even one's home isn't exactly a safe place because far too often, the perpetrators turn out to be family members? What is one to do if a child's own father is abusing them or their grandfather is? Or worse, a father decides to sell his 12 year old daughter to a rapist for a mere 500 rupees?

Until we are able to find definitive answers to these questions, the government needs to focus on preventive measures. Firstly, children should not be sent to madrassas or schools alone or with even tinier siblings so that strangers do not find it easy to prey on their naivety. Secondly, the staff of every hospital in Pakistan should be given relevant training so that they know how to deal with sexual abuse victims. They should also be equipped adequately to deal with DNA specimens. Thirdly, the provincial government should incorporate sections of Zainab Alert, Response and Recovery Act, 2020 into the K-P Child Protection and Welfare Act, 2010 or at the very least, provide the existing commission with the resources and manpower it so desperately needs.

Additionally, child labour, particularly in the case of domestic help, should be discouraged vehemently because it is viewed as a lesser evil in society even though it is banned in Pakistan. Moreover, at-risk children should be taken to shelter houses operated by a government-NGO partnership so that they are kept under the watchful eyes of specialists. Lastly, both the federal and provincial government should take substantive measures so that the existing laws are implemented and trials of child abuse perpetrators are expedited.

The civil society also has a sizeable part to play in the fight to protect our children. The public must continue to exert pressure on the government instead of the customary furore that lasts a few days and dies out soon after an incident has taken place. It is also imperative that we remain vigilant as well as promote relevant educational and awareness campaigns. Let us not become complacent, otherwise, the next Hooz Noor may be from our family.