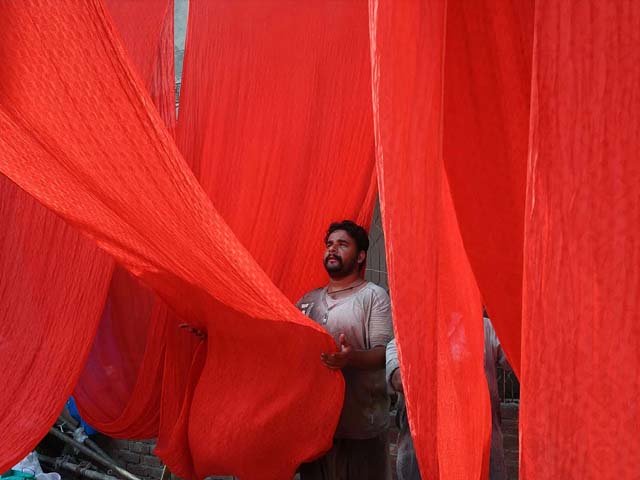 ---
How Pakistan's fashion industry is polluting the environment
It appears that the industry has decided that there is no congruence between profitability and sustainability
---
Modern day fashion retailers have adopted the phenomenon of 'fast fashion,' which is characterised by the quick turnover of designs that move at breakneck speed from the ramp to the stores and eventually, into the garbage bin. Retailers aim to increase profits by focusing on key elements of the supply chain with an emphasis on increased manufacturing speed at lower costs. The concept of fast fashion has resulted in a changing industry dynamic that boasts a quick response ideology that has inculcated the capacity and ability of retail brands to generate quick merchandise turnover.

A popular Spanish retailer that has 1,600 stores in 58 countries was one of the fastest to catch on. They now produce an average of 450 million units of their products, boasting over 10,000 unique designs each year and the capacity to produce them within an average of three weeks, thus becoming the benchmark model for fast fashion by slicing time between design, production and supply. The decreased time period adds to the variety of products available to the consumers which in turn increase the amount of original customers.

However, as corporations in the fashion industry capitalise on increased turnover and consumers are busy 'reaping the benefits' of lower prices, we fail to see the mammoth cost this trend comes at. Clothing production has roughly doubled since the year 2000. Despite purchasing 60% more clothing items in 2014 than in 2000, consumers retained those purchases for half as long. European fashion retailers went from showcasing and selling two collections annually in 2000 to almost five in 2011. Some brands offer even more. The aforementioned Spanish fashion giant releases a whopping twenty four collections on average annually.

To get a rough idea of the environmental cost of this fashion upheaval, it is interesting and equally displeasing to note that 85 % of textile based production is discarded into landfills. Simultaneously, regular laundry cycles release 500,000 tons of microfibers into the sea annually which is estimated to be roughly equal to disposing 50 billion plastic bottles into the ocean. These fibres are often polyester which is a plastic that 60% of garments possess.

Carbon emissions released from the production of polyester are three times more than those released in the production of cotton. What makes it even more dangerous for our environment is that polyester does not break down in the ocean. The International Union for Conservation of Nature published a report in 2017 that contained an alarming statistic which stated that an estimated 35% of micro-plastics originate from the washing of synthetic textiles.

The fashion industry is also contributing considerably to the water crisis, seeing as how it is the second largest consumer of water globally. It is estimated that 700 gallons of water are involved in the production of one cotton shirt. The fashion industry contributes 10% to the world's carbon emissions, more than what airlines and maritime shipping emit together. If the fashion community continues to exhibit such blatant disregard to the environment, its share of carbon emissions could potentially increase to an abysmal 25% by 2050 as predicted by the Ellen McArthur Foundation.

According to WWF Pakistan, the textile industry in our country utilises more water than is actually required after which the chemically affected effluent is left untreated and discharged into local water bodies. This was pointed out back in 2017 when the All Pakistan Textile Mills Association held a seminar to discuss sustainable strategies for water conservation textile industries. Unfortunately, such seminars are few and far in between, doing little to actually alleviate or address the problem. Pakistan is a water stressed country and so, with the ideology of fast fashion sweeping a nation whose exports primarily consist of textile products, it is foreseeable that this will only increase our water crisis.

Certain brands have begun to look for solutions to reduce their environmental footprint. A leading Swedish fast fashion company, who is one of the main corporations behind the influx of inexpensive clothing in the world, is now choosing to recycle their merchandise in the countries where they are produced. The fabric, instead of being thrown into landfills, is reprocessed into different goods, like blankets, insulation, carpet padding and pillow stuffing.

Regardless, while some indicators have shown promise that fast fashion is decreasing, solitary adjustments by limited companies will not create a noteworthy impact as long as most corporations refuse to take socially responsible environmental initiatives in the wake of high consumer demand.

Local Pakistani retail brands are also contributing to the problem, having chosen to jump on the money minting fast fashion bandwagon. This is exemplified by year round clearance sales where local commercial fashion giants seek to get rid of their 'old' stock because their new line is ready to burst through the door.

Recently, in an attempt to go 'green', a local textile giant launched its eco-friendly canvas bags that would replace plastic carrier bags, their CEO stating that:

"After oil and gas globally, fashion retail is the second largest plastic polluter. Therefore, rather than shy away from this glaring fact, we wanted to be honest in addressing it. We wanted to demonstrate that being green can be good for business too. "

Although this initiative is laudable and the first of its kind by any fashion retail brand in Pakistan, it is only addressing a small slice of the bigger problem pie which such corporate social responsibility (CSR) gimmicks will not solve. Sadly, the Pakistani fashion industry is unabashedly slow with regards to sustainability, awareness and reform stratagem. It appears that they have decided that there is no congruence between profitability and sustainability.

Pakistan also faces the unique position of being one of several dumping grounds for international brands where out-dated, unsold stock is imported and even smuggled after which it floods the market. It is then sold at a fraction of its original price in the streets of Zainab market and the lighthouse district. This means that our country experiences not only local textile wastage, but also imported textile wastage, seeing as how more often than not, imported consignments marked as clothing have unusable articles that can only be discarded.

For a country with a poor economy, a poorer regard for the environment, and a young population that craves branded clothing, we most certainly have a very serious problem on our hands. Therefore, it is imperative that we develop pre-mptive strategies, revolutionise business models by making them eco-friendly and in general, give due regard to the environment of our country as a whole.