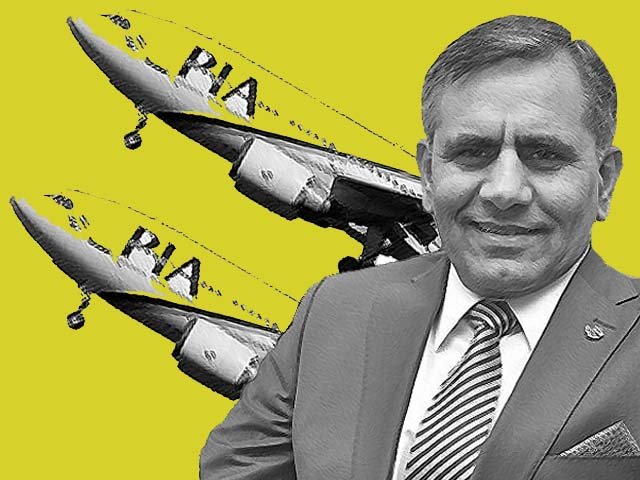 ---
What does the future hold for PIA?
Over the years, PIA has been destroyed by indifferent administrators, political appointments and incessant corruption
---
In the 1960's, the Pakistan International Airlines (PIA) was arguably one of the world's finest air carriers. Today, it is a shadow of what it was, primarily because it has been cut down by persistent and elongated maladministration, negligence, nepotism and corruption. The current state of the national carrier is a far cry from its glorious past, where tourists used to write rave reviews regarding its staff, service and in-flight entertainment. Ironically, PIA also provided training facilities to several airlines in the 1980s and played a noticeable role in their start of operations, none more so than modern day commercial giants, Emirates. However, over the years, PIA was eaten away by the nonchalance of indifferent administrators, poor human resource practices, political appointments and incessant corruption.

A special audit report of the Pakistan International Airlines (PIA) previously presented in the Supreme Court stated that the national carrier's " chronic losses (occurred due) to a lack of professional and experienced leadership." Prepared by the Auditor General of Pakistan (AGP), the report identified losses incurred in the past decade by the PIA, and also ascertained the reasons leading to it. The losses in 2009 were around Rs73 billion, which rose to Rs 360.39 billion by 2017 due to inefficient fuel management, unnecessary crew expenses, inadequate performance of subsidiaries, poor supply chain, inefficient engineering and low grade maintenance. In 2016, Pakistan International Airlines Corporation posted a net loss of Rs45 billion ($433 million), a jump of 36% over the loss of Rs33bn ($310m) incurred in the previous year.

An argument can also be made for the previous government having a vested interest in the failure of the PIA. Former prime minister Shahid Khaqan Abbasi has a controlling stake in a local private airline which is a direct competitor of the national carrier. However, this remains pure conjecture till an investigation is carried out with regards to the aforementioned allegation.

Additionally, the negligence of the previous government is perfectly exemplified by the German CEO case. Bernd Hildenbrand, who did not possess a business degree, but a mere diploma in aviation from Lufthansa, was appointed in 2016 to bring about a turn in PIA's fortunes. However, almost immediately, he was embroiled in multiple corruption scandals, none more so than the illegal sale of an A-310 aircraft for Rs 5.3 million whose actual value was in the excess of several million dollars.

Regardless, after what seemed to be an unending period of corrupt and negligent practices, it appeared that the PIA was finally being steered in the right direction with the arrival of the incumbent government and their appointment of Air Marshall Arshad Malik as CEO in 2018. However, the Sindh High Court's (SHC) recent decision to restrict the CEO of the national carrier from performing his duties could prove to be a sizeable setback for the airline. It is unclear as to why the SHC took this decision, considering how earlier in April 2019, the PIA had reportedly managed to achieve an operating break even after years of losses.

The government needs to step in and conduct a factual investigation in order to determine whether the CEO deserved to be suspended by the courts.  On the other hand, whoever is in charge of administrative affairs for the time being must carry forth the effective policies of their predecessor.

Having said that, there is significant room for improvement if we are to return PIA to its former glory. Transparent reviews of the airport standard operating procedures, risk analysis and cost controls must be implemented to prevent the incurrence of excess expenditures. Service level agreements (SLAs) should also be timely reviewed through concrete checks and audits. More opportunities should be given to young engineers and marketers who possess the drive and ability to work for the nation. One can hope that they would be less susceptible to corruption and instead, would inculcate a culture of performance.

PIA has been accused in the past of buying sub-standard spare parts from unauthorised vendors and in turn, violating basic passenger safety protocols. Therefore, the management must keep a close eye on procurement and ensure that tenders are issued only to competent suppliers. Furthermore, the technology and relevant software being employed should be cost-effective. For instance, PIA has switched to a new ticket reservation software, namely Hitit which in turn is saving the airline a considerable amount of money each month. Therefore, reliance on out-dated systems, hardware and engineering should slowly be phased out so that the benefits of newer cost effective systems are reaped.

In conclusion, PIA has seen rewarding highs and tumultuous lows. The incumbent government has a golden opportunity to shift PIA's fortunes on an upward trajectory which will not only help the people of Pakistan, but also put the ruling party in a favourable position for the next elections.