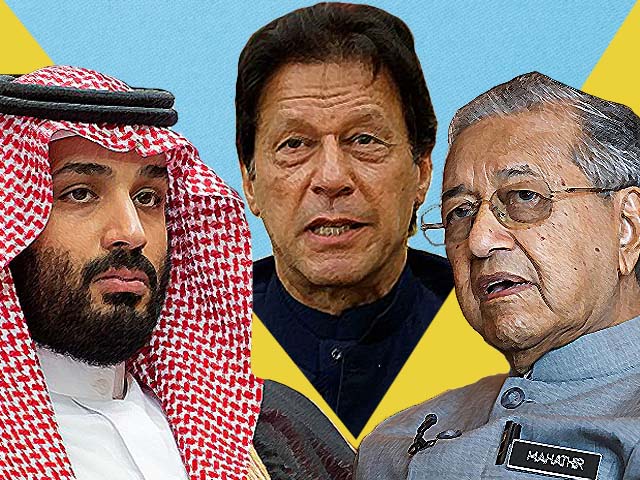 ---
Will Imran Khan regret skipping the Kuala Lumpur Summit?
Pakistan lost a great opportunity by abandoning the Kuala Lumpur Summit and did so based on a false rationale
---
The flawed gains-and-losses calculus of Imran Khan's PTI government recently produced what may well be the most aberrational and peculiar foreign policy decision by any country this year. Imran cancelled his attendance of the Kuala Lumpur Summit (which he himself reportedly jointly proposed with Recep Tayyip Erdogan and Mahathir bin Mohamad months ago) after visiting Saudi Arabia – who along with key allies shunned the event – and asking for a $5 billion rollover loan. Regardless of erratic attempts by some to use Mahathir's politically-correct 'assurances' that the Summit was not meant to 'compete' with rival powers to downplay the capitulation to the Saudis by Khan, attention to detail shows that the Summit was evidently a display of blocs and alignments, some old and some new. Due to this, Pakistan exhibited subservience to the Saudis and stayed out, even though Saudi Arabia has denied that any such pressure was exerted.

Did the Summit present opportunities to Pakistan to gain support for its foreign policy, which it is fair to say right now should be centered around Kashmir – an issue the Summit for the first time in its own history included in its agenda? Did it represent an opportunity to 'lobby' states against India in a way more practical than merely rhetorical, considering the Summit's Joint Secretary General's declaration that it would put forth 'concrete solutions' to the Muslim world's problems? But firstly, was Pakistan incapable of avoiding a capitulation to the Saudis and cancelling attendance?

Was Saudi Arabia in any position to order Pakistan around?

Just as the CIA and US Congress took Crown Prince Mohammed bin Salman to task over the Jamal Khashoggi murder last year, so too has a similar reaction followed the 6 December shooting at a the US Naval Air Station Pensacola by a Saudi trainee. The Pentagon reacted to Congressional demands for action by ceasing operational training for Saudi military students in the US, of which there are nearly 900.

The Senators who had demanded such measures were, moreover, close allies to President Trump who has been accused by domestic rivals of being soft on the Saudis. Salman had already alienated the US military-intelligence and mainstream political apparatus upon which the Saudis relied throughout history for their very existence with his rise to power, forcing in June 2017 the erstwhile Crown Prince and Mohammed bin Nayef to step down so he could take his place.

Nayef was extremely popular with the CIA, which is evidently not fond of Salman. That now even the White House seems to be rethinking Salman's value to them is a worrying sign for the kingdom. It was the White House in the past which covered for Salman despite his disastrous policies and ensured continuing the US did not 'abandon' him.

Specifically, it was Trump's son-in-law and Israel's pointman for both the proposed 'Deal of the Century' on Palestine and Israel-GCC ties Jared Kushner frequently bypassing the official channels to lend Salman 'support'. It was at Kushner's behest that Salman not only cut off Qatar – host of the US Central Command's forward base in the region at al Udeid since 1991 – from the GCC in June 2017 but also mass-arrested Saudi princes in November, and thoroughly upended the Saudi security-intelligence apparatus that the US was familiar with.

In short, the Saudis face isolation from key allies and increasingly rely upon an inexperienced Salman who in turn is strongly influenced by Israel-centric interests incentivised toward using him to stir regional chaos that the kingdom cannot handle.

This comes on top of Saudi Arabia's IMF-predicted 6.5% budgetary deficit and lessened economic growth, caused in part due to recent repeated Houthi (and maybe even Iranian) strikes upon Saudi oil fields and oil infrastructure in successive months. Simon Watkins states that the Saudis face yearly budgetary deficits until 2023 and even the risk of bankruptcy in a few years time if Salman's reform agenda doesn't take off properly.

In lieu of these factors, was Saudi Arabia in any position to make Pakistan volte-face on the Summit and broadcast to the world that it has no intents of building alliances even when courted by countries which backed it on issues as vital as Kashmir and FATF scrutiny?

The Saudis did not back Pakistan on Kashmir and followed India's annexation of occupied Jammu and Kashmir on 5 August with huge investment deals with India, contrasting sharply to Turkey, Malaysia – and also Iran's – stances on Kashmir.

Given Saudi geopolitical vulnerability, declining ties with the West and enemies in Yemen capable of striking at the heart of its economy, could Pakistan have 'leveraged' the Saudis and avoided the U-turn on the Summit? Is mutual inter-dependance between it and the Saudis as lopsided as shown by Imran's capitulation?

Pakistan is a highly important military partner for the Saudis, stationing over a 1000 troops and thousands of trainers assisting the different branches of the kingdom's military. Following the increased alienation from the US military and the failure in Yemen, the Saudis' reliance on Pakistan for their internal security and their forces' quality is greater than before. Also greater is Saudi paranoia regarding their kingdom's territorial integrity.

Moreover, Saudi investments in Pakistan's economy matter as much to them as they do to Pakistan, whose foreign exchange reserves were dwindling when Salman visited in February. Experts, pointing to the diplomatic isolation of Salman and the importance of Pakistan's military to the Saudis, have highlighted the importance not just to Pakistan, but to Salman of more than $20 billion worth of investments announced during his visit.

Salman's economy-diversification scheme of 'Vision2030' requires more business partners for the kingdom, with the prospect of enhancing the Saudi share in Pakistan's oil market following the investments in Pakistan's oil, energy and petrochemicals industry important to the agenda.

It is hard to imagine the Saudis somehow halting or not continuing past the initial investment phases or putting an end to monthly oil supplies on deferred payments as a 'punishment' that Pakistan imagined would be inflicted on it had it displeased Salman and attended the Summit. That is, of course, assuming Pakistan did not make it a point to assure its subservience.

Aside from big multinational investors showing a lack of confidence in Salman in recent times, the failure of the much-hyped IPO of Aramco, the Saudi economy's 'Crown Jewel', launched in November has made things even worse for the Saudis.

In terms of its objectives of the number of Aramco shares it sought to sell, the share value, selling to mostly Western investors and having the IPO by listing on the New York Stock Exchange as invited to do so by Trump in 2017, the IPO failed.

As explained by Sabena Siddiqui, shares ended up being sold mostly to domestic investors with Aramco listed on Saudi's own stock exchange with the company's value at $1.7 trillion as the IPO was finalised, less than the $2 trillion assessed by Western banks and hoped for by Salman prior to the Houthi attacks. The implications for 'Vision2030' are evident, as Salman will now have far less money to spend in driving private non-oil sector growth.

Saudi Arabia thus was in no position to threaten Pakistan with any damaging reprisals for pursuing its interests. Anything ranging from a politely conveyed reminder to the Saudis of the heightened importance of Pakistan's military contributions to its security under the present regional climate and displeasure with its stance on Kashmir and subsequent dismissal of Saudi interference in Pakistan's ties with other states, to the plausibility of Pakistan seeking financial loans from sources that would gladly one-up the Saudis with regard to investment in Pakistan (such as from Muslim powers Saudi opposes which are known for fact to be courting Pakistan even now) would have made the cut.

Burning bridges with an old partner now deciding to assert its sovereignty in decision making is not something Salman would risk with his current scenario.

A golden opportunity squandered

The significance of the Summit for Pakistan was accentuated by the ongoing Muslim agitation in India, which owing to the gravity of the causes behind it may not ever truly die down. Pakistan could have availed the platform and enthusiasm of its organisers for 'concrete solutions' to effectively describe the horrors the Hindu supremacist regime is visiting upon India's own Muslims to lobby for boycotts of Indian businesses active in the countries attending the Summit.

Merely the act of doing so would represent a veritable surge in Pakistan's rhetoric and policy on India, something it sorely requires. India's zero-sum attitude toward Turkey and Malaysia due to their positions on Kashmir would play to the favour of such a move.

Moreover, Erdogan's well known tendency to 'speak his mind' about countries with poor or deteriorating relations with Turkey could have also come in handy for Pakistan. It is not inconceivable for the strongman Turkish leader to be persuaded to make powerful statements in favour of Pakistan, or even openly declare Indian-occupied Jammu and Kashmir rightfully Pakistan's. Erdogan is adamant that Saudi Arabia pressurised Pakistan to pull out of the Summit.

With Iran, whose ties with India recently lost their economic underpinnings and thus with whom there exists the opportunity to build on a series of strong statements by its clerical establishment on Kashmir, such similar positions could likely be extracted as well.

Pakistan lost a great opportunity by abandoning the Kuala Lumpur Summit and did so based on a false rationale of what constitutes power and leverage in the international system. On the bright side, Pakistan based purely off of factors which are intrinsic to it such as its size, status as a Muslim country, location and enmity with Hindu extremist India, will remain of prime interest to the powers behind the Summit even yet.

Should they extend olive branches to Pakistan in the future, Pakistan must not repeat the same mistake.