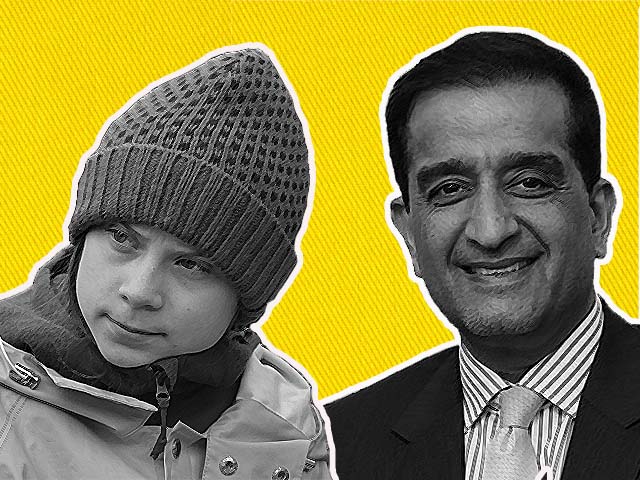 ---
How successful was COP25?
Pakistan made an impact at this COP even without a country pavilion thanks to the leadership of Malik Amin Aslam
---
"We'll be watching you," said teen activist and global star Greta Thunberg to world leaders back in September at the UN in New York. Last week at the climate conference in Madrid she again called out political leaders from rich countries for "misleading" people about the climate crisis and "finding clever ways around having to take real action." For me the highlight of the United Nations Climate Change Conference 2019 (COP25) was Thunberg's speech, given to the plenary during the 'High-Level Event on Climate Emergency'. This was followed by an impromptu protest by fellow youth activists on the main stage – which has never been done before during a UN plenary session.

The climate talks, she said, "have turned into some kind of opportunity for countries to negotiate loopholes and to avoid raising their ambition." She was speaking to negotiators and ministers from almost 200 countries – the early morning meeting was packed once word got around that Thunberg would be attending the high level segment of the conference. I had to wake up even earlier last Wednesday to arrive well in time to enter the large hall before 9am.

Her words proved to be prophetic because COP25 ended with a dismal outcome. The two weeks of negotiations were stretched out to two more days and ended on Sunday without achieving much. Bleary-eyed negotiators who had barely slept in the last 48 hours signed onto yet even more vague statements of intent, working groups and networks.




According to the Climate Action Network (CAN) monitoring the talks as an observer NGO group:

"Bogged down by bad faith negotiations that put politics and fossil-fuel interests above people and the planet, many countries — fronted by the United States, Australia and Brazil — once again exposed their apathy to the suffering of millions and a willful rejection of the science. The gap between what people are demanding for a climate-safe future and what leaders are willing to do is widening as emissions rise, fossil fuel production expands and impacts escalate. This is unacceptable."

CAN pointed out that large emitters failed to show clear signals about increasing ambition by 2020 and rich countries reneged on the promise to provide finance for loss and damage to vulnerable countries hit hard by climate change. In addition, there was no agreement on carbon market rules, which many negotiators said was the biggest disappointment at the COP.

Thunberg left the conference on Thursday, long before the closing plenary to head home to Sweden by train. Before leaving she had reminded the negotiators about what the science is warning, imploring them to listen to the UN's Intergovernmental Panel on Climate Change.

To have more than a 50% chance of keeping the global temperature from exceeding 1.5 degrees Celsius above pre-industrial levels ― the aspirational goal of the 2015 Paris Agreement ― the world can emit only 570 gigatons of carbon dioxide she said. Studies show we are on track to go way past that carbon budget within a decade, and that meeting the 1.5-degree target requires cutting global emissions 7.6 percent every year from 2020 to 2030, a goal nowhere in sight.

"How do you react to these numbers without feeling at least some level of panic?" Thunberg asked the room full of delegates and observers during her speech. She noted that 100 companies are responsible for 71% of greenhouse gas emissions, and that since the Paris Agreement global banks have invested $1.9 trillion in fossil fuels.

She ended on a positive note, however, saying:

"Change does not come from the governments or the corporations. It comes from the people who have been unaware but are starting to wake up. Once we become aware we change… People are ready for change."


Jennifer Morgan, the executive director of Greenpeace International, also spoke during the plenary, saying, "The facts have been laid out by the scientists. We have to bring the best brains in the world together and find a way to phase out fossil fuels and deforestation." She further added, "I hope humanity can find a way – giving up hope would be giving up on humanity and I'm not ready for that."

Another highlight of this plenary was an emotional speech from Hilda Flavia Nakabuye, a youth climate activist and rising star from Uganda. "We need leadership on climate action, not talks," she said. "You've been negotiating for the last 25 years, even before I was born. Do you want the whole of Africa to first perish before you start acting?"

As the panel discussion came to an end, dozens of young activists from the Fridays for Future movement stormed the stage, where they chanted and staged a sit-in to demand immediate action. "We are unstoppable, another world is possible" they clapped and sang and refused to get off the stage until UN security threatened to clear the room.

Another fascinating talk I attended at the COP was by the upbeat Al Gore who said that solutions to the climate crisis are within grasp. In his view, the fossil fuel era is coming an end. He likened renewable energy to the advent of mobiles phones. How they surpassed all market predictions and overtook landlines in such a short time. He stated, "solar-plus-batteries are set to begin a dramatic transformation of human civilisation." He noted that most of the oil under the ground would end up staying there, as "the vast majority of carbon reserves are unburnable." After the industrial and green revolution, he said we now have the sustainability revolution. It just needs to happen fast so that we can avoid runaway climate change.

For me personally, it was exhilarating to be at a climate conference with 20,000 other people all trying to find a way to bring the world together to cut our global emissions in time to avert a catastrophe. Yes, I was disappointed that many decisions have been left to the Glasgow conference next year, but the fight continues. The Glasgow COP will initiate the implementation of the Paris Agreement so the deadline is 2020 and it will be a tough fight. The young people at the conference stole the show and I was happy to see their determination from up close.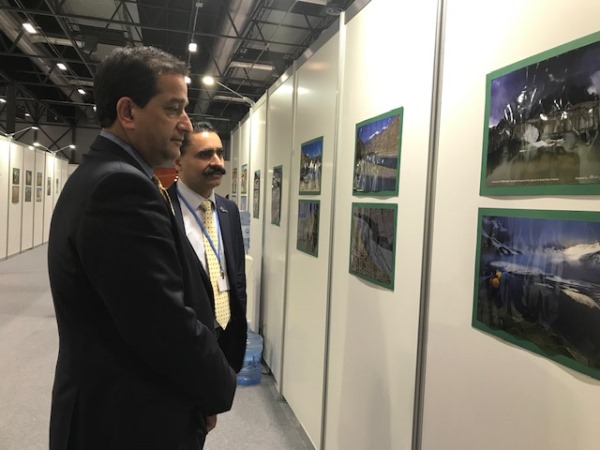 I spent the last days of the conference at Pakistan's launch of its well-received Ecosystem Restoration Fund at a side-event. Pakistan made an impact at this COP even without a country pavilion thanks to the leadership of the advisor to the Prime Minsiter on Climate Change, Malik Amin Aslam, who led a small but experienced delegation to the COP. Pakistan was not only confirmed as a COP vice-president but also secured memberships of the Clean Development Mechanism's Executive Board, Adaptation Committee, Technology Executive Committee, Compliance Committee under the Paris Agreement, Adaptation Fund Board and Warsaw International Mechanism. Next year we will be an influential voice at the climate conference.

(All photos courtesy of Rina Saeed Khan)