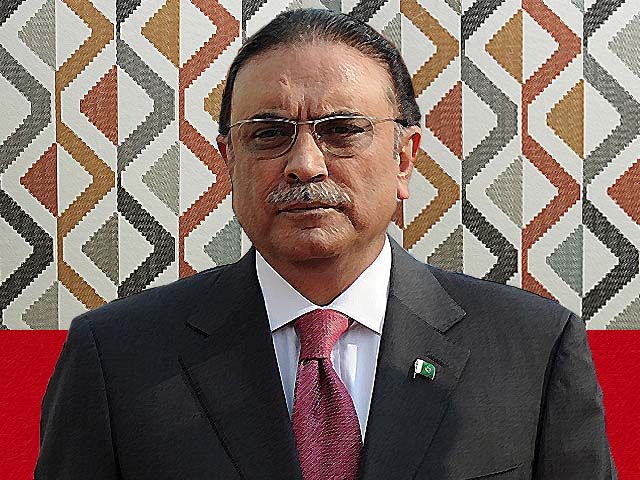 ---
Should we pretend to be surprised at Zardari's release?
Zardari's arrest only served to garner greater sympathy for him amongst the PPP vote bank
---
Former president and Pakistan People's Party (PPP) supremo, Asif Ali Zardari has been granted bail by the Islamabad High Court (IHC). A two member bench of the IHC, which comprised of Justice Athar Minhullah and Justice Amir Farooq, granted bail to Zardari on medical grounds. Zardari, who was taken into custody by the National Accountability Bureau (NAB) earlier in July, had already been admitted to Pakistan Institute of Medical Sciences previously where he was under treatment for diabetes and cardiovascular problems.

Zardari's bail did not come as a surprise, especially after former prime minister Nawaz Sharif was given bail on the same grounds in October. In fact, I had suggested in my earlier article that Zardari's bail was foreseeable. Now, it is also only logical that he will be shifted to Sindh. Insiders also believe that Zardari will follow Sharif's footsteps and leave the country as well.

Slowly, but surely, political prisoners are obtaining relief from the clutches of the hybrid regime that is being represented by Prime Minister Imran Khan.  Perhaps those actually in power felt the need for political stability. It is also obvious that the opposition's votes will be required if legislation regarding the army chief's extension is to pass in both houses. This exemplifies that Imran holds no power when it comes to making important decisions.

Zardari's release also raises more questions regarding NAB's witch-hunt which revolved around arresting opposition leaders and turning a blind eye towards the cases pending against PTI leaders.  It is interesting to note that inquiries regarding assets beyond means and undisclosed assets were never initiated against Jahangir Tareen and Aleema Khanum. Furthermore, Britain's National Crime Agency's (NCA) recently froze local property tycoon, Malik Riaz's assets after which he was forced to pay a hefty settlement figure.  The silence of the government and NAB regarding this development is also quite telling.

It is important to remember that Zardari had been taken into custody without being convicted. Therefore, one could argue that his bail was inevitable. This exhibits the ruling party's lack of political acumen because Zardari's arrest only served to garner greater sympathy for him amongst PPP's voters. Therefore, the Bhutto family can, once again, cash in on these sympathies in interior Sindh for the next elections. This dubious arrest had already damaged the credibility of both, the government and NAB while Zardari's bail has clearly done their accountability mantra no favours.

Meanwhile, it seems that the opposition is trying, and perhaps succeeding in mending fences with the powers that be. It might be trying to convince them that it can replace Imran and act with greater subservience. Additionally, after his release, Zardari can actually play a decisive role in bringing an in-house change if the powers that be ask him to do so. After all, he has delivered for them in the recent past when he dislodged the provincial government of the Pakistan Muslim League Nawaz (PML-N) in Balochistan and denied them a majority in the Senate.

Therefore, our prime minister is undoubtedly feeling the heat at the moment. Not only does he have to convince his vote bank that he is calling the shots, but also, keep his actual backers happy. Imran's entire narrative was based on accountability, how the former ruling parties were responsible for all of the country's problems and that the parties' leaders had to be put behind bars. This narrative has been severely damaged by the recent bails. Now Imran will need a new argument to convince his voters as to why Zardari and Sharif, despite apparently being the country's biggest criminals, were released by the courts with relative ease.

It has slowly become apparent that the accountability drive was a political scheme to come to power. It is now being used to distract the masses' from economic turmoil. This is how politics works in Pakistan. A plethora of distractions are used to push real issues under the carpet while political players are arrested and given relief according to the benefits they can provide to the actual rulers of the country.

The accountability mantra has been sung time and again by different leaders and rulers, starting with General Ayub Khan. This mantra was also brandished by political leaders such as Nawaz Sharif who, in his earlier reigns, arrested several PPP leaders including Zardari on the pretext of corruption. However, harping about looted wealth has rarely ever lead to the recovery of the same. For now, it appears that Zardari will fly to London for a medical check-up. Thereafter, opposition parties like the PPP and PML-N will most likely make London the hub of their political activities and will wait for the current regime to sink under its own miserable performance.
Facebook Conversations
COMMENTS
Comments are moderated and generally will be posted if they are on-topic and not abusive.
For more information, please see our Comments FAQ