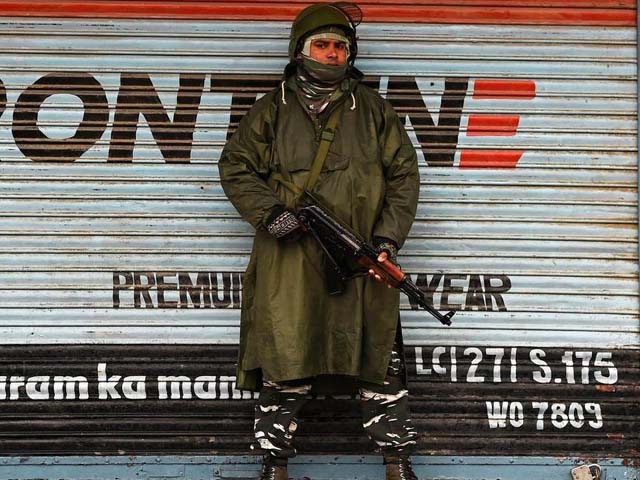 ---
Battling the human rights crisis in Kashmir 
Resolving the Kashmir conflict could prove to be the pathway towards attaining regional stability in South Asia
---
It seems that PTI's Kashmir narrative has, unfortunately lost some of its momentum on the international stage. The human rights struggle in Kashmir remains in limbo, as over eight million people in the region are still under a constant lock-down. The government's policy in Indian-occupied Kashmir (IoK) has been slightly marred by the lack of a subsequent follow through. Meanwhile, the Indian government has revealed the hidden demons of a society which is polarised beyond repair and a government which is furthering the religious divide in the country. The nation, already fragmented over claims of atrocities taking place inside its own geographic boundaries, has to be held responsible for its actions before the international community. 

The Indian government has shown disdain for even a recognition of the basic human rights of the prole in Kashmir, with residents in the area being deprived access to the international community for any peaceful intervention. India's constant effort to divert focus away from its imposed war on Kashmir has indicated its intent to use terror antics over diplomacy, thereby increasing its military footprint inside IoK. As a result, South Asia is now home to the world's biggest unofficial prison. Yet this prison remains hidden from the eyes of the world, like a forgotten island. As we continue on with our lives, somewhere out there trauma reigns. The current situation in IoK speaks of an entire population which has been forgotten. There have been no Friday prayers in IoK's largest mosque for over four months now, Indian diplomats have stated that they want to implement the 'Israel model' in IoK.

Yet most of India's intellectual elite remain silent. They themselves are victims of a war by their own government today, including the civil society, intellectuals, think tanks, artists and human rights activists. Several journalists in Kashmir have protested against the fact that they do not have access to internet, and this ban has resulted in an inability to report about the on-ground realities currently shaping IoK. As Prime Minister Imran Khan continues to urge the United Nations to take action against Indian and step in to help resolve the rapidly deteriorating situation in IoK, it still remains to be seen whether or not the international community will actually intervene. However, the growing sense of animosity in the valley is evidenced by the fact that many politicians in IoK feel 'betrayed' by the Modi government. The attempt to clamp down on communication and a transfer of information in IoK has led to several WhatsApp users in the valley being kicked off the app due to their prolonged inactivity which is the result of the internet ban.

Furthermore, India's media blackout policy in IoK, driven through a selected breed of Indian media anchors, showcases a carefully crafted state narrative which wishes to manipulate global opinion. Thus, television and social media are being used as a platforms to further this far-right extremist mentality. Issues like torture, murder, rape, kidnapping, incarceration of prisoners and other violent acts have plagued the valley for years, but one fears that these brutalities may increase in the valley in light of the increased military presence. To malign and demean peace-narratives, rallying people into a false sense of patriotic frenzy, creating diversions and deflecting the focus away from the ongoing atrocities inside IoK, do not reflect the ideals of democratic justice.

People remain prisoners in their own homes, their mosques deserted, attendance in schools low, roads blocked and bridges closed, while several prominent Kashmiri leaders remain under house-arrest. Indian military personnel stand guard outside pathways, next to hospitals and schools, spreading fear and anxiety over subjugated populations which is demanding justice from the global community. Shockingly, worldwide news agencies covering war and conflict across all corners of the world have completely failed to cover the day to day horror which continues to unfold in IoK. Dissent is suppressed by the barrel of the gun.

India must end the lock-down which has been imposed upon the people of Kashmir. Its illegal occupancy must also end so that Kashmiris can vote freely and exercise their rights. The world must realise that resolving the Kashmir conflict could prove to be the pathway towards attaining regional stability in South Asia.