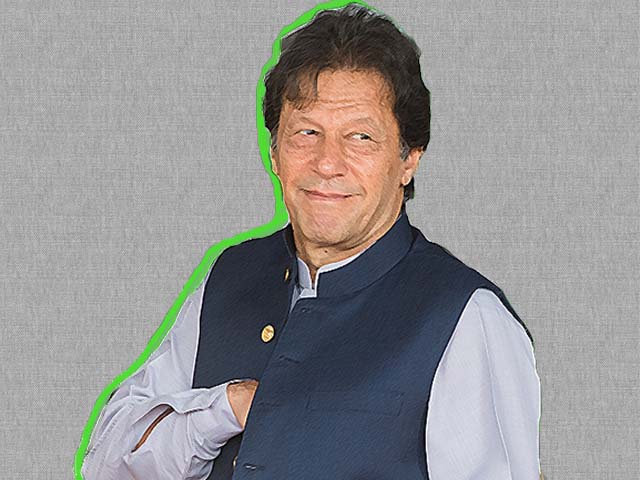 ---
PTI's Achilles heel: The foreign funding case
The legal consequences of this case may in fact obliterate PTI as a whole
---
The foreign funding case filed against PTI has had to circumvent several obstacles before it could be fixed for daily hearings. It overcame a number of applications and writ petitions by PTI that attempted to challenge the jurisdiction of the Election Commission of Pakistan (ECP) and the nature of proceedings in general.

Ironically, it was Akbar S Babar, a founding member of the PTI, who had filed the case in the ECP back in 2014. He alleged that PTI had received funding from foreign nationals and overseas companies through numerous undeclared accounts. Allegations of embezzlement and money laundering also formed part of his petition. In later hearings, he also claimed that additional undisclosed accounts attributed to PTI, had been allegedly located and information pertaining to the same had been submitted to the ECP by the State Bank of Pakistan (SBP) in a formal report. This allegation was based on a story issued by a leading English daily earlier this year, but the accusation was promptly denied by the SBP in a statement.
Let us examine the law on the subject, the Supreme Court, in the recent past, heard a petition filed by Hanif Abbasi for the disqualification of Prime Minister Imran Khan. In it, the apex court held that there is a distinction to be drawn between prohibited funding and foreign aided political party.

Prohibited funding has been defined as a monetary instrument received from any foreign government, company, and individual under section 203 of Elections Act 2017. Funding from an overseas Pakistani is not considered prohibited as per the same section. A foreign-aided political party has been defined as one which has been formed, associated or funded by a foreign government, or an overseas political party as per section 212 of the Elections Act 2017.

Currently, PTI is facing allegations of receiving prohibited funding as well as being a foreign-aided political party. If the charge of prohibited funding is proved, any monetary contribution which is deemed as such will be confiscated and subsequently transferred to the Government of Pakistan. If it is proved before the scrutiny committee of the ECP that a considerable amount of funds came from foreign sources, the results can potentially be disastrous for PTI. According to section 212 (3) of the Elections Act 2017, a political party that receives any aid, financial or otherwise, from a foreign national can be declared 'a foreign-aided' party.

Other than the obvious political implications of being labelled as a foreign-aided party, it is the legal consequences that may in fact obliterate PTI as a whole. Once a party is declared a foreign aided party, it may be dissolved if the Supreme Court upholds the declaration.

Thereafter, according to Section 213 of Elections Act 2017, if a political party is dissolved for being foreign-aided, all the members of that political party shall be disqualified for the remainder of their term as members of Parliament, provincial assemblies and/or local governments. As far as the future of PTI chief and incumbent Prime Minister Imran Khan is concerned, he could be disqualified under Article 62(1)(f) of the Constitution for submitting a false certificate under Section 13(2) of Political Parties Order 2002, which states that PTI received no foreign funding.

Essentially, this could result in winding up the current government's tenure and forcing early elections.

Let us now shed light on the political component of this case. PTI's legal team has been unable to satiate Babar or the ECP and has therefore resorted to attacking the opposition that was trying to obtain political mileage from the situation. Consequently, they filed similar complaints against PML-N and PPP in the Supreme Court. Though the allegations in these complaints are not specific, they could still be detrimental to the political parties due to the general carelessness afforded to such matters by all political parties. Moreover, PTI has also demanded that decisions on the cases must be announced at the same time despite the fact that the decisions may set a precedent which could have a domino effect on the rest of the cases that fall under this gamut.

This has placed the three eminent political parties of the country in a sizeable predicament. However, there may be a way out for the big three, only if they cooperate with each other. The chief election commissioner (CEC) retired on the 5th of December, while the new CEC will have to be appointed by a parliamentary committee comprising of both government and opposition members.  Therefore, a compromise between the treasury benches and the opposition cannot be ruled out. Potentially, a CEC who is willing to accommodate the relevant political parties on the foreign funding issue could be appointed in order to protect everyone's interests.

However, this relatively new form of political accountability could be used as an instrument by those who wish to hold and have historically held a trump card over political parties. Although the black letter law is clear on the consequences of having prohibited funding and being a foreign-aided political party, our fickle adherence to the rule of law and the apparent re-emergence of the doctrine of necessity exhibited in the recent Army chief extension case means that it is highly unlikely that these cases will lead to serious repercussions for any political party, at least for now.

This begs the question; are these cases merely a new tactic to pressurise opponents or is there a positive side to these cases too? If we look closely, we may be able to extract a silver lining. Political parties may become more cautious when it comes to accepting funding from ambiguous sources. They may require their permanent members and workers to contribute more to decrease dependency on remitted funding.  This in turn will hopefully make the party chair-holders accountable in front of the members who have made contributions. They might end up having to keep formal records for the funding they receive. This, for now, appears to be the only positive outcome of the foreign funding case.