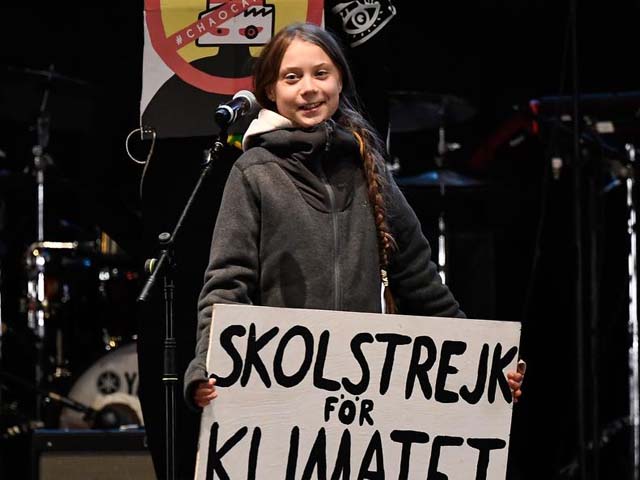 ---
How Greta Thunberg galvanised the crowds at COP25
COP25 started with great hope last Monday, but since then, the urgency has given way to frustration
---
The arrival of the 16 year-old climate activist Greta Thunberg at the IFEMA Conference Centre in Madrid, where the United Nations Climate Change Conference 2019 (COP25) is being held, suddenly electrified the otherwise uneventful climate moot. She was quickly mobbed by youth delegates and negotiators keen to take pictures of the inspiring young leader who has become a global celebrity in little over a year. In fact, she left shortly afterwards to return to the city centre to lead a massive climate march later that Friday evening.

When I first heard Thunberg speak at COP24 in Katowice, Poland she was just gaining media recognition and could be seen walking around the halls with just her father (who usually accompanies her) and a few officials; going from one panel to another to speak about why the world needed to do more about climate change and her own school strike for climate change, which has now become a global movement (#Fridays4Future).

This year she has come to the Madrid COP as a huge media star, known famously for telling world leaders, "How dare you!" She famously sailed to New York, since she doesn't fly on planes due to the high carbon emissions, and went on to rebuke world leaders at the United Nations General Assembly meeting held in September, saying,

"People are suffering. People are dying. Entire ecosystems are collapsing. We are in the beginning of a mass extinction, and all you can talk about is money and fairy tales of eternal economic growth."

Thunberg arrived late to the Madrid moot as she had to sail back to Europe on a catamaran after the COP in Santiago was cancelled due to social unrest in Chile. The Spanish government stepped in to offer Madrid as an alternative location while Chile retains the presidency of the COP.




However, money is exactly what is being discussed at the two week long conference which is being referred to as an "operational COP." It acts as a preparation for next year's big UN conference in Glasgow, where the finishing touches will be made to the Paris Agreement so that it can start being implemented.

There is a lot of discussion about setting up new carbon markets, whereby polluting countries or corporations, in order to reduce their carbon footprints, can purchase carbon 'credits' from other entities. There is also heated debate about where the rest of the money is going to come from (and how much it will be) for the $100 billion climate fund promised by rich counties to help poor countries address climate change. But differences between rich and developing countries are only getting worse it seems. Many journalists gathered here at the media centre don't expect all these details to be sorted out at this "procedural" conference, and the consensus is that major decisions will be made next year given the 2020 deadline.

The hope among many here is that Thunberg's arrival at the COP will give a much needed boost to the talks. She will be addressing the conference next week, once all the ministers from around 200 countries have arrived in the Spanish capital.

Thunberg herself might have only arrived in Madrid yesterday morning via train from Portugal but her impact is already being felt. At the jam packed press conference held at the cultural centre in Madrid's inner-city Lavapies district later in the afternoon, Thunberg said,

"Someone like me is a small part of a very big movement. We need more climate activists. We don't need to listen to me before anyone else."


When asked about the social problems currently plaguing Chile, Thunberg replied,

"It is very important we include environmental justice when we speak of social justice - climate justice is the base. We cannot afford any more days going by without real action being taken."

The press conference ended by 5:30 pm and at 6pm, having escaped the large crowds gathered at the entrance of the building by taking a side exit, Thunberg hit the streets of Madrid. She carried her original school strike placard with her (which she used while standing alone, protesting outside the Swedish Parliament). She was cordoned off by dozens of NGO members who now try to provide her with security from her fans.

Hundreds of people followed her to the march held in the city centre of Madrid. Many were young people eager to catch a glimpse of her. "We love you and we support you!" shouted one of the young girls as more and more people gathered, carrying banners and placards. The energy was amazing and, personally, it was the biggest climate march I have ever attended anywhere in the world. It is estimated that around 500,000 people showed up last night, all chanting for climate justice and a world where fossil fuels are kept under the ground.

We were joined by the citizens of Madrid (young and old) and by more than 850 ecological organisations and their supporters, all marching and chanting the slogan: "The world has woken up to the climate emergency." As we marched on the central Paseo de la Castellana, drums started beating and it made for a vibrant three-hour protest across the city centre. There were banners in many languages, some saying "Climate Change Kills," while others read "Tomorrow Will Be Too Late." One of my favourite posters at the march showed Donald Trump eating a chunk of planet earth! As one demonstrator remarked, "The real climate conference is here on the streets!"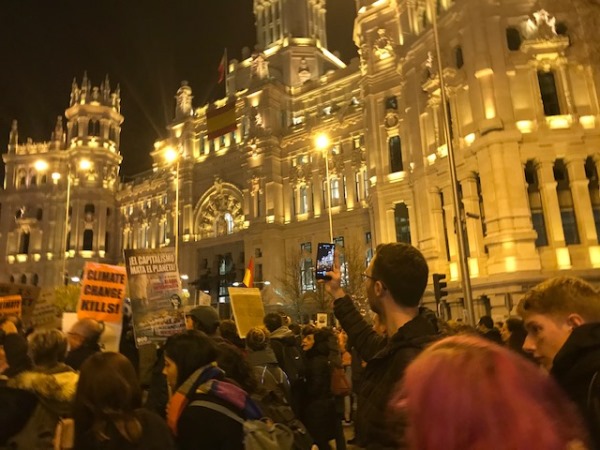 Thunberg herself is aware that despite all the people power, the talks are stalled inside the conference and there is still no urgency shown in the rather slow moving climate negotiations. She admitted earlier at the press conference that,

"Of course, there is no victory, the only thing we want to see is real action. We have achieved a lot but if you look at it from a certain point of view we have achieved nothing."

According to Dr James Hansen, the former NASA scientist who was one of the first to sound the climate change alarm, warning the US Congress about climate change threats back in 1988, "The spark set by Greta and all the other young voices is not enough." He further added at the COP in Madrid, "We need even more from young people – we need them to advocate polices." He said they need to sit down with scientists and help promote viable energy solutions. In his view, "We need a radical shift in energy production as fossil fuel emissions are extremely dangerous." Personally he is an advocate for "modern nuclear technology" and said that if we don't act now, "young people will inherit a system out of control."

Ultimately, Thunberg needed to abandon the demonstration last night after police said that too many people and media were blocking her way, but she returned to make a final speech at the end of the protest. This COP started with great hope last Monday, with strong words from the UN secretary general and others, warning that time is running out, but since then, the urgency has given way to frustration. Let's hope that Thunberg can add real urgency to the climate talks.