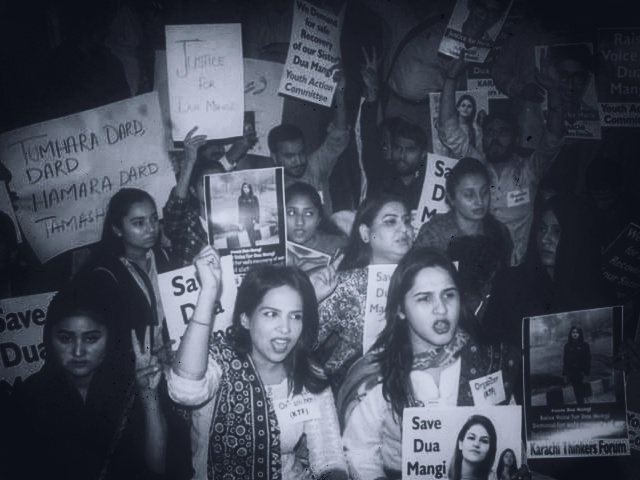 ---
The Dua Mangi case: A glimpse into our society's rotten morals
People almost seem numb to the amount of kidnappings that take place in Pakistan, but none of this is normal
---
Are my clothes speaking to you?

Listen closely:

Do they tell you where I'm from? What I like? What I desire? Do they say, yes?

Does my tanned skin scream to be touched?

Does the curve of my neck seem ever so welcoming?

I've grown up surrounded by this very narrative. The Pakistani vernacular is etched with log kya kehengay - embedded with the notion that my body, if hidden, says no and if exposed, draws the male gaze towards me. But the problem with the male gaze is simply that it does not stop. Not for a fully clothed body, not for an exposed shoulder, not for anything. I'm told that the general populous of men is not used to seeing a woman in a public setting and so I should adhere to their standards and cover myself when in their presence. I'm always being told to stretch my values for those around me. I should be flexible, I should change, I should shrink myself into a cookie cutter image of what people near me need because that'll somehow make everything better. The brutal truth is that the more we push ourselves over the edge to contain our womanhood, the more it's being taken away from us. And I'm done. I've been done for some time now.

Reading the comments surrounding Dua Mangi's kidnapping have left me disgusted, disappointed, enraged and all around ANGRY. I'm angry at our people. I'm angry at the narrative. I'm angry that this story has been told so many times before.

She was dressed a certain way…

She was out alone with a boy...

She was an unmarried girl out with a boy at night…

https://twitter.com/Andyrockz2012/status/1201347190871842816

But the only part of this that truly matters is this - that she is a young girl that has been taken against her will and she desperately needs our help. From the information available so far, it's being said that Mangi's kidnapping is linked to her former fiance. Protests and sit ins have been arranged and yet I sometimes question if the mindset here will ever really change. And yet, social media trolls, have taken to the media to slut shame her, acting as defenders of the 'holy word'.

So many people tell me that it isn't that bad being a woman here—that we have it "good". But what the hell suffices as good? Watching over my shoulder as I walk towards my car at night? Feeling like I'm naked at the market as the men around me assess my body as if I were a piece of meat and not a woman at all? Being forced to hide my pads as I pay for them at a grocery store? Being told to act, sit, look, dress, speak a certain way? Being accosted about my marriage at every wedding—because somehow my only job in life is to procreate? How is any of this good? And how is any of this supposed to help me ever become independent?

Even as I write this piece, and try to raise my voice in a place that sees it as unfit, I question how many people will try to push me down. Tell me that they're afraid for me because I use my pen as a tool to provoke? I don't need their fear. I have enough of my own.

https://twitter.com/areeshababar24/status/1201376283080450048?ref_src=twsrc%5Etfw%7Ctwcamp%5Etweetembed%7Ctwterm%5E1201376283080450048&ref_url=https%3A%2F%2Ftribune.com.pk%2Fstory%2F2110990%2F1-dua-mangis-abduction-releases-social-media-vitriol%2F

Those blaming Mangi should know that her only fault was being born into a place like this one. Where men hide behind long beards and topis (caps), claiming that theirs is the holy word of God—where the matriarchy somehow extends the same narrative—eerily afraid to protect its own. Every day, the media is flooded with stories of women being taken, used and abused, assaulted, raped - three-year-olds, hospital patients, fully clothed and fully able - women are constantly under attack. People almost seem numb to the amount of kidnappings that take place, but none of this is normal. At its core, there needs to be a rising change, people need to be urged to take on the structures that are failing at their jobs - the safety of our women is at risk, constantly and that isn't going to change if our structures aren't willing to go the extra mile. Yes, there are laws in place for the protection of women, but how often is it that the law actually protects someone? How often is it that the law can actually prove an assault? The relationship between legality and morality needs to be carefully combed through so that no one slips through the cracks.

Some days I forget how hard it is. I acknowledge my bubble and I know that it's mostly a safe space but the majority of girls and women in Pakistan don't have that privilege. The key word here being choice. We need to delve deeper into the root of the problem—our social structures are constantly harming women that are just trying to exist—and for what?

My heart goes out to Dua Mangi. Little headway has been made so far, and somehow, it always comes down to victim blaming. This girl has been taken, and the narrative around her has been fuelled by animosity. In cases like these, the blame should be placed on the root of our morals. We, as a populous, turn up inherently flawed. These voices inherently reveal the mindset of our country today, and it is terrifying. How many times can society put down its women? How many times can they shut down our voices? It's time these people rethink their values because we won't stand down, we will continue to fight, and one day, we will win.