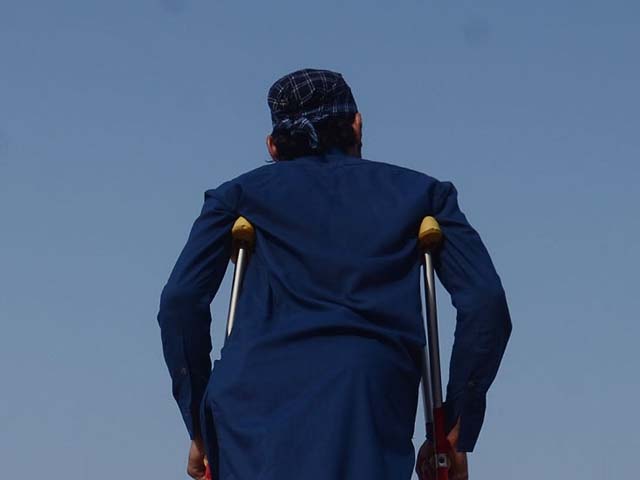 ---
The plight of Balochistan's differently abled
The Jam Kamal led govt promised rehabilitation centres for those with disabilities but nothing has materialised yet
---
The International Day of Persons with Disabilities is celebrated on December 3rd annually. According to a fact sheet issued by the United Nations (UN), differently abled people account for 15 percent of the world's population and despite 18 million people living with either a physical or intellectual disability in Pakistan, it is not a very inclusive country. Balochistan is no different especially since it is also suffering from dismal conditions with barely any focus on literacy and many living under the poverty line. In such conditions, it is no surprise that differently abled people are marginalised in the province.

According to Balochistan Social Welfare Department Assistant Director Shair Ahmed, there are nearly 14,000 registered persons with disabilities in the 32 districts of the province. He claimed,

"The Social Welfare Department of Balochistan has built three complexes for special education in the Quetta, Mastung and Khuzdar districts respectively. Additionally,  one audio visual college for differently abled people has also been established in the provincial capital i.e Quetta."

Recently, the Government of Balochistan also announced a Rs 2,000  allowance for people with disabilities but the amount is yet to be given to its intended recipients.

Then there is the country wide problem of the lack of general empathy, visible especially in the treatment of those with disabilities. The way Saddam, a young boy from Balochistan's Qilla Abdullah was treated made him tear up while he admitted that living with a disability in this society is a curse.

On the other hand, there are those with disabilities who have become resilient in the face of adversary, proudly raising their voices for those who may not be able to raise voices themselves. One such individual is Hazara's wheel chair activist, Shazia Batool who speaks out for others like her in the community. She said,

"I have considered every obstacle I have faced as an opportunity that encourages and motivates me to move ahead (in life)."

Shazia is also the CEO of Breaking Barriers Women, an organisation that is the leading advocate for issues of persons with disabilities in Balochistan.

According to the World Health Organization (WHO), disability should be considered a human rights issue. The Sustainable Development Goals (SDGs) are a universal call to action to end poverty, protect the planet and improve the lives of everyone, including the disabled. At least 17 goals were adopted by all UN Member States in 2015, as part of the 2030 Agenda for Sustainable Development which set out a 15-year plan to achieve the goals. Sustainable Development Goal numbers four, eight and ten stress on the security and provision of basic human rights to people throughout the world, including those who are differently abled. Pakistan despite being a signatory to the SDGs has not implemented any of them.

The Jam Kamal led coalition government in Balochistan has stated that they intend on building rehabilitation centres for people living with disabilities in the fiscal year 2019-20, but we are yet to see any progress in this regard. This is exemplified by the fact that even the existing rehabilitation centres are extremely dilapidated. Extravagant travel allowances (TA) and dearness allowances (DA) are given to government officials, yet they are incapable of forming an inspection team to gauge the condition of these centres. Engineer Waqas Mengal, the president of a non-profit social media news platform says :

"The issue at hand cannot be addressed by distributing wheel chairs and demarcating a small allowance.  Instead, appropriate legislation and implementation of law is required for the adequate provision of facilities to people with disabilities."

We live in a society where hollow promises have been made by political parties, human rights and civil societies regarding the issues of differently abled people. Little to no funds are provided by the government whereas the civil society is indulging in commercial activities on the behest of  safeguarding disabled people's rights. The conditions for those with disabilities will only improve, if we as a populous, also empathise with them. A national strategy and plan of action should be adopted by the government of Pakistan to help those with special needs and they should also be made a part of the process of drafting policies, since no one knows their needs or plight better than those living with disability. Ideally, differently abled people should also be represented in the national and provincial assemblies of Pakistan, so that their issue can be highlighted properly on an empowered forum instead of merely being the subject of an annual discussion on December 3rd.